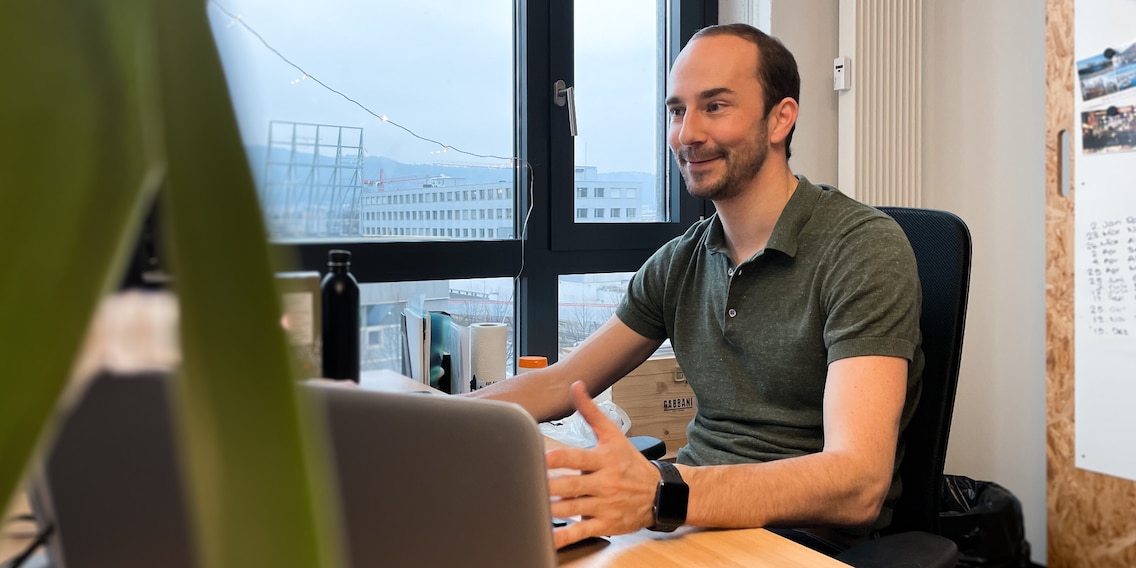 My job also involves scaring off monsters

Gion Manetsch is Category Leader at Digitec Galaxus, where he manages a team of eleven. He's also a father of two small children. Back in the day, he was a pro mountain biker for many years and at the top of his league.
Gion, which job would you choose if you could start all over again?
Gion Manetsch: I'm really quite happy where I am now.
Only «quite» happy?
I've had many different jobs with very different requirements. There were always positives and negatives. Although my apprenticeship in computer science was exciting, it was always a bit too abstract for my taste. Later on, in my business studies days, I worked as a bike mechanic on the side. What I loved about that job was the customer contact, manual skill and, above all, the innovative products. However, I missed being in an office environment and the strategic and analytical work that comes with it.
So now you have your cake and can eat it too?
You could put it that way. My current position involves an office, a great team, exciting products, challenging tasks and lots of responsibility from a tech employer.
You used to be a world-class bike pro.
That was a great time in terms of travel, independence, lifestyle and emotions. At the same time, it's not something you can do all your life. Besides, five hours of training in the rain isn't always amazing fun. And if you want to be successful, it's a 24-hour job.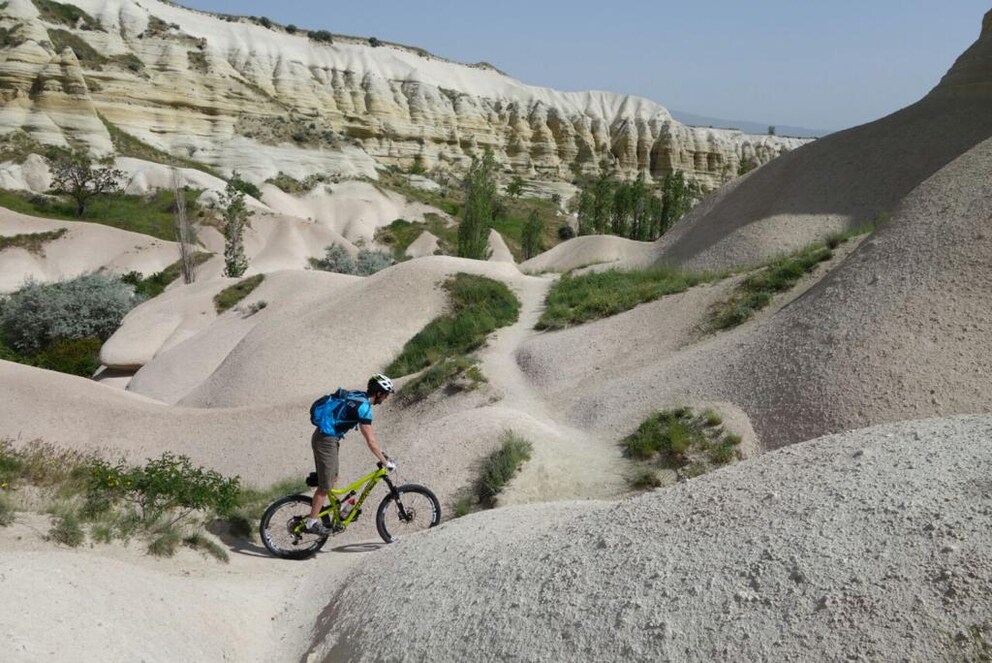 What gives you the most joy?
There are many things – both professionally and in my private life. Like coming up with a business case that works out perfectly. Watching my son Julian make it down the slide by himself. Without crying. Getting positive feedback from a team member. Seeing a deal of the day sell out by 8 a.m. Plucking up the courage to tackle the big jump on a bike trail. Without crying. Raising glasses with the team to great work. Or watching Julian trying to give his sister a kiss but almost crushing her in the process.
You manage a team of eleven people. What are your leadership principles?
I'd describe my management style as cooperative rather than authoritarian. I try my best to be on equal terms with my team and have an open ear for any personal and professional matters. What's also important to me is that solutions and decisions stem from the team.
Just one of the 100 largest companies in Switzerland is led by a woman. That's one per cent. What needs to be done to take the edge of this imbalance?
Part-time work, flexible working hours and being able to work from home shouldn't be the exception but the rule. These measures go hand in hand with greater flexibility, which is essential to balance work and family. That's why I think it's great that all our management positions can now be done at 80–100%. Parental leave is also a source of leverage. While mothers are away from work for at least 14 weeks (and often longer) after giving birth, the legal minimum for fathers is just two weeks. This quickly leads to women who are «already at home anyway» to rejoin the workforce much later or at greatly reduced hours. Ideally, both parents should receive equal parental leave.
From 1 January 2021 Digitec Galaxus is bumping up both paternity and maternity leave by two weeks each. Would you say that's just a drop in the ocean?
It's definitely a step in the right direction. 1.5 years ago, paternity leave was two days, if I remember correctly. Now we're already at one month. That's great. 16 weeks of maternity leave are also a very positive sign and a relief for future mothers in our company. Nevertheless, 16 weeks are just 3.5 months. That's not a very long time. From my own experience, I can say that it's hard to hand over your 3.5-month-old baby to be taken care by someone else. It's a phase in which parents know best what their child needs. So even with 16 weeks of maternity leave, most mothers will probably prolong this period by putting unpaid leave or holidays towards it.
After her maternity leave, your partner will be returning to the work in the role as team leader.
Yes, and she has my full support. I believe that society still needs to do some rethinking in this matter and be more accepting of women who work many hours «despite having children». I get the impression that women are expected to work on the one hand, but are often criticised for letting their children be taken care of by other people on the other. I'm sure this can be quite unsettling for some women. We definitely need to rethink the classic family model.
Did you always want to go back to work after becoming a father?
Yes, I suppose I did. I enjoy working. There's also lots to learn and in my current position and room to develop myself further. Keeping one foot in professional life is important to me. I also enjoy the mix between work and family life.
Do you and your partner share the care work?
Yes, we try to support each another and take turns when it comes to the more stressful things. Like putting the kids to bed, getting up at night or brushing Julian's teeth, which is currently a stressful task. Unfortunately, my stories of horrible monsters that destroy teeth don't cut it anymore. In any case, we both have our designated chores. While I'm generally in charge of the cooking and shopping, my partner deals with all organisational matters. After our second child was born a few months ago, we also started to divide the child-care somewhat. I usually look after my two-year-old son and my partner focuses on our baby girl.
Any tips for people in the same situation. Maybe there are things you'd do differently next time?
When it comes to work and family life, I'm very careful about giving advice. I believe that every couple needs to find their very own way of dealing with the needs and expectations of all family members. In other words, I wouldn't pay too much attention to the advice or experiences of others.
Thank you, Gion, for being so open.
---



News aren't enough for me – it's the stories behind the news that capture my interest. Curiosity is my constant companion and the reason why I spend Saturday afternoons in my favourite café, eavesdropping on city stories while planning my next travel adventure and creating new event ideas. Zen meditation can wait. 
---
These articles might also interest you
Skeleton Loader

Skeleton Loader

Skeleton Loader

Skeleton Loader

Skeleton Loader

Skeleton Loader