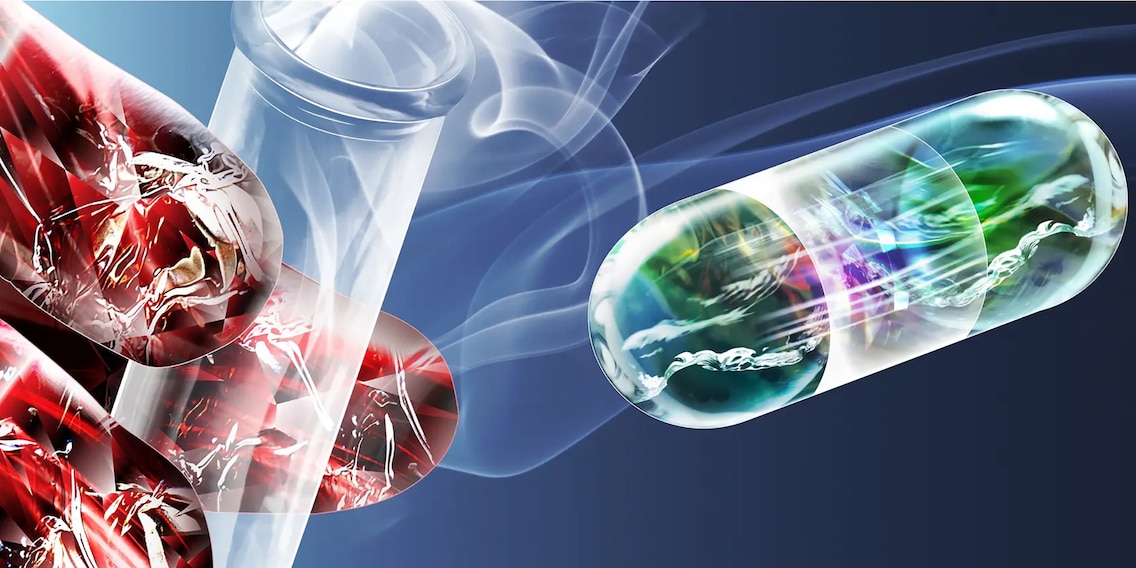 This article was translated automatically.
Mini robot to swallow
Before drugs can take effect in the body, they often have to travel through the digestive tract. Researchers from the USA have developed tablet-sized robots that can transport active ingredients or small cameras.
It is a long-cherished dream of medicine: Instead of a conventional tablet, patients swallow a miniature robot that transports an active ingredient to a specific location in the human body. In this way, drugs could be individually dosed and targeted in the future. Or the mini machines could transport tiny cameras and take pictures of the inside of the stomach or intestines. Small operations are also conceivable.
To this end, researchers at Stanford University have developed a miniature wireless robot that can move in dry and liquid environments. It is just under five millimeters high, cylindrical and foldable. It can roll, tilt, float and even dispense liquids in a controlled manner with the help of a special pump mechanism. The interdisciplinary team reports on this invention in the current issue of Nature Communications.
The scientists believe the greatest potential is in the biomedical field, such as for disease diagnosis, targeted drug delivery and minimally invasive surgery. "In biomedicine, a remotely controlled miniature robot that can travel on the ground and in water is of great use, especially in environments such as the urinary system and gastrointestinal tract," the researchers write.
Miniroboter auf der Teststrecke: Forscherinnen und Forscher der Stanford University haben einen winzigen, kabellosen Roboter entwickelt, der sich in trockener und flüssiger Umgebung fortbewegen kann. Video: © YouTube / NPG Press
The tiny robot is magnetically driven and can be remotely controlled. For this purpose, a small, thin magnetic plate is attached to one of the two hexagonal ends of the cylindrical body. With the aid of an external magnetic field, the robot can be rolled forward and backward, tilted, flipped and rotated. A second, oppositely magnetized plate at the other end provides a pumping motion. This separates the energy source and control system from the robot, which is what makes such miniaturized machines possible in the first place.
Broad range of applications in view
"Existing millimeter-scale devices typically require separate components for locomotion and functions, which increases the complexity of robotic systems and their operation," the authors write. In addition, none of them have yet been able to move both on the ground and in water. This makes it difficult for existing robots to progress in complex, unstructured environments, such as often exist in biomedical milieus, they say.
The group tested that the concept works in the gastrointestinal tract of a dead pig. They had the robot, filled with a liquid, travel a clearly defined path and deposit the "medicine" at its destination. "We anticipate that the multifunctional magnetic origami mini robots could enable a wide range of minimally invasive procedures for biomedical diagnoses and treatments in the future," the scientists surmise - with numerous applications in the human body and fewer side effects than conventional methods.
Spectrum of Science
We are a partner of Spektrum der Wissenschaft and want to make sound information more accessible to you. Follow Spektrum der Wissenschaft if you like the articles.
Originalartikel auf Spektrum.de
Titelbild: © Yuuji / Getty Images / iStock (Ausschnitt): Sieht so die Zukunft der Medizin aus? Miniroboter könnten Wirkstoffe individuell dosiert und zielgerichtet durch den Körper transportieren. (Symbolbild)
---



Experts from science and research report on the latest findings in their fields – competent, authentic and comprehensible.
---
---
These articles might also interest you
Skeleton Loader

Skeleton Loader

Skeleton Loader

Skeleton Loader

Skeleton Loader

Skeleton Loader