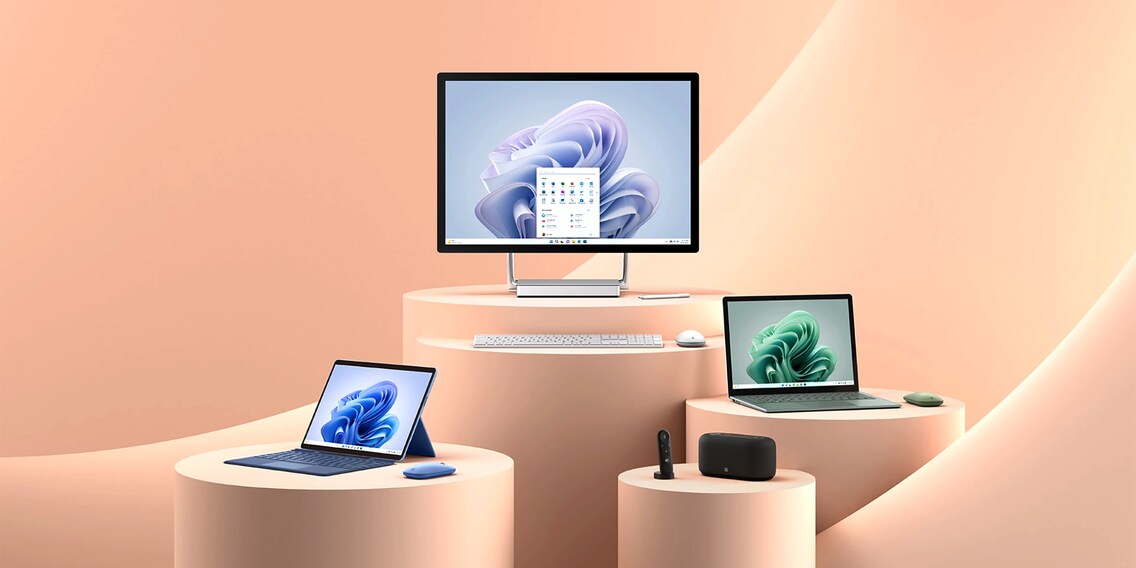 Microsoft unveils Surface Pro 9, Laptop 5 and Studio 2+

Translation:
machine translated
Microsoft begins its tenth year of Surface products with the Surface Pro 9, which is available with either a 12th-gen Intel or ARM 5G processor. However, the new Surface Laptop 5 is only available with an Intel chip and the Surface Studio 2+ is the long-awaited upgrade for Microsoft's all-in-one PC.
So far, Microsoft has marketed its Windows tablet under the names Pro 8 and Pro X for Intel and ARM SoC. This separation in the name disappears with the Surface Pro 9. No matter whether as ARM version with Microsoft SQ3 SoC and 5G support or with 12th Gen Intel CPU - it is called Surface Pro 9. The Surface Laptop 5 and the Surface Studio 2+ also receive an upgrade as well as partly new colour options.
Microsoft Surface Pro 9: With Intel or ARM processor
For those who like to be on the move often and everywhere with the best reception, the new Surface Pro 9 comes with an ARM version. Thanks to Microsoft's SQ3 chip, the ARM version of the 2-in-1 device supports 5G.
The Intel tablet, on the other hand, only comes with Wi-Fi. Whether the ARM device is preferable to an x86-based processor apart from 5G remains to be seen. Especially since the twelfth Intel generation also has efficiency cores that help the energy-hungry architecture save power. And also because the same amount of programmes are still far from being available natively for the ARM Windows experience.
The biggest innovation apart from the interior are the various colours - such as forest green - that are now available not only for the Type Cover (keyboard and touchpad), but for the entire device. However, with one exception: these colours are reserved for Intel devices. The tablet's casing is still made of aluminium. If you buy the keyboard with it, you also get a "pen garage" in which the flat pen can be charged. This also has to be purchased separately.
The touch display has the traditional 3:2 format and 2880 x 1920 pixels. A refresh rate of up to 120 hertz is also given. Support for Dolby Vision IQ is reserved for the Surface Pro 9 with Intel processor. All models can be purchased with 8 or 16 gigabytes of RAM, but the Intel version is also available with 32 gigabytes. The storage capacity ranges from 128 to 512 gigabytes for the SQ3 version and up to one terabyte for the Intel version. The new Surface Pro is to be delivered from 25 October. Prices start at 1659 euros (SQ3) and 1299.99 euros (Intel).
Microsoft Surface Laptop 5: Intel only
On the fifth Surface Laptop there are only Intel processors. The AMD option available on the Laptop 4 has been dropped. Instead, there is now Thunderbolt 4, which means support for DisplayPort and data rates of up to 40 gigabits per second.
The Laptop 5 is still available with a 13.5 or 15 inch touch display. With a resolution of 2256 x 1504 and 2496 x 1664 pixels and support for Dolby Vision IQ. The smaller model is available with Intel Core i5-1235U or Core i7-1255U. The 15-inch model is only available with the Core i7-1255U. The RAM ranges from 8 to 32 gigabytes, the SSD from 256 gigabytes to one terabyte. A new colour option this year is sage green - but only for the 13.5-inch notebook. .
The new laptop is scheduled to start shipping on 25 October. The devices will cost from €1179 (13.5-inch) and €1529 (15-inch) - the most expensive 15-inch option with 12th Gen i7, 32 gigabytes of RAM and a terabyte of storage is expected to cost €2739.
Microsoft Surface Studio 2+: A minor upgrade
Microsoft's all-in-one Surface PC is getting an upgrade after what feels like an eternity. Instead of an expected Studio 3, however, there's a Studio 2+ with 11th Gen Intel Core i7-11370H, 32 gigabytes of DDR4 RAM, a terabyte SSD and an Nvidia Geforce RTX 3060 with six gigabytes of VRAM. That is the only configuration available.
As with the other Surface products, the exterior remains largely the same. There is still a touchscreen with 4500 x 3000 pixels, but now with Dolby Vision. Its price, according to Microsoft, is 5589 euros, including keyboard and stylus.
---

I find my muse in everything. When I don't, I draw inspiration from daydreaming. After all, if you dream, you don't sleep through life.
---
---
---
These articles might also interest you