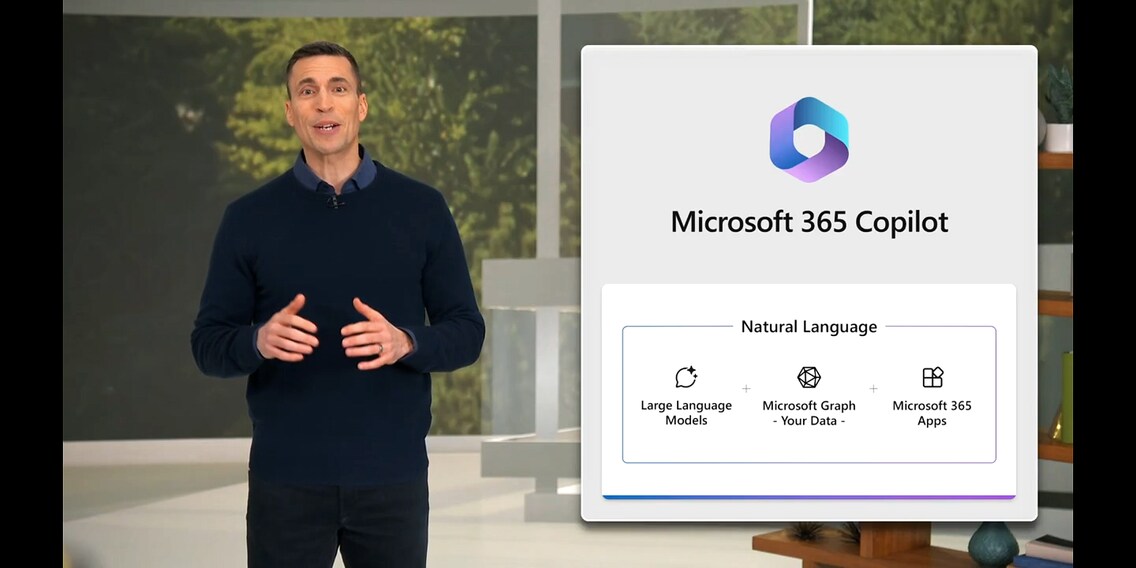 Microsoft 365 Copilot unveiled - could make human assistants redundant

Translation:
machine translated
The ChatGPT-based Bing Copilot was just the beginning. Now the Microsoft 365 Copilot will soon offer us Office users "a whole new way of working". The whole thing holds potential - like the former switch from letters to mail.
In early February, Microsoft equipped its Bing search engine with artificial intelligence - the Bing Copilot - /page/microsoft-spends-bing-and-edge-artificial-intelligence-26391. Less than a month later, the corporation integrated the chatbot, based on OpenAI's ChatGPT, into the Windows taskbar . And now, this week, it's blow by blow: first OpenAI introducesGPT-4. According to this, Microsoft reports that their Bing Copilot is already based on GPT-4 and thus confirms what has been rumoured on the net for some time. Furthermore, since the middle of this week, Bing Copilot can be used by anyone - after registering for the waiting list, Microsoft is currently sending out an immediate confirmation and opening up the feature.
And now Microsoft is putting one more on top. At the LinkedIn Live event "The Future of Work with Artificial Intelligence", the company is presenting the integration of the AI chatbot in Office. Only twenty selected customers are currently allowed to try out the new Microsoft 365 Copilot. An expansion to further test persons as well as details on pricing models will follow sometime in the coming months.
How Copilot works
Microsoft stressed at the presentation that it was not done with a simple connection to ChatGPT to realise the new intelligent assistant. Behind it is a Copilot system that combines three building blocks: the user's personal data (Microsoft Graph), the Microsoft 365 apps (Word, Excel and co.) and the Large Language Model GPT-4.
If you ask Word to create a new document based on your data, the Copilot will request the input and context from the Microsoft Graph. Then the system modifies the request and forwards it to GPT-4. Before the output is played out in the corresponding app, the Copilot checks it again for security and compliance features in consultation with Microsoft Graph. Only then, but only seconds after the request, is the output played out to the user. What takes a long time to do on one's own without help may soon be done in the blink of an eye.
What the new Copilot should be able to do
Instead of asking subordinates if they can make a PowerPoint presentation out of key figures and keywords, the boss can hand over her Excel input plus annotations directly to the Microsoft Copilot. It does it in no time at all - seconds later the first draft appears. If something is missing or needs to be adjusted - for example, the layout based on another document - she only has to seek further discussion with the artificial intelligence. If she asks it to rewrite a passage of text into an abbreviated version, it does so without a murmur.
The fact that documents and more are created in an instant does not mean that the PC user does not need to have specialist knowledge. Artificial intelligence is not error-free. Or only as error-free as the input it receives. It should also be wrong with certain queries, but with the delivered output it should still deliver a good idea in its approach that will take you further.
But that is not enough. In the future, everything should also work like magic with the other Office applications. Here is an overview of some of the interesting possibilities of the artificial neural network:
Create Word documents based on other files or your input in the chat. You can then edit the output by hand or refine it with the help of the chatbot. If you need a presentation, ask for it and specify the desired number of slides before your new assistant shows you a first draft in PowerPoint.
Analyze data, format and create charts in Excel. Pivot tables and SWOT analyses are also created instantly when you ask for them. Add colour coding to better identify numbers in the red or show the key trends to be derived - all this and more shall soon enrich the number crunchers of the world.
Save time in Outlook by having Copilot highlight important mails and help you delete and reply to mails. Have email threads summarised or even draft replies created, where you can use sliders to determine how long they should be. Or in what tone they should come across.
Call up information on upcoming team meetings with the co-pilot. If you want, you can also get updates on related projects or organisational changes. Team meetings themselves can be transcribed by the copilot. If you are late for a meeting, it will show you what you missed. A summary of the meeting should also be possible.
If the co-pilot should ever provide an unsatisfactory answer, Microsoft has given it a try-again button that makes it unnecessary to ask another question.
Whether the Assistant will be a gamechanger for the world of work, as Microsoft envisages, the coming months will show. It is obvious that the chances of success are great. Also because Microsoft has an additional function up its sleeve that should make it possible to access all 365 data centrally from a single chat interface in Teams: the Business Chat. It uses Microsoft Graph to bundle documents, emails, contacts and more. This in turn should enable the creation of planning overviews, summaries and more.
Titelbild: Screenshot LinkedIn-Live-Event, Microsoft
---

I find my muse in everything. When I don't, I draw inspiration from daydreaming. After all, if you dream, you don't sleep through life.
---
---
---