Laser Dyson review: a vacuuming revolution?

Equipped with a laser brush and a particle sensor, Dyson's V15 Detect Absolute has set ut to transform vacuum-cleaning. Laser brush and a particle sensor – useless gimmicks? Absolutely. Nevertheless, Dyson remains the top dog among cordless vacuum cleaners.
If the laser at the front of the nozzle works, it will relentlessly reveal where you have some cleaning left to do. It works on hardwood floor, for example, or on really smooth tiles. The green light illuminates the floor, making even the smallest particles cast a shadow. That's where the problem arises. On stone floors with a slightly irregular structure, the laser is useless. Moreover, the laser is difficult to see in broad daylight. Check out the video to see the laser and accessories in action. Activate English subtitles by clicking on the cogwheel for settings and choosing English in the Subtitles option.
Get rid of the particle counter
The particle counter is completely useless. The Dyson V15 analyses the number and size of dust particles are that it sucks in. Apart from a bar chart on the display of the vacuum cleaner, this information can't be evaluated and is therefore useless. I'd say Dyson should leave particle work to the professionals at CERN or the Paul Scherrer Institute.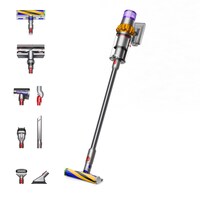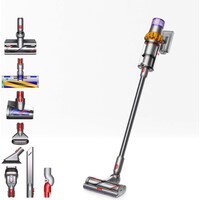 What else?
Dyson remains the number one when it comes to suction power. On top of this, the accessories are great – there are almost too many of them. Dyson includes several small brushes. One would have been enough. The problems? All too familiar: because the battery and motor are heavy and the handle uncomfortable, it's not possible to vacuum for more than 15 minutes at a time. Dyson would be better off investing in ergonomics instead of cleaning lasers and particle measurement.
---



When I flew the family nest over 15 years ago, I suddenly had to cook for myself. But it wasn't long until this necessity became a virtue. Today, rattling those pots and pans is a fundamental part of my life. I'm a true foodie and devour everything from junk food to star-awarded cuisine. Literally. I eat way too fast. 
---
---