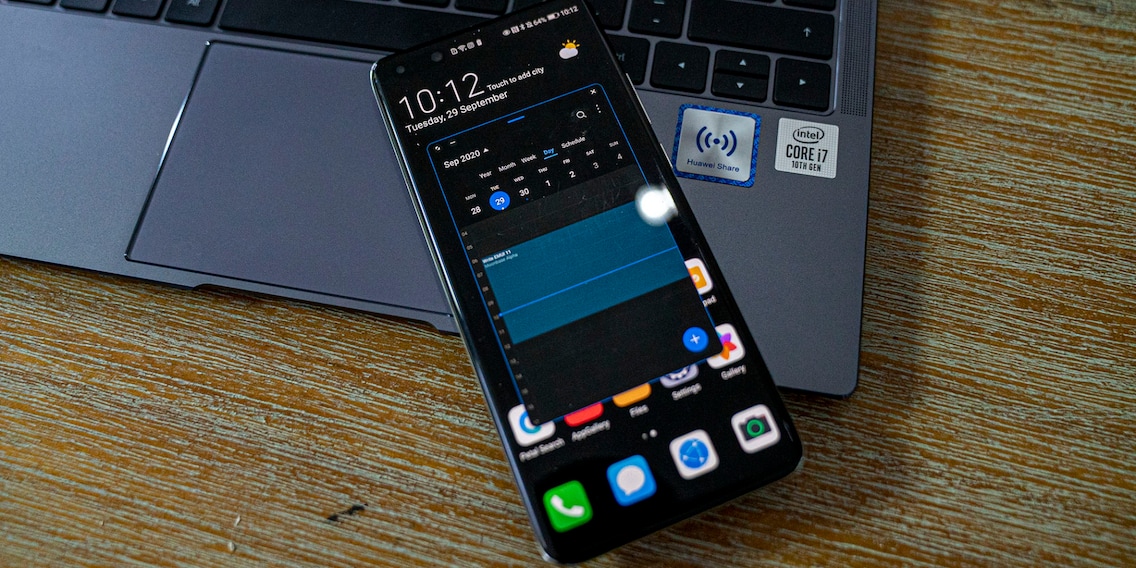 Huawei Emui 11: a closer look at the final farewell to Android

Huawei is set to present its new devices tomorrow. It's safe to assume these will run Emui 11. Here's a last look at Emui in action on a slowly dying operating system.
I have heard Huawei's call and I shall answer it. The Chinese company – a bit of a punching bag of the West – has invited me to its 30 September 2020 event, where it will present its new line-up. If the rumours are correct, the Mate 40 will make its debut. This might be the last phone with the Kirin System on a Chip due to rising tensions with the USA, which have critically disrupted the supply of raw materials.
What is certain is the launch of Emui 11, the new and quite possibly last Android distro from the House of Huawei.
How do I know this? Because Emui 11 has been running on my Huawei P40 Pro for a few days now. Including the retrofitted Google Services, which have remained even after the update. So, here we go: a look at the new software and the behind-the-scenes of the pastel-coloured icons.
The visual: same, same
First comes the update, then comes the disillusionment. Initially, at least. Because visually, Emui is still Emui. That is, a not-too-shabby-looking thing, born in an attempt to visually imitate Apple's iOS. But it has definitely developed its own identity. Emui 10 was even pretty dang decent.
Emui 11 looks identical.
But the biggest change is actually in user experience, and may sound a bit vague: Emui 11 feels lighter when you use it. Apps open just a tick faster, data is processed a dash quicker. Is this simply the maximum performance an Android-based Emui 11 can achieve? Is Huawei not able to get more out of Android? Or has the company simply settled for an utter minimum in terms of visible improvement, preferring instead to focus on the development of the upcoming HarmonyOS?
Regardless, the legerity of the new interface is quite pleasant.
The Always-On Display has also been reworked and you can now choose from some «artistic» designs. Alright. That's... nice? An Always-On Display is something that's supposed to unobtrusively blend into the background. Because when my phone is on the bedside table, the last thing I want is yellow and blue squares shining into the night. Showing the time alone is fine, thank you very much. Why fix it if it ain't broke?
A vision for the future
Emui 11 becomes interesting when you start thinking about the near future. Until now, operating systems have essentially been the answer to the question, «We have the following hardware. What kind of software will make the hardware usable?» But with the upcoming operating systems – HarmonyOS and probably also Google Fuchsia – the question is reversed: «We have software with the following capabilities. What hardware can we pair it with?»
So, many features that feel downright strange and unnecessary on my P40 Pro actually make sense in the context of the future. For example, there's the calendar, which is now available as a floating element. For foldable phones, this seems like a functional idea. And on the tablets Huawei continues to produce.
It gets even more exciting when you look at Emui 11 in the context of the entire Huawei ecosystem. Because therein lies the developers' work. Huawei's strategy reads «1+8+n», which sounds neither particularly glorious nor particularly cool. But actually, it is pretty cool.
What's 1+8+n?
«1+8+n» is Huawei's philosophy. One device connects to eight devices, which can then additionally connect to an infinite number of devices. Basically, the ecosystem is not yet complete. But the point is that a device you should always have with you is at the heart of this ecosystem. In the current state of technology, that device is the smartphone.
ReviewSmartphone

Huawei P40 Pro review: would, should and could be the best, if...

ReviewSmartphone

Huawei P40 Pro+ vs. P40 Pro: Was bringen 400 Franken Aufpreis?
The Huawei P40 Pro is currently the phone with the best camera available on the market. But it's missing Google Services. Sure, you can retrofit them, but that involves digging pretty deep into the system. For some users, it seems straight-up impossible to do – even using a manual that worked for me several times on the exact same software. And if it doesn't work for you, I really can't help you. On my P40 Pro, the Google hack works perfectly every time. Sorry.
To answer the question whether updating your phone removes Google Services: no, Google Services don't get removed. It stays on the phone and continues to function somewhere between «flawlessly» and «poorly, rather than surely».
8: or rather, 7
The «eight» are in the middle ring of the diagram. These are the devices that Huawei has shortlisted for integration into the ecosystem. They're the devices that are supposed to feature seamless connection. But not only in the sense that you can easily play music from your mobile phone on the Sound X or on glasses with integrated headphones. The point is that these connections are partially automated and run both ways. Meaning that the Sound X listens to your phone if someone calls you, and so on.
In the case of headphones, watches and speakers, this doesn't exactly sound super innovative and offers basically what every other system currently offers. From the end user's point of view, it makes no real difference whether you use your Huawei smartphone to listen to music on matching Huawei headphones or on Sony headphones. At least not yet.
When you look at PCs, things become more interesting. Or at the Windows-Huawei interaction more broadly. Because this is precisely one of the gaps that the world is currently trying to fill. And Apple is the role model: when your iPhone rings, you can see who's calling and even answer the call on your MacBook. The same is true for the iPad. Thanks to iCloud, you can also access all your pictures, notes and settings more or less instantaneously on all your devices. It's quite a pleasant user experience and definitely something with huge potential moving forward. But even Apple's ecosystem is not yet complete and continually being worked on. Though Apple is also ahead of Huawei, it still lends itself as a nice comparison.
In Apple's case, Apple ID serves as the primary authenticator. With Huawei, it's the NFC chip in your smartphone. To connect your phone to the Sound X, you hold it over the NFC receiver of the speaker. When you hold the smartphone over your MateBook, a program installed on Windows is activated and mirrors the screen of your phone on the laptop. This program allows you to remotely control your phone and transfer files.
But: you have to repeat the authentication process each time. Technologically speaking, it works perfectly. Just don't be surprised if the first few attempts end in you asking yourself, «Where's the bloody NFC sensor?»
Windows-Huawei won't be as seamlessly integrated as the Surface Duo is likely to be, but it's close enough to be absolutely functional.
There are still small gaps in tier «8» that Huawei hopes to close. Emui 11 is supposed to be the first step towards this goal. Connecting to other Huawei smart devices is to become faster and easier.
And hopefully, the advertisements promoting whatever Huawei products will disappear from the notifications of Android devices. I'm all for ubiquitous marketing, just not where I can't escape it.
Speaking of marketing, the NFC aspect is a bit perplexing. It works, but somehow it all seems a bit stone-age. Apple has become the de facto standard here. When you buy a new Apple device, all you have to do is log in to your Apple ID and voilà – the entire ecosystem works without you having to do anything else. My smartphone doesn't have to be on the same table as my MacBook for both of them to ring when someone calls me. As far as I know, an Internet connection is all you need.
If Huawei ID did the same, the hardware-bound NFC route would be superfluous. Huawei would need more people to use Huawei ID for this, though. If only users were aware of all that Huawei ID has to offer. If only there was some way to inform them of it. Like marketing, maybe?
One last question: there are eight objects in the circle. One of them a car with the word «Telematics» underneath. Can we expect a Huawei smart car?
n: The Great Unknown and a sphygmometer
In the outermost ring of Huawei's diagram, the «n», things become more abstract. This is where Huawei's keeping its options open for anything the future may bring. Or is already in the process of bringing.
Some maps have recently found their way into the App Gallery via the Tomtom software, which will likely be further integrated into the Huawei ecosystem. In the same ring of the diagram, you can see «Vehicle Info». Nobody outside Huawei knows exactly what this means. Hence the question: could this be software for a smart car? Perhaps a competitor to Apple's CarPlay or Android Auto? Or even better: a competitor to Android Automotive? And how does this «Vehicle Info» differ from «Telematics» in the «8» ring, where a car is also pictured?
You can navigate through the entire outer ring with such «what ifs». Some elements are clearer than others. The «Smart Home» category is pretty self-explanatory with «Vacuum Cleaner» and «Camera»; with categories like «Entertainment», you can put two and two together; on the other hand, «Fitness and Health» leaves quite a bit to the imagination. Why did Huawei include a sphygmometer there? What device is it built into? Or, put differently: what device would the world benefit most from if it included a blood pressure monitor? Or does Huawei want to enter the medical sector? But then, once again, the question: why? What benefits does Huawei expect for itself and/or the world?
To bring it all back full circle to Emui 11: Emui 11 is a pretty nice piece of software. It's acceptable enough in appearance, feels very good to use and is, above all, one thing: a look to the future. It's likely to be the last version of Emui on Android – Emui 12 will probably run only on HarmonyOS. So, in a way, Emui 11 is a nice farewell ode to an operating system.
---



Journalist. Author. Hacker. A storyteller searching for boundaries, secrets and taboos – putting the world to paper. Not because I can but because I can't not.
---
---
---
These articles might also interest you
Skeleton Loader

Skeleton Loader

Skeleton Loader

Skeleton Loader

Skeleton Loader

Skeleton Loader