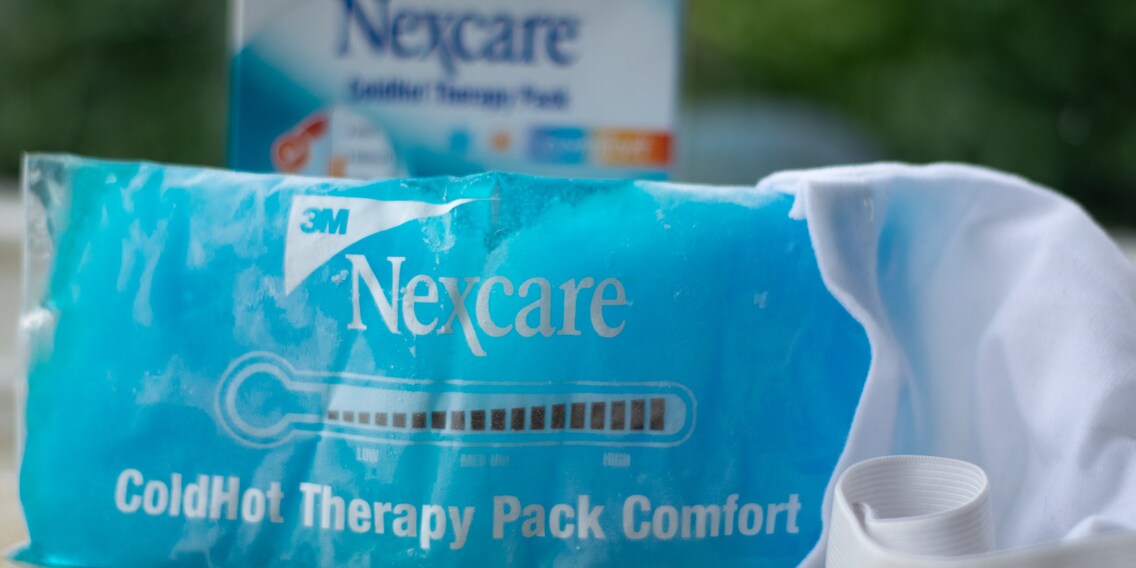 Hot and cold packs: the facts

All cold packs are the same. At least that's what I thought until now. In this article you'll find out what's worth paying attention to and how a small elasticated strap and hot-cold compresses make my life easier.
I always had a cold pack in the fridge. Especially when you have a child at home, it's absolutely essential to quickly have something ready to cool in any situation in life. But I've never looked further into the little plastic bags. Until I tried the HotCold compresses from Nexcare for a product test.
I was suspicious when I read a promise in the product details: «Non-toxic, 99 per cent biodegradable.» What else is in these small, blue plastic bags? Time to take a closer look.
At first glance, a close look at the details doesn't shed any light, in fact the opposite. After all, there are so many substances, and deciphering them requires a degree in chemistry. But you'll soon find out what can help even without detailed knowledge of various chemical substances.
A pack for hot and cold treatment
The Nexcare ColdHot Therapy Pack comes with a protective cover with a «Thinsulate fabric layer», according to the description. So is a chemistry degree necessary after all? No, a quick search reveals that the manufacturer invented the word and it describes a special fabric made of polyester fibres. So the 99 per cent biodegradability doesn't apply to the cover, but it will still make my life easier in the near future with the practical elasticated velcro strap.
The gel pack can be used as a cold or hot compress. After about two hours in the refrigerator, it's ready for use on insect bites, after bumps and light bruises or, for example, dental treatment. Heated for a few minutes in a water bath or 30 seconds in the microwave, it's suitable for treating muscle tension, back or menstrual pain, or for osteoarthritis. Since bruises, sprains or swellings are more likely to occur in our household (keyword: play afternoon with a gang of seven-year-olds), we primarily use the cooling effect.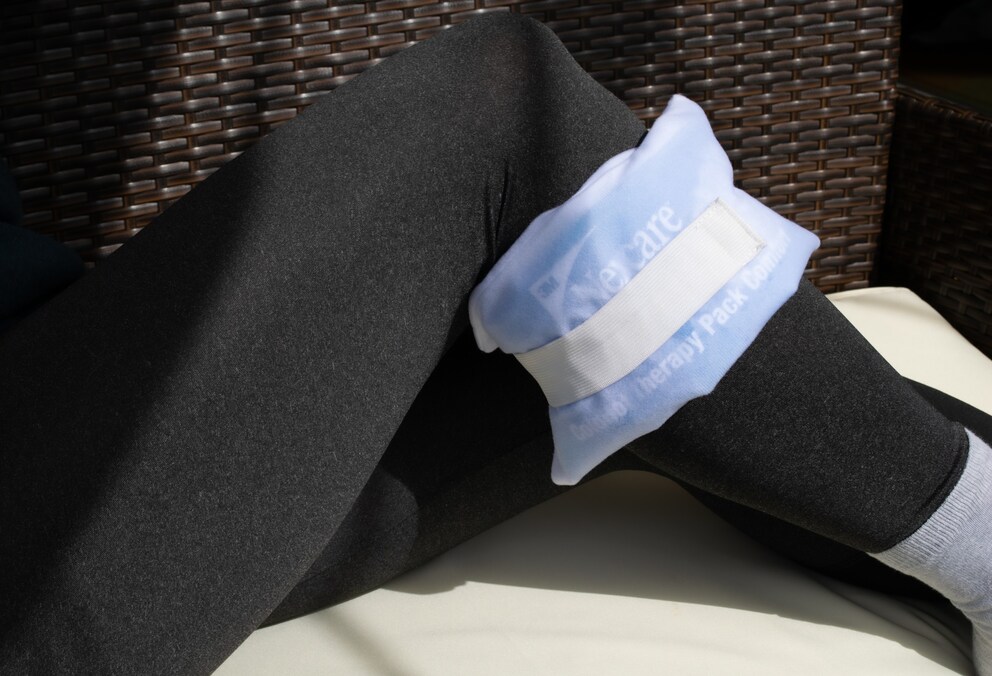 The practical elasticated strap
Here, I was totally persuaded by the Velcro tape that's attached to the fabric sleeve. So simple and yet a huge help. This allows the cold pack to be strapped securely but flexibly to the affected area, be it the hand, knee, legs or even the head. This means you don't have to keep holding it, which for children is hardly feasible. For example, I could cool my son's sprained finger without forcing him to hold still. Or after hitting my head on the kitchen cabinet, I could just keep going with the cold pack strapped to my head. This is a real bonus for impatient people like me.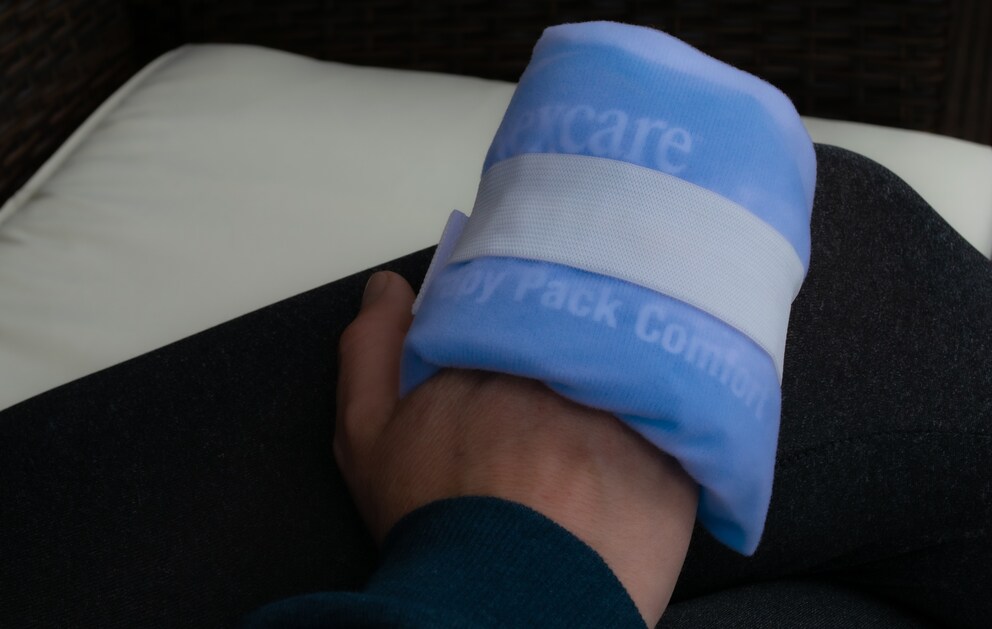 Another advantage is the indicator for the heat or cold intensity, from light to medium to strong. This helps to avoid using it at too cold or too hot temperatures, especially with children. Or even reduce the cooling time if only light cooling is needed anyway.
Labeling of medical devices: the many substances explained
Now let's get back to the substances in it. Even extensive research I'm none the wiser about the exact substances. However, the exact understanding of the chemical background, as mentioned is probably unnecessary. Because hot and cold compresses fall into the category of medical devices in Switzerland and the EU. This means that to ensure that the products are tested and certified, the packs must be labelled.
Switzerland:
Swiss Authorised Representative Symbol: In Switzerland, medical devices placed on the market must bear the Swiss Authorised Representative symbol. This mark is similar to the European CE mark and indicates that the product meets the Swiss requirements for medical devices. Conformity is usually verified by the Swiss Agency for Therapeutic Products (Swissmedic).
Swissmedic registration: Swissmedic is the Swiss regulatory and supervisory authority for medicinal products and medical devices. Medical devices that are placed on the market in Switzerland must be approved or registered by Swissmedic. Appropriate registration or approval confirms that the product complies with Swiss regulations.
Germany:
CE Marking: The CE marking is an essential sign indicating that the medical device complies with the requirements of European directives or regulations. In Germany and other EU countries, CE marking (page in German) is mandatory for medical devices. It shows that the product meets the relevant safety and performance requirements and has undergone a conformity assessment.
Registration number: In Germany, medical devices are registered in a national registry. The Federal Institute for Drugs and Medical Devices (BfArM) or the responsible state authorities assign registration numbers. These numbers confirm that the product is registered in Germany and complies with the applicable regulations.
These regulations ensure that, for labelled products, the following points are mandatory:
Biocompatibility: The substances used must not have any harmful effects on the human body. This includes allergic reactions, irritation and other negative health consequences.
Hazardousness: The substances used must not contain hazardous chemicals, toxins or other substances harmful to health.
Stability: Materials must be stable and not decompose or change into undesirable substances when cooled or heated.
Environmental compatibility: While medical device law is primarily concerned with safety and effectiveness for the user, manufacturers should still strive to use environmentally friendly materials to minimise environmental impact.
Labelling and information: Manufacturers must provide clear and complete information about the substances, the correct use and possible risks of the product.
Unmarked goods are therefore not recommended in this context. A few years ago, for example, an incident occurred in Australia whereby a child bit open the plastic wrapping of a cold pack and subsequently fell ill and had to be put on dialysis. One manufacturer had used toxic ethylene glycol for the contained gel instead of the commonly used propylene glycol.
Verdict
Overall, the Nexcare ColdHot Therapy Pack definitely won me over and will have a permanent spot in my freezer. It's good quality and offers practical features through the temperature intensity indicator and the elasticated strap for fixing. The price is average compared to similar products. The fact that the gel contained is non-toxic and biodegradable is another plus.
Header image: Mery Cecilia Ochoa Caprara
---



Science editor and biologist. Some wisdom to go with that, you say? Here goes: «Don't let anything get you down. Be bold and wild and wonderful» (Pippi Longstocking).
---
---