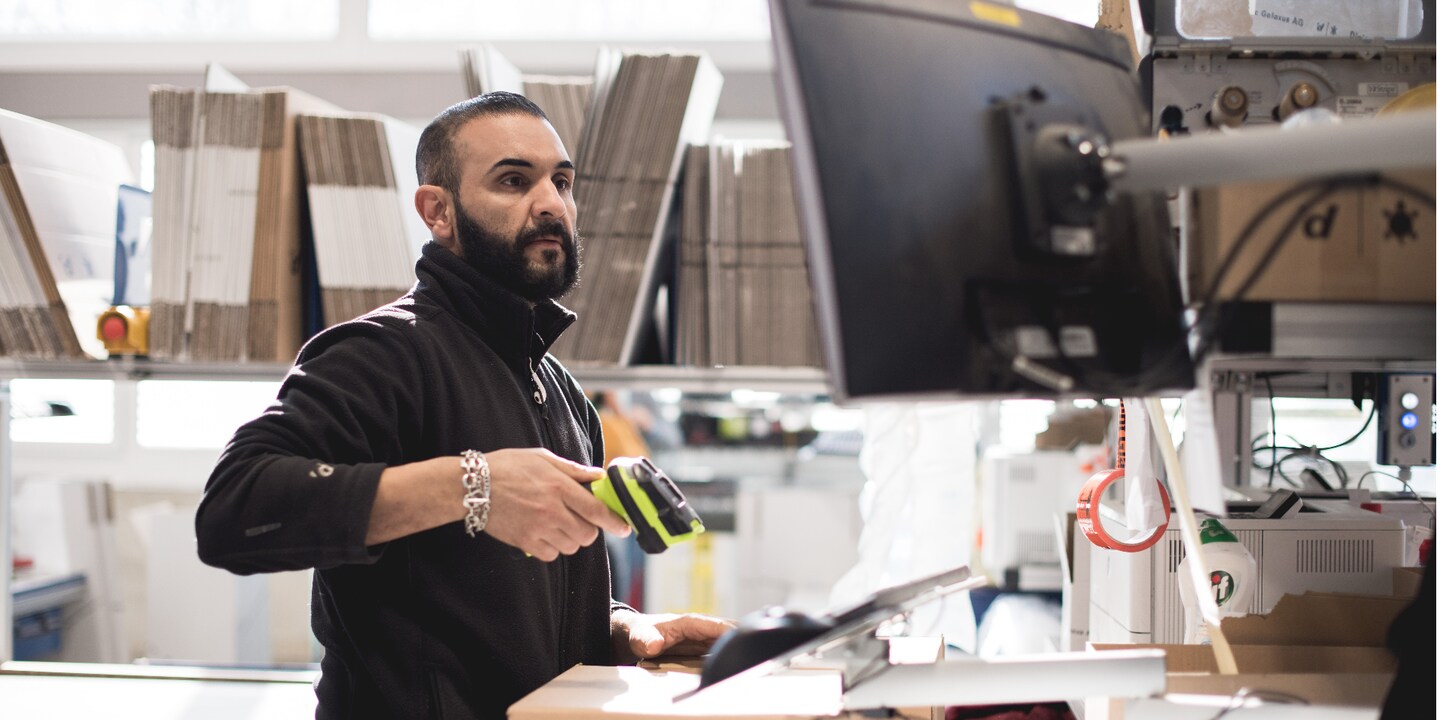 Help for Santa: we need 250 extra people in logistics
Only four months until Christmas. That's why we at Digitec Galaxus are looking for 250 additional employees to give our logistics team a hand. Not only is the demand for our products on the rise, but we're also expecting a 50 per cent order increase during the holiday season compared to last year.
The online business changes with the seasons. While the summer months are generally laid-back, autumn tends to see a sharp increase in demand. But orders peak in November and December. This is strongly linked to our Black Friday and Cyber Monday sales, which kick off Christmas shopping.
Many things are different this year, and the Corona pandemic has triggered an unprecedented growth in online commerce. To tackle the workload, we already ramped up our logistics head count with 300 additional employees back in March and April. But not even this year's events are likely to change the fact that shorter days go hand in hand with greater buying power. On the contrary: we're bracing ourselves for over 50 per cent more orders than last year in November and December. That's why we need extra help in logistics from September.
The three main arteries in our logistics loop
We're looking for around 250 new employees for our warehouse in Wohlen, Aargau. Approximately 120 people were already recruited in July and August. What we need now is:
40 picking assistants. Their job is to temporarily store the delivered products in boxes and shelves and put together orders for our customers.
80 packing assistants. Their job is to put the orders in the parcels that are later handed over to the postal service.
10 employees in the goods receipt area. Their job is to receive, unpack and check the products delivered by truck. Experience in logistics is a must for this job profile.
All described vacancies are temporary and have varying starting dates from 1.9.2020 to 24.11.2020 at the latest. The jobs end after the first week of January 2021. However, in view of the continuous growth we're experiencing, some temporary positions could become permanent. The workload is mostly 100%, but we also consider applications for 80% workload.
Team leader wanted
By the way, we're also looking for several team leaders to help us out in logistics – regardless of the Christmas business. What we need:
Team leader in the goods receipt area, manual picking (pick tower), large parts storage (palette goods) and packing (outgoing goods).
Team leader for our returns department.
Team leader in our returns refurbishing department.
Explore all vacancies at Digitec Galaxus. We only accept applications via our job portal.
---
At digitec and Galaxus, I'm in charge of communication with journalists and bloggers. Good stories are my passion – I am always up to date.
---
These articles might also interest you
Skeleton Loader

Skeleton Loader

Skeleton Loader

Skeleton Loader

Skeleton Loader

Skeleton Loader