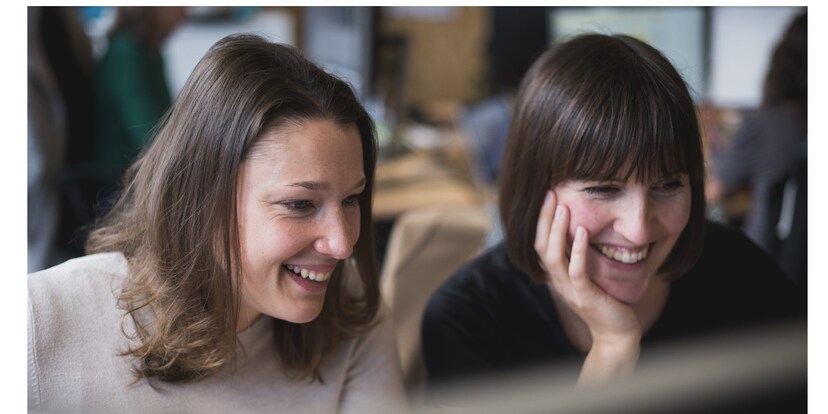 From Chile to Zanzibar: this is our English-speaking Community
Know your reader, they say. It's the golden rule when you're writing or translating. A rule that put my colleague Eva and me in a difficult spot. All the information we had on our readers was a number – 140,500. That's the amount of digitec Galaxus customers who have their accounts set to English. To get an idea who was behind these accounts, we conducted a small survey back in August. We did not expect what happened next.
Sure, at digitec Galaxus we have tables and charts and marketing evaluations regarding customer numbers but all they leave us with are cold, soulless numbers. It can be hard to find the right tone of voice if you're writing for customer 21,403. It's a lot easier if you can envision a 34-year-old tech-savvy Canadian – let's call her Kate – who lives in Rüschlikon with her Swiss husband and two kids.
However, conducting a survey to find out who your readers are is a slightly risky project. What if the replies were all negative or, worst case, non-existent? Eva decided to bite the bullet and flat out asked our audience who they were and what they enjoyed reading.
The wait
We left the survey up for about a month, hoping this would give you readers enough time to send us your feedback. After the first two weeks had passed, Eva went away on a two-week holiday. The deal we had was to look at the results upon her return. Our hopes were up. I had received a really nice e-mail from one of our English readers – and I wasn't even the one who had written the article! Little did we know we we'd be in for a surprise.
The disappointment
Sun-kissed Eva was back so it was crunch time! She checked her inbox only to find that nobody had taken part in the survey. Zero replies. We were gutted. Was nobody reading our translations? Were readers put off by our survey format, which is not actually made for surveys but for competitions? How would our boss take it? In our existential crisis, we turned to one of our data analysts. Surely, he would be able to give us an explanation, a reason, or at least some comforting words.
The surprise
Eva turned to me wide-eyed. "He's sent over a file," she said uneasily. I pushed my office chair over to her desk and we both waited for the file to appear on screen. "No way!" Eva exclaimed. 500 replies! And there we were, thinking we'd receive your replies by e-mail when, in fact, our data analysts were the ones doing the magic. After wiping the grins off our faces, we were in for a second pleasant surprise. Not only did over 500 of you take part, the majority of you even made the effort to send us detailed information about yourselves. Many of you also thanking us for our work.
Wow, you're the best!
How do you define nationality?
Before we give you the results, there's a bit of explaining to do regarding the evaluation. What might sound like a straightforward task of adding up replies and stated countries of origin, is actually just as complex as people's backgrounds. If you decide on giving each nationality one point, what do you do with a reply like this: "I was born in Russia, spent 18 years in Australia and now live in Basel."
We decided to give away points as follows:
1 point for passport nationality: "I'm French but lived in the US and Iran for five years."
--> France 1 point
0.5 points for living somewhere for 15 years or more: "I'm English but have lived in Delémont for 18 years now"
--> UK 0.5 points, Switzerland 0.5 points
0.5 points each for nationality of parents: "My mum is Swiss and my dad's Portuguese."
--> 0.5 Switzerland, 0.5 Portugal
With this rudimentary point system, we hope to gain more insight into our Community. It gives us some clues about what you might be into and what you'd like to read more about. For example, if you've been living in Switzerland for over 15 years, you're more likely to be into skiing than if you'd spent all your life in Hawaii, let's say.
We are the world: top 15 nations
England, Wales, Scotland and Northern Ireland summarised as UK
Our 10 tail lights
And last but not least – our "minorities" with one point each:
Chile, Cyprus, Fiji Islands, Lebanon, Mauritius, Middle East [sic!], Nepal, Norway, Singapore, Somalia, South Korea, Syria, Taiwan, Uruguay, Venezuela, Vietnam, Zimbabwe, Zanzibar, Hell, Your mum's bedroom
We were surprised to find that we have more readers from hell and our mums' respective bedrooms than from the beautiful country in last place with 0.5 points:
Mexico
Overall, our English-speaking Community is made up of a whopping 66 different nations. Download the detailed survey results here.
Thanks a million!
Thank you all so much for reading our translations, taking part in our survey and telling us about who you are. You have brought the entire English-speaking Galaxus Community a lot closer to us and we hope to provide you with more topics you love to read about.
Didn't take part in our survey? Feel free to tell us about yourself and your interests in the comments section below.
We look forward to hearing from the Armenian-American working in Obwalden, the Swiss wanting to sharpen his English skills and the Aussie who's excited the ski season has started.
---

Jess likes pub quizzes, Rice Krispies and her two French donkeys. She's into Hip Hop, but plays the drums in a rock band – a caring mum of one and a merciless boxer. Jess is British-Swiss, her hubby Scottish-Mexican and her son's named after a Hungarian king. As she bridges the gap between cultures, she translates words not just verbatim but with her own brand of humour and style.
---
---