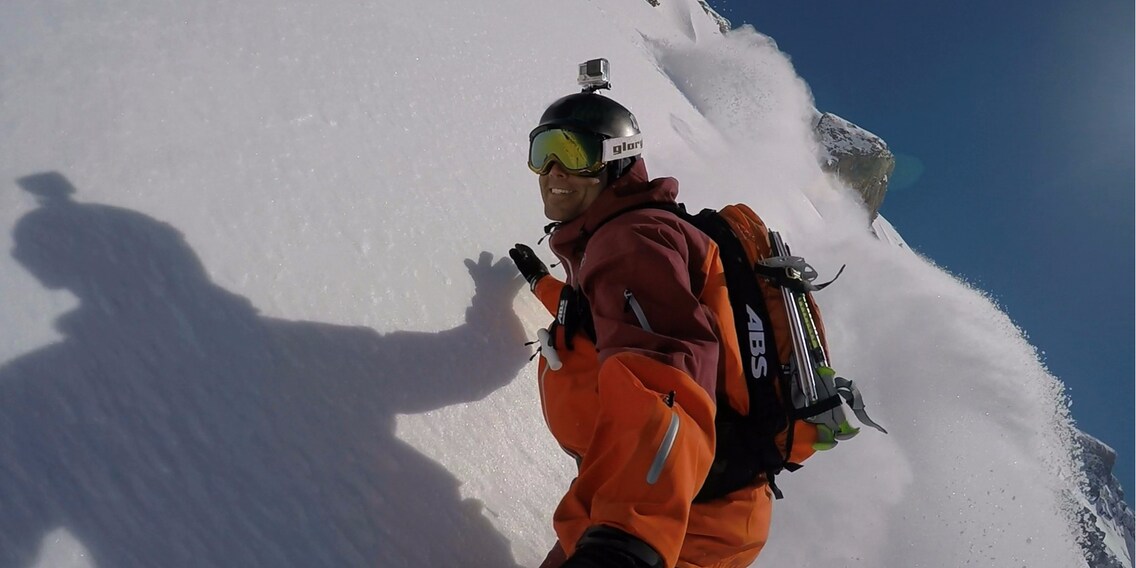 Maximum off-piste powder fun – that's what freeriding stands for!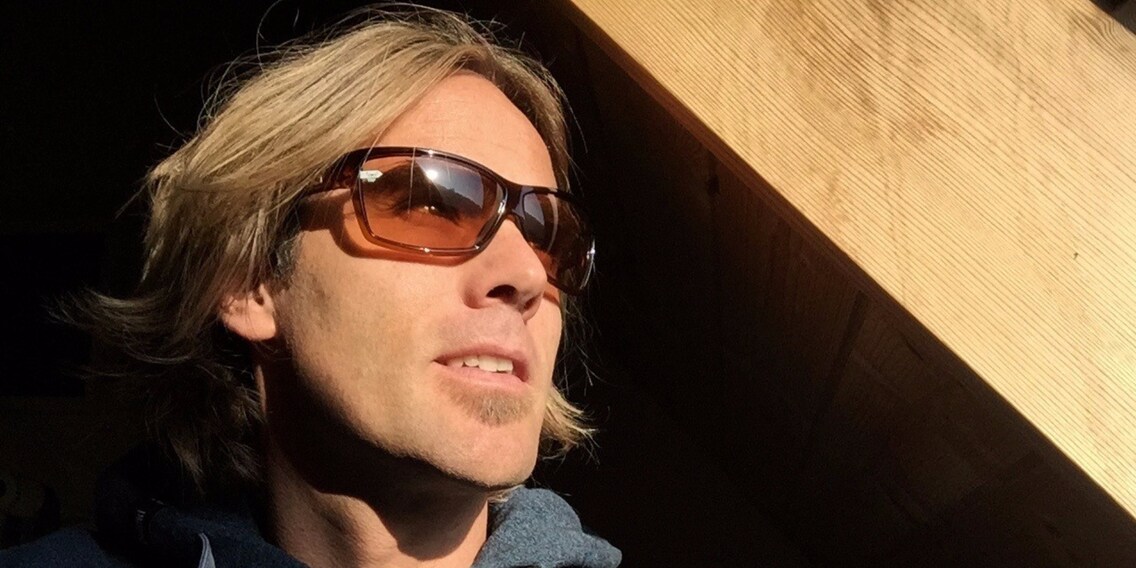 Ueli Kestenholz is a pro snowboarder, extreme athlete and a true freeriding legend.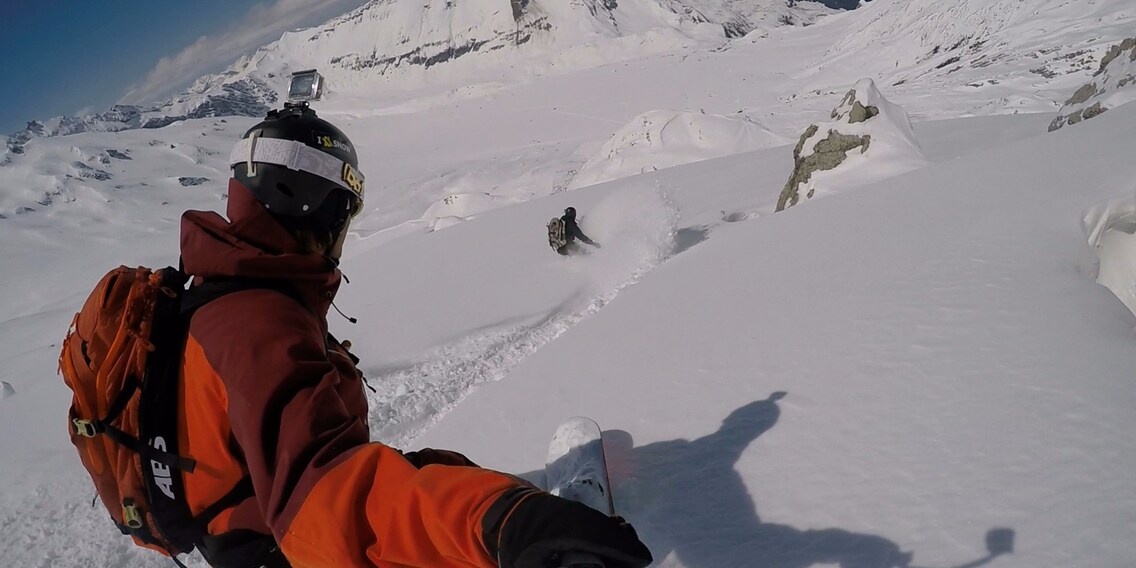 Freeriding – the urge to to ride off-piste.
"Freeriding is my anthithesis to being available 24/7."
Freeriding is totally trendy. But what's driving this trend? What feeds peoples' urge to ride off-piste on un-groomed terrain? What about potential dangers? We asked pro snowboarder, extreme athlete and freeride legend Ueli Kestenholz.
What exactly is "freeriding"?
Ueli: Freeriding is nothing other than riding or touring on natural terrain – either on a snowboard, a splitboard, wearing snowshoes or skis. It does not necessarily mean riding in powder snow. For me personally, the "free" in freeride means learning to read the terrain and finding out how to have fun with it. Freeriding is also what I consider the soul of snowboarding. It's what makes snowboarding and represents its roots.
What fascinates you about freeriding?
It's a unique outdoor experience that broadens my horizon and takes me places I'd never get to see otherwise. In a way, it's my personal antithesis to being available 24/7 – total freedom, swimming against the tide away from the masses.
How long has freeriding been around for?
In recent years, freeriding has become very popular but it isn't really a new thing. Back in the day, my father was into ski-touring – it just wasn't called "freeriding" then. The idea of exploring untouched slopes and winter landscapes on skis or with snowshoes has been around for a long time.
Nonetheless, the popularity of this sport has greatly increased in recent years, right?
Yes, that's true. Freeriding has become a real trend, which is a bit of a contradiction as freeriders are looking for something special. They want to be different and prefer being off-piste than on-piste with hundreds of other skiers and snowboarders.
Is freeriding something everybody can do?
Experience and know-how are key when it comes to freeriding. Therefore, it is vital that you are prepared. Get informed and take some specialized courses before you try out this sport. In our splitboard camp, for example, a mountain guide and I give tips on choosing a route, being avalanche-aware, handling equipment, etc. and there is a possibility of testing boards. The ISTA (International Snow Training Academy) offers avalanche courses around the world and trains alpine athletes who are then classified into different levels.
And then there's the specific preparation that goes into every tour. I always check specialized avalanche pages and weather forecasts. The risks vary greatly locally and you've got to consider external influences such as the wind, sun and old snow. Basically, there are three things you need to correctly assess: the slope, the weather and yourself! Nonetheless, really challenging tours should only be done with a mountain guide – I still do, even though I've been a pro for 20 years now.
Does that mean freeriding is more dangerous than "regular" skiing or snowboarding?
I wouldn't put it that way. It's just really important – especially for beginners – that they don't overestimate themselves and never set off without an experienced guide with a lot of know-how. Besides a thorough preparation, the proper equipment, including an avalanche transceiver, probe and shovel, will improve safety. However, an element of risk always remains. But that goes for all types of sport.
Have you ever been in a critical situation yourself?
I was in Alaska, riding down a 60° steep slope when I was caught in a so-called "sluff", a small loose snow avalanche, for about 150m. Sluff is the snow you release yourself when you're moving along steep slopes. Thankfully, it turned out I had chosen the right route. It's always important to check where you'll end up if something starts to shift. However, there is never a 100% guarantee that nothing will happen.
What do you like doing best when you're off-piste?
I'd say being on my splitboard is my favourite but I also occasionally enjoy my touring skis. Speed riding is another great passion of mine. In 2016, I pretty much flew through a tiny ice tunnel with two skis strapped to my feet and a speed riding parachute on my back. Video
And where are your favourite spots?
Phew, there are so many. Hokkaidō in Japan is absolute powder heaven! Alaska has the steepest powder descents in the world and Canada's powder snow is unrivalled in quality and consistency. In Switzerland, I love riding my splitboard in the Lötschental. The starting altitude is around 3000 metres, so you only need to ascend a few hundred metres to enjoy descents that stretch for kilometres.
You might also like: (in German)
Skeleton Loader

Skeleton Loader
---
I'm not a great cook, struggle with home decorating and am incapable of properly assembling IKEA furniture. So at Galaxus, I'm a marketing manager in charge of sports. And sports is also what I love doing best in my spare time: cycling, tennis, skiing, swimming or working out at the gym. I'm also passionate about football and a big Bayern Munich supporter. 
---
These articles might also interest you
Skeleton Loader

Skeleton Loader

Skeleton Loader

Skeleton Loader

Skeleton Loader

Skeleton Loader