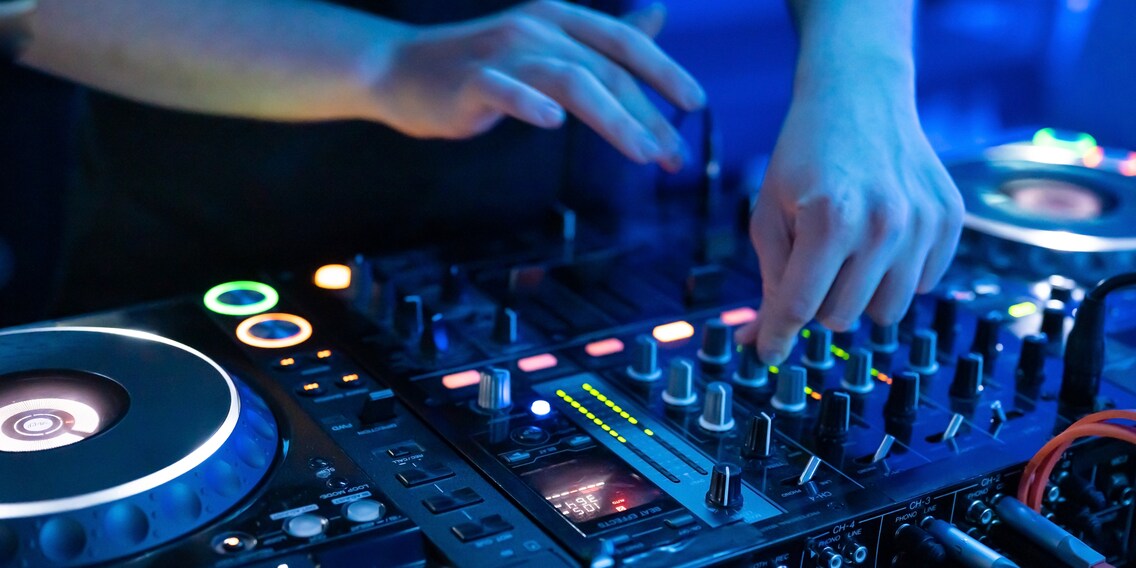 This article was translated automatically.
For the Street Parade: Four DJ kits for DJ kids
This weekend, hundreds of thousands of people will once again make a pilgrimage to Zurich's lake basin to dance to electronic music at the Street Parade. DJs and live acts stand on stage like preachers and move the masses. I'll tell you how you can become a house high priestess or techno pope yourself.
The Street Parade is a relic of the 90s that Zurich could never really let go of. While in Germany all techno parades have long been a thing of the past, even two years of the Street Parade pandemic couldn't do any harm. 26 Lovemobiles will be driving around the lake again this weekend, blasting the audience with electronic music from all genres.
The Street Parade is a great place to be.
Whereas 30 years ago you had to own a vinyl collection that weighed a tonne to play music, today all you need is a memory stick. Music is easy to boot up with a laptop and free programmes. Today, what DJ Pippo told my teenage self 23 years ago at the legendary Monorecords in Zurich is true: "You can quickly get a house track like that.
To make sure you get a gig on a Lovemobile at the next Street Parade, I've put together four beginner sets for you. From a simple DJ set-up to a fully fledged studio.
The celebrity DJ kit
The classic career dead end for C-list celebrities; becoming a DJ. Television show winners, ex-misters and misses or influencers take note: With this equipment, you can give your career a boost for another six months before you definitely fall into oblivion and have to look for a job in the office or at the regional TV station. This equipment is not too expensive, not too complex and if, contrary to expectations, you do succeed and enjoy being a DJ, then upgrading to professional equipment is no problem.
Examples: Paris Hilton, Nadine Vinzens, Oli P, Dani Gygax . Difficulty level: After three Youtube tutorials or an overpriced evening class with a stoned dropout, you can do the basics.
Get started: Even your grandmother could.
The Digital Native Kit
. CD is not a data carrier for you, but a hemp variety without a B and MP3 you only know as "what used to exist before streaming services"? Then get yourself one of these digital DJ controllers with a mixer. You stream directly to your controller via TIDAL or Beatport. While the computer automatically adjusts the tempo of the songs, you take care of the effects and transitions and make a face as if you had bitten into a lemon.
**Simultaneously, you can play the music on the computer.Examples: All artists who have become known through Soundcloud.Difficulty:Anything you want, as you can be anything you want between adding a few effects and being half a live act.Getting started: As a digital native it's totally easy, as a boomer it's easier to climb Mount Everest.
The vinyl-only kitReally only for audiophiles (i.e. boomers with dough). If you only DJ with vinyl, you rub it in every conversation and ramble something about "warmer sound" that "digital just can't bring". As a vinyl DJ, you demonise more effects than a mixing desk with a normal equaliser and a maximum of one filter. You spend a lot of money on first pressings, gold-plated cables and pickups and when you're playing in the club, every time you fuck up a mix, you complain that the turntable needs urgent maintenance because it doesn't "run the same way". So you're a DJ and you can't afford to buy more effects than a mixer with a normal equaliser and a filter.Examples: Jeff Mills, Antal, Hunee.Difficulty: It takes a hell of a lot of practice to match the speed of two tracks, but it's like riding a bike. You never forget.Getting started: usually expensive or time-consuming. Either you buy your vinyl overpriced or you spend years searching (in the jargon "digging") for long-forgotten Georgian fusion-jazz records you find on the market in Timbuktu.
The Live Act KitIf that time in the school band didn't work out, the live act is your thing. You call your gigs "performances", even though all you really do is play one pre-programmed sequence after another. You're constantly buying new gadgets that gather dust in your room because you'd rather stick to your MPC set-up. The absolute gold standard is a gigantic modular synthesiser, where you swear by modules with names like "Pamela's new Workout" or "Make Noize Math".Examples: Jean Michel Jarre, Chemical Brothers, Colin Benders.Difficulty level: A failed music or electrical engineering degree is almost compulsory, otherwise you'll just get rubbish.Get started: Buy a groovebox first before investing in something bigger. It will gather dust in the corner after a month anyway. But if you get hooked, then we are the wrong address. Just like vinyl lovers, you'll rummage around flea markets and brockis for long-forgotten Italian synths and then declare that "the oscillators aren't quite in tune anymore, but when it's warmed up, the sound is richer than on the Juno 60!
---
When I flew the family nest over 15 years ago, I suddenly had to cook for myself. But it wasn't long until this necessity became a virtue. Today, rattling those pots and pans is a fundamental part of my life. I'm a true foodie and devour everything from junk food to star-awarded cuisine. Literally. I eat way too fast. 
---
---
These articles might also interest you
Skeleton Loader

Skeleton Loader

Skeleton Loader

Skeleton Loader

Skeleton Loader

Skeleton Loader