Fat buds and resinous trichomes – Marty's grow report, chapter 8

They're tiny and thousands of them cover the buds of cannabis plants: trichomes. These resin glands are essential to determine the perfect time to harvest. If their bulbous heads are transparent, it's too soon. If they have the colour of cola, it's too late. Milky is what you want.
After 97 days, my cannabis plants finally look ready to harvest. Taking a closer look at the buds reveals that about half the flower hairs or stigma have turned brown on all four plants. What's more, several thousand tiny trichomes – measuring 50 to 100 micrometres each – are beautifully glistening. Zooming in on them, I'm presented with a miniature traffic light system that tells me if the hemp is ready to be picked.
But before I pass a verdict on the resin glands that are hopefully high in CBD and low in THC, it's time to take stock of my females of the type Mota CBD Rich Auto. What's happened since the last grow report?
Tales of taming the jungle and flourishing flowers
In early January, my cannabis tent was on the brink of plunging into chaos. The plants were out of control and getting dangerously close to the sodium vapour lamp. This made me bend them and tie them down.
The tying down helped. However, I also had to remove some leaves after doing this. The plants were getting in their own way due to the shift in space.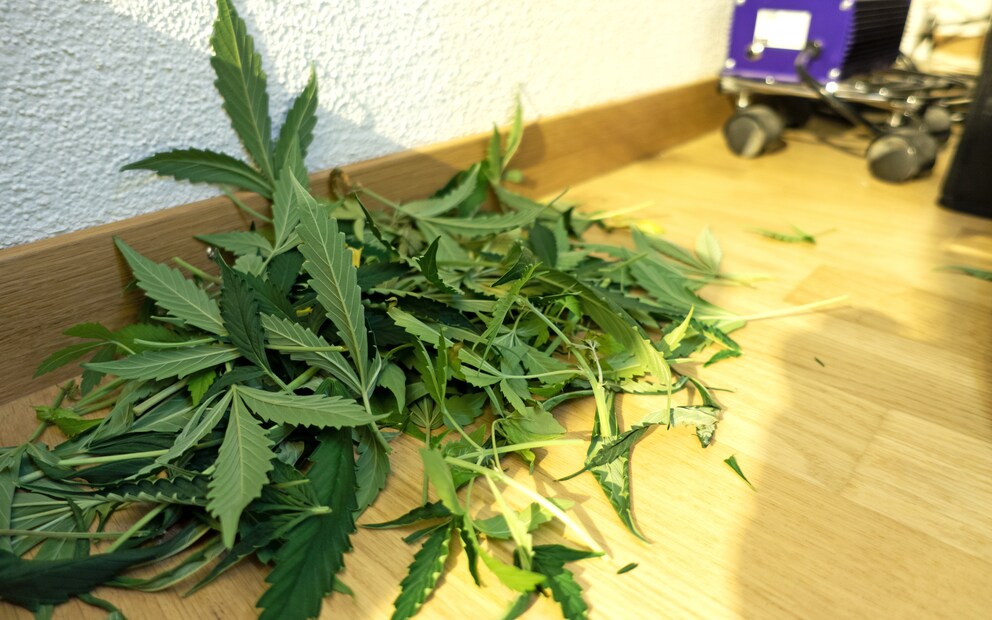 A few days later and the growth of the branches and leaves slows down. January also sees the plants' water consumption half. Today, each plant only needs about ¾ of a litre a day, which I give them every two to three days. And the buds? They just keep getting bigger. At least two of the four females are now carrying a heavy load on their branches.
Looking into the tent shows that the largest plant, No. 2, located at the front left, is carrying the least buds. I wonder if she just needs more time than the others or a solid dose of autumn sun? Will I have to carry out a partial harvest on her?
Judging by the naked eye, it's hard to know what her tiny buds are trying to tell me. What I did notice, however, is that some of her leaves started to turn yellow last week. This is not uncommon just before harvest. But it does make me wonder if the plant is actually ready for harvesting at all. A peek through the microscope gives me more insight.
What's definitely unusual is the behaviour of plant No. 5 at the back left of the tent. It was looking great until I stopped fertilising three weeks ago. A conscious decision, as there's no way I want fertiliser residue in my weed. Anyway, since then, her leaves have partially started to turn yellow. Fortunately, the wilted leaves are easy to pick off, even the ones that grow between the buds. However, these problems have led to the plant having slim buds albeit many of them.
Did I stop fertilising too soon?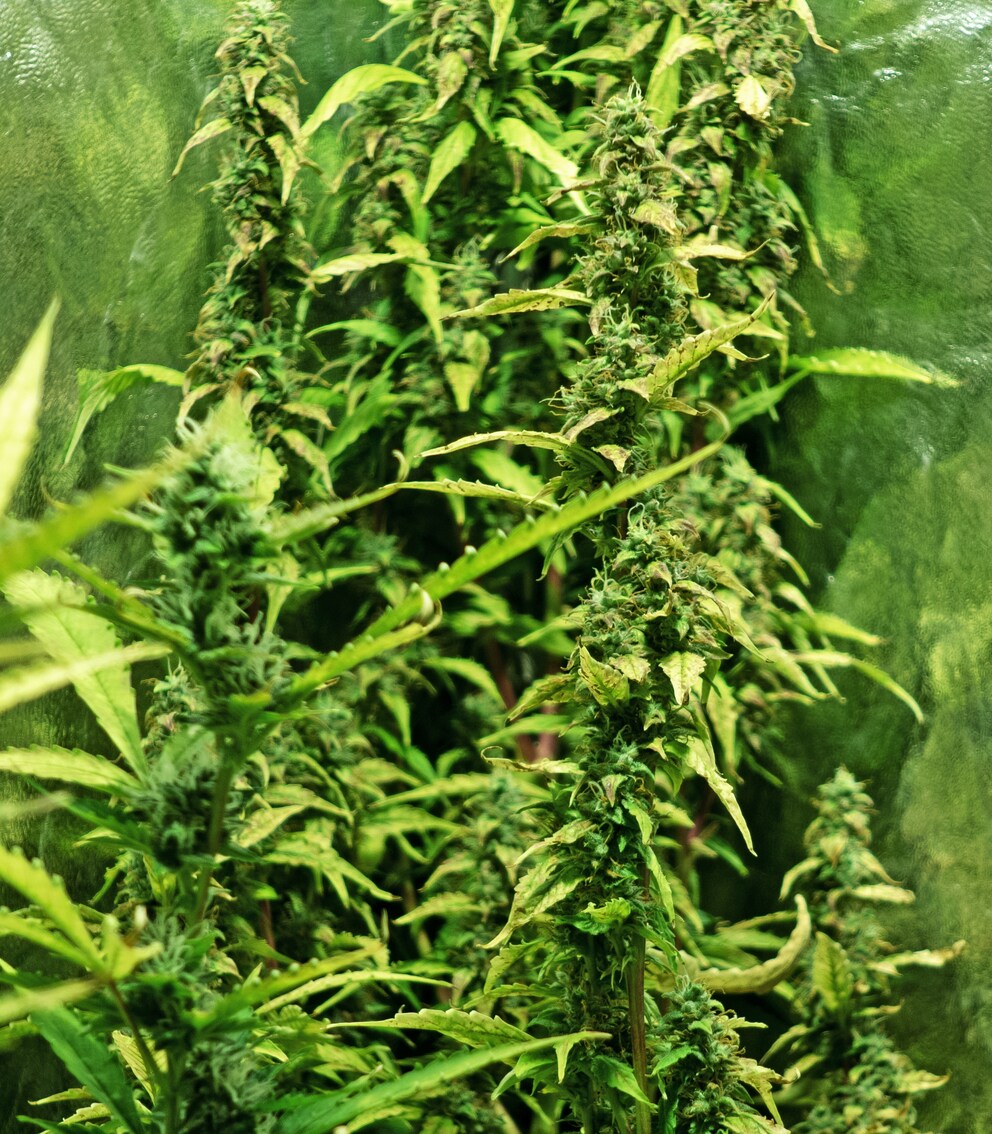 Judging by the great state the other plants are in, I'm pretty sure it's not the lack of fertiliser No. 5 is struggling with. There should be plenty of nutrients in the soil. But she seems to have trouble absorbing them. Maybe I overwatered the plant at some point, thereby reducing the oxygen in the soil and making it difficult for the plant to absorb the nutrients.
By contrast, I seem to have got it all right with plant No. 1 and 3 in the right half of the tent.
Although some of the leaves have been turning yellow on number 3 in recent days, I'm sure it's practically ready to be harvested. The plant is carrying many beautiful buds with diameters of up to five centimetres.
Five centimetres weren't enough for No. 1. What used to be the runt of the litter has produced buds with a diameter of up to seven centimetres.
Is it harvest time?
It's the moment of truth. Are my plants ready for harvest? What does a magnified glance at the buds reveal? Are the resin glands transparent, milky or more on the amber or cola side? The goal is to include as many milky trichomes as possible when I harvest. It's the point in time when the most cannabinoids should be present. If they're transparent, it's too early. Cola-coloured means they've passed their prime.
Unfortunately, my old pocket microscope gave up the ghost. More specifically; it was gunked up with resin and my cleaning attempt with rubbing alcohol clouded the plastic lens. So I got myself a new one.
While I was shopping, an inexpensive – or might I say cheap – digital microscope somehow made its way into my cart as well.
I can only give a limited review of this product, as I don't have much experience with digital microscopes. In any case, the finish looks a bit cheap and it offers a rather low resolution and magnification. Having said that, it does the trick for a keen CBD grower.
I start with plant No. 2 by taking a look at the buds under my pocket microscope. So far so easy. I check to see if the trichomes in the lower part of the tent are the same as those at the top. I'm relieved to find that the difference is marginal. I see some transparent trichomes, many milky ones and almost no cola coloured ones. The cola ones only seem to be present in the upper part of the tent.
This is what it looks like under a digital microscope:
Number 2 is further along than its small buds made me believe.
For sickly number 5, the picture is very similar, if not identical. In spite of her yellow leaves: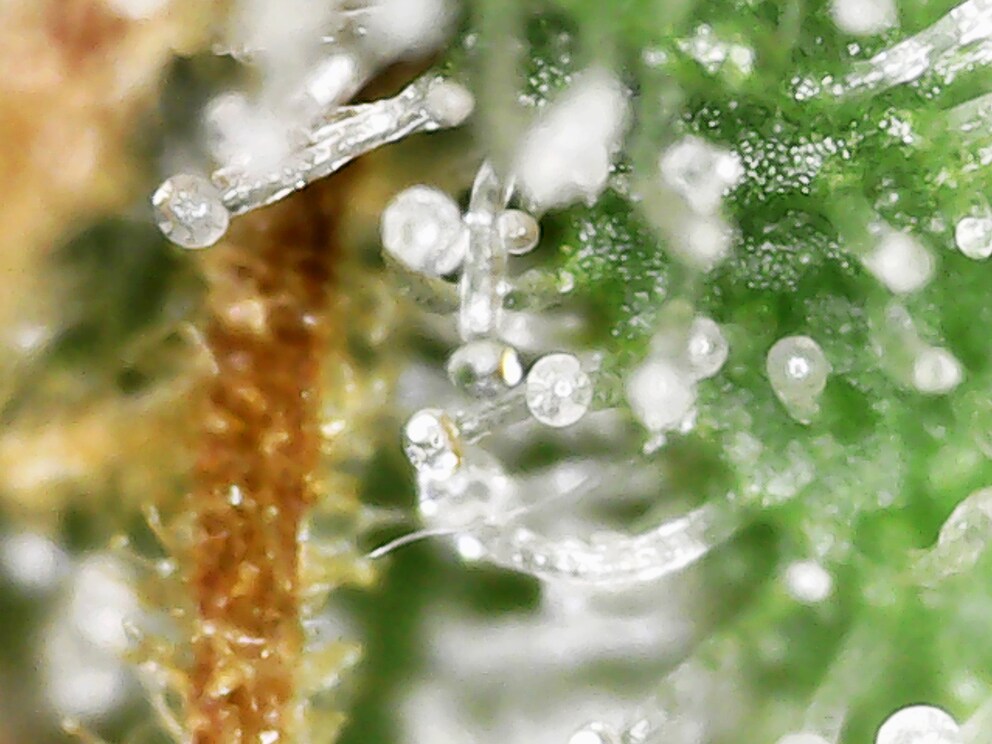 The early stages of cola you can see in the last picture is also one of very few in this plant.
Let's see how far the plants on the right side of the tent are doing. At least they look like they're bursting with life.
Number 3: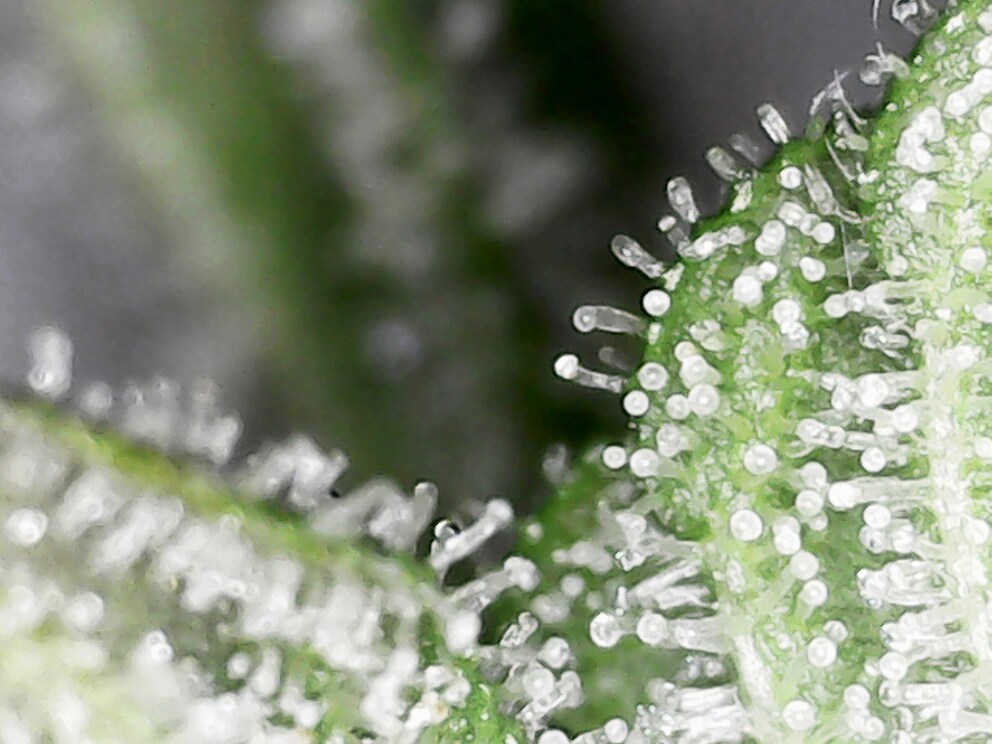 Number 1: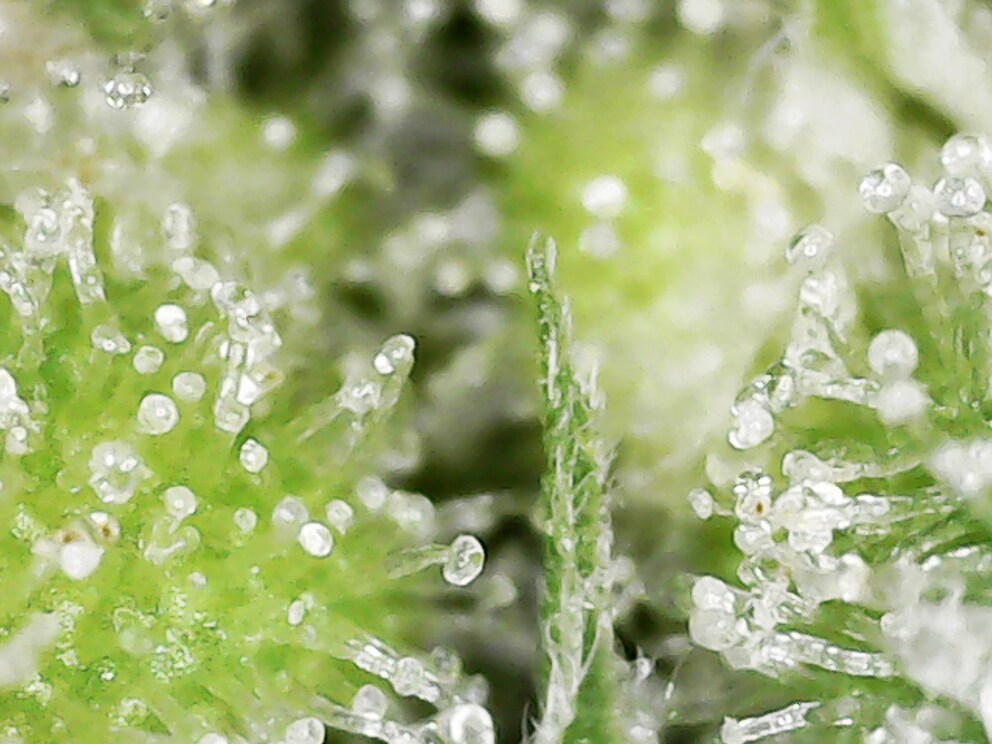 Right, I'm happy with that. In fact, I'm happier than before the inspection. This is because the countless buds are all roughly at the same stage of maturity. This means I won't have to carry out a partial harvest. I'll be able to play grim reaper with all four females at the same time. It will be a slow death, as harvesting will probably drag out over several hours.
How many more days will pass before that sweet, fruity scent of cannabis fills my apartment still depends on the trichomes, of course. Personally, I think they're almost ready. It can't be more than a couple of days now. In any case, I'll be looking through my pocket microscope every morning and evening.
---

I find my muse in everything. When I don't, I draw inspiration from daydreaming. After all, if you dream, you don't sleep through life.
---
---
---
---