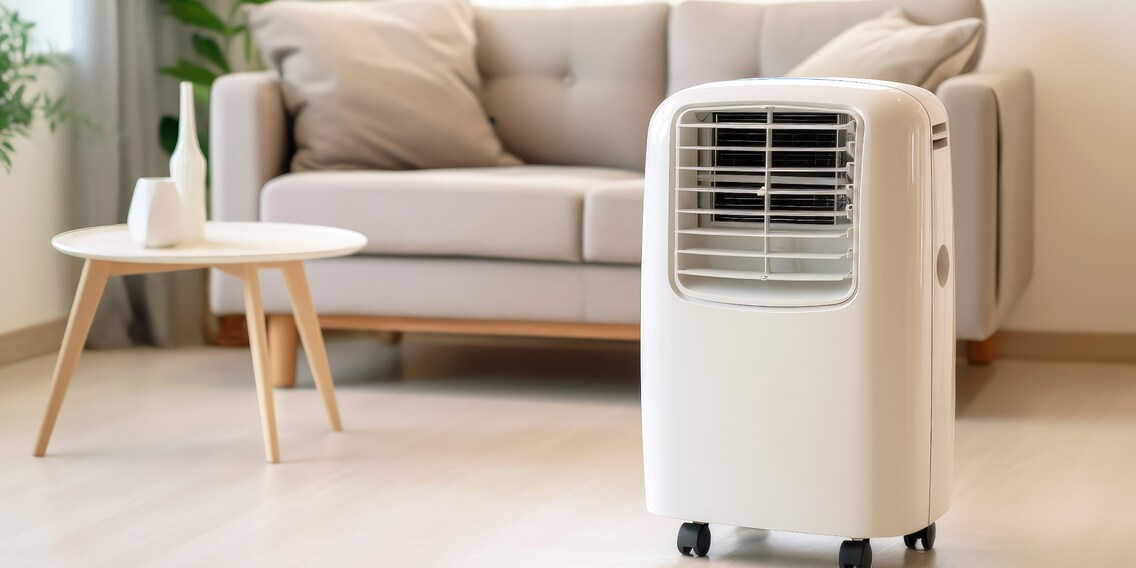 Enough sweating! Swiss buyers stock up on air conditioners

Digitec Galaxus has never sold as many air conditioners as in 2023 – and it's only August. In August alone, the online retailer has sold 49 per cent more air conditioners compared to the same month last year. Mobile models are proving most popular, such as air coolers and monoblock air conditioners.
Air-conditioned trains, offices and homes have long been the standard in many countries. Switzerland is rather reserved in this respect. At least new vehicles in public transport feature air conditioning – but old streetcars are still saunas.
Not everyone is blessed with a cool office either. While large, international companies typically ensure a pleasant temperature in their Swiss offices, the majority of office workers feels the heat in the summer months. After all, Switzerland is known for its high number of SMEs.
Fortunately, you can take action in your own home to ensure cool temperatures. And this is exactly what people in Switzerland are doing, as revealed by current sales figures.
2023 is a record year with the most air conditioners sold to date
In August, the online retailer has already sold 49 per cent more air conditioners than during the entirety of August 2022. In terms of sales, however, the strongest month this year was June. The hot temperatures in June prompted many customers to get an air conditioner.
As a result, sales in August will probably prove lower than in previous months, despite the heat wave with record temperatures; many of those suffering from the heat will have already bought an air conditioner back in June. When it comes to regulating indoor temperatures, fans are still the device of choice, followed by air conditioners, whose popularity is growing with each year. The online department store has already sold more air conditioners this year than in the whole of last year.
Small and mobile
There are different types of air conditioners. Air coolers are the customer favourite, accounting for 6 of the 10 best-selling products. Air coolers rely on water evaporation to cool the air without the use of any refrigerant at all.
These are the currently best-selling air conditioners at Digitec Galaxus: 1 air cooler and 2 monoblock air conditioners.
The overall top-selling air conditioner is also an air cooler. This model was on seemingly every teleshopping channel for months, which may be one of the reasons it's most frequently purchased online in Switzerland.
No desire for discussions with the landlord
So, what exactly is the advantage of air coolers compared to mobile monoblock air conditioners and split units? They don't require installation. You just buy one, place it where you want it, and it's good to go. You can move it where you need it – to your living room, office or bedroom.
On the other hand, mobile monoblock air conditioners have an exhaust hose that transports warm air to the outside. To do this, you need to install a special construction in your window or door. Mind you, you don't have to be a DIY pro to do so, but you do have to factor in a certain amount of initial effort.
Split air conditioners, however, are usually installed by professionals; they involve drilling a hole in the wall to connect the indoor and outdoor parts of the device. In rented apartments, such an installation would have to be authorised in advance by the landlord. In some cases, you'd even require a building permit.
The administrative burden, the cost of an expensive split unit, and the time involved are probably what cause many tenants to opt for an air cooler or monoblock air conditioner instead. For homeowners, however, split air conditioners are attractive thanks to their efficiency and power.
Bonus tidbit: the four types of air conditioners
Air coolers: Air coolers are direct evaporative air cooling devices. Unlike air conditioners or refrigerators, they don't have a refrigeration system. Air coolers use the natural principle of water evaporation to cool the air. Cooling with air coolers is a natural and cost-effective method of cooling a space, without the high energy consumption typical of air conditioners.
Mobile monoblock air conditioners: These are air conditioners that transport hot air out through the window via an exhaust hose and blow cool air into the room. They're made of one single module – hence the name «monoblock». Since these air conditioners aren't permanently installed and usually feature wheels, they can be placed anywhere.
Mobile split air conditioner: These are air conditioners with an indoor and outdoor module that don't have to be permanently installed. The outdoor module can be placed on the floor of the balcony or terrace. A thin pump transports the condensate water to the outdoor module. These air conditioners are more efficient, powerful and quieter than monoblock air conditioners and are suitable for both condos and rental apartments.
Split air conditioner: These are air conditioners with an indoor and outdoor module that need to be permanently installed by a technician. In other words, they're permanent and are therefore particularly suitable for homeowners who want to invest in a long-term indoor climate solution. Split air conditioners are quieter, more efficient and more powerful than monoblock air conditioners, but more expensive to buy.
---



Studies claim that we have a shorter attention span than goldfish. Ouch! My job is to get your attention as often and for as long as possible. How? With content you enjoy. Outside of the office, you'll find me on the tennis court, curled up with a book, Netflixing or travelling. 
---
---