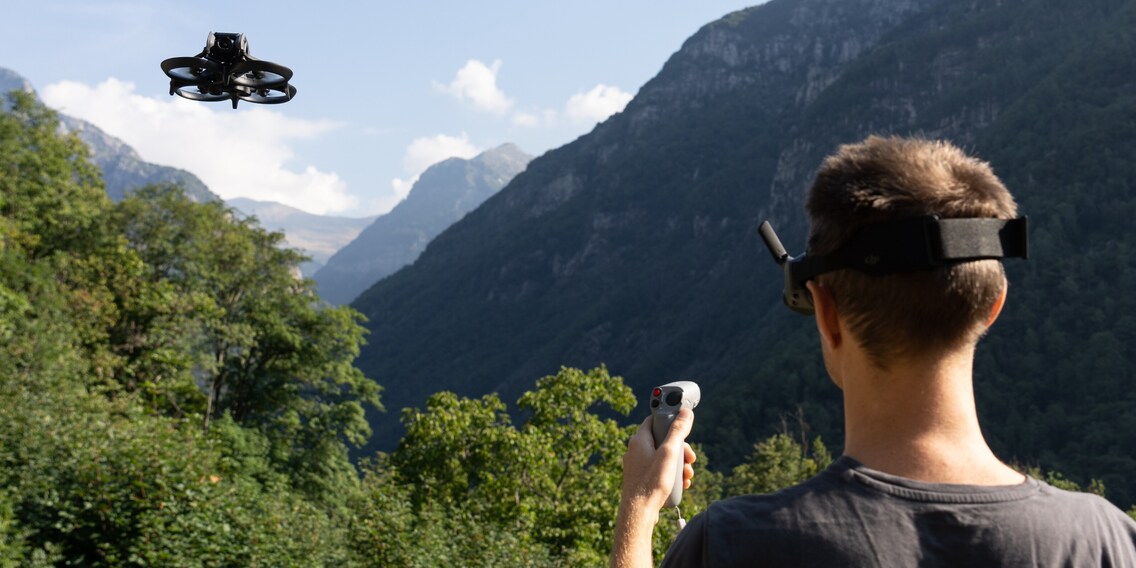 This article was translated automatically.
Drones: EU regulation applies in Switzerland from 2023
Switzerland will adopt the EU drone regulations on 1 January 2023. This will change the rights and obligations of drone pilots - even in the hobby sector.
What was originally planned for 2020 will now be introduced: From 2023, the same drone regulations will apply in Switzerland as in the EU. This was announced by the Federal Office of Civil Aviation (FOCA) on 25 November 2022. There were delays in the introduction first because of Corona and then because parliament wanted model aircraft to be exempt from regulation. In fact, model aircraft that fly as part of an association are now not affected by the new regulation.
Registration requirement
The most important change for hobby drones: Almost all pilots will have to register. Only pilots of drones weighing less than 250 grams are exempt, provided the drone cannot capture personal data. This means that any drone with a camera makes the pilot subject to registration. This is because a camera can record faces and thus capture personal data.
All pilots of drones weighing 250 grams or more will also have to take an online test to ensure that they have the necessary basic knowledge. Previous voluntary training and proof of competence in Switzerland will not be counted. On the other hand, certificates from other EU countries are valid in Switzerland and vice versa.
According to information from the FOCA, the registration obligation will apply from 1 January 2023, but pilots will have until the end of August 2023 to complete the training and examination. The FOCA recommends that everyone train and take the test as soon as possible.
Other categories and classes
Newly, there are three main categories: open, special and certification. For hobby pilots, the open category is relevant. In this category, each drone is given a class from C0 to C4. This class determines the operational capabilities (A1 to A3).
The main criterion for the class is weight. In addition, there are other requirements. C0 drones, as mentioned, are not allowed to record, must be rounded and must not fly faster than 19 m/s.
C0: up to 250 grams -> operating class A0 .- C1: 251 to 899 grams -> Operational Class A1 .- C2: 900 to 3999 grams -> operating class A2
C3 and C4: 4-25 kilograms -> operating class A3
These operating classes differ mainly in how close you are allowed to fly to uninvolved persons. This means people who have not been informed about the drone flight and who have not given their consent.
In general, it is not permitted to fly over crowds in the open category, regardless of the subcategory. According to the EU regulation, a crowd is defined as "a large number of people standing so close together that it is almost impossible for a single person to move away from that crowd".
The EU further specifies that this can include beaches and parks on sunny days, or ski slopes in the winter.
What about previous drones?
If your drone does not have such a class marking - which is most likely the case at the moment - you don't need to panic about it. For these drones, slightly adjusted rules apply. Drones weighing up to 500 grams can be flown in the least stringent category A1 until the end of 2023. For drones under 250 grams, this will still apply from 2024.
Further information
Nothing changes in the zones where flying is allowed. Third-party liability insurance with at least one million francs of coverage is still mandatory, except for drones weighing less than 250 grams.
The FOCA's drone guide provides a rough overview. The authority has also set up a page with frequently asked questions, which is constantly updated. Also of interest to all hobby pilots are the pages on the open category.
Bild: Samuel Buchmann
---



My interest in IT and writing landed me in tech journalism early on (2000). I want to know how we can use technology without being used. Outside of the office, I'm a keen musician who makes up for lacking talent with excessive enthusiasm.
---
---
These articles might also interest you
Skeleton Loader

Skeleton Loader

Skeleton Loader

Skeleton Loader

Skeleton Loader

Skeleton Loader