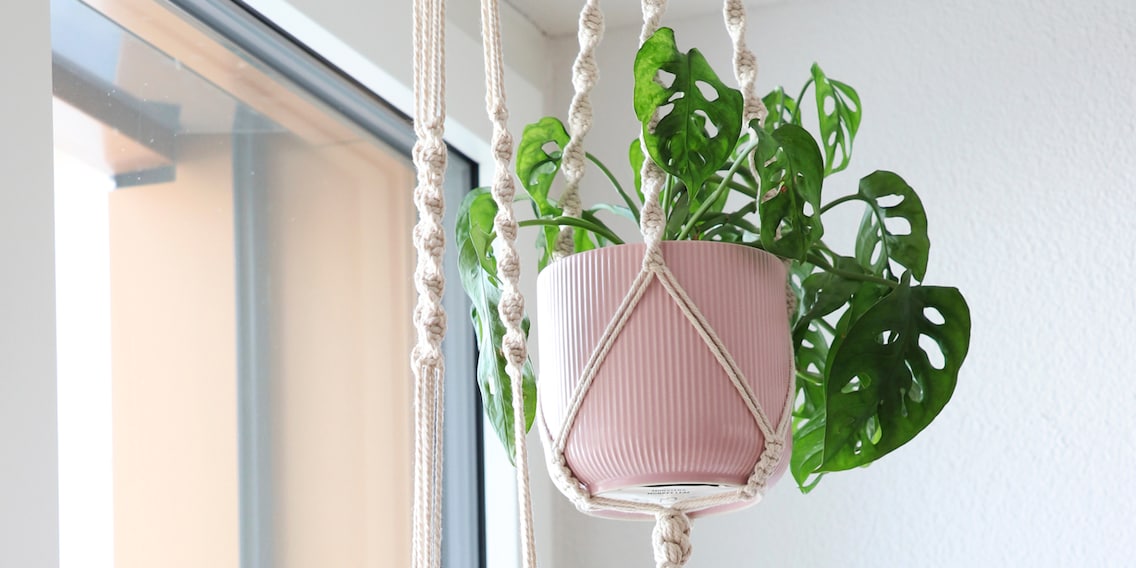 Create your own knotted plant hanger

Hanging your plants in boho style isn't that difficult. With the right knotting instructions, a splash of patience and these tips, your DIY project is bound to go swimmingly.
When I was a kid, I wished my parents would get me a book on how to crochet my own Barbie dresses. After leafing through it a couple of times, it became clear that my creations would never clinch a spot on my homemade cardboard catwalk. The instructions were complex – and between recorder practice and ballet lessons, I just didn't have the will to struggle with cross-stitch and impenetrable instruction diagrams. From that point on, I avoided books on arts and crafts. And then Pinterest came along and decided to designate macramé as my next interest.
I've wanted to use this decorative knotting technique to hang up my plants ever since. So, two weeks ago, I decided to tackle the project by reaching for an arts and crafts book once again: «Macramé for Beginners and Beyond: 24 Easy Macramé Projects for Home and Garden». And, lo and behold, the instructions are clear, the patterns doable. You won't learn how to knot a plant hanger by reading this article. What you will get out of reading on are some tips you won't find in the book. These helped me a great deal during my first few attempts at knotting.
Clothes pegs prevent tangled up fingers
Some of the knotting techniques are pretty complicated: too many strands, not enough hands. In times like these, clothes pegs will be your best friends. With their help, you can put the strings you're not currently using to the side and bundle them up or secure them so that they stay at the most practical height. If you don't have any pegs to hand, you can also fasten them with hooks. That way, if you need to figure out a complex knot, you can let go of the strings and grab the book without a hitch.
Plan enough time
Even if you're starting with the easiest of projects, it's going to take a while. My first creations in the «easy» category of the book took me half a day to finish. That includes breaks, as otherwise my arms would've fallen off. Which leads me to my next point: the perfect knotting set-up.
Create your own knotting set-up
A wooden ring is used as the base for knotting plant hangers. In the book, it's recommended that you pop this on a coat hook or stand while you work. This is convenient because the threads hang off of it nicely. On the other hand, the height isn't comfortable for everyone, which means you're constrained a little by this system. At my height of 1.5 metres, I had to come up with something else – otherwise, I'd have been standing on a stepladder the whole time. So, I got myself a little suction cup and secured it to the wooden ring with a thread. I then used a glue gun to stick the threads to the suction cup for good measure. If you're working at a window, you'll be able to use it to adjust the height of your set-up. This is especially handy, as otherwise you'd have to bend over to reach the ends of the strands as you progress.
Freestyle right from the get-go
When I'm cooking, I always take the liberty of adjusting the recipe to my (garlic-heavy) needs. And when following the instructions for the plant hanger, it's no different. During my first project, I was already chopping and changing between knotting techniques and/or prolonging them. It's an approach that works really well for beginners, too. You just need to keep an eye on how much string you have left – you don't want to run out of string before the big finish just because you got carried away with knotting. The same applies to the part where the plant pot will be sitting later. You can't and shouldn't just blindly follow the template here. Instead, you should adapt it to the pot that you intend to hang. What that means in concrete terms is that if you've got a small pot, the gaps in the netting can't be too large – otherwise your pot will just slip out. On the other hand, narrow gaps for a wide pot will mean the netting loses its flexibility, and you won't be able to get the pot in.
How's it hangin'?
For me, the biggest question mark popped up at the end of the project. How do I attach my plant hanger to the ceiling? The book doesn't have any instructions for that, so I improvised. I'd never have managed to get a hook into the ceiling myself, so my curtain rail offered itself up as an alternative. To hang up my hanger, I attached two curtain gliders to the wooden ring with a piece of knotted yarn and a double knot in each. I was afraid that the knots could later come loose under the weight of the plant pot, so I sewed them with needle and thread, too. Once that was done, all I had to do was hook the gliders onto the curtain rail.
After my first hanger, my nerves were shot, and I felt the need to recover from the all the exertion first. A mere thirty minutes later, though, I got cracking on my second hanger. Maybe I should warn you about that too: Macramé has a high potential for addiction.
---



As a massive Disney fan, I see the world through rose-tinted glasses. I worship series from the 90s and consider mermaids a religion. When I'm not dancing in glitter rain, I'm either hanging out at pyjama parties or sitting at my make-up table. P.S. I love you, bacon, garlic and onions. 
---
---
---
---
---
These articles might also interest you
Skeleton Loader

Skeleton Loader

Skeleton Loader

Skeleton Loader

Skeleton Loader

Skeleton Loader