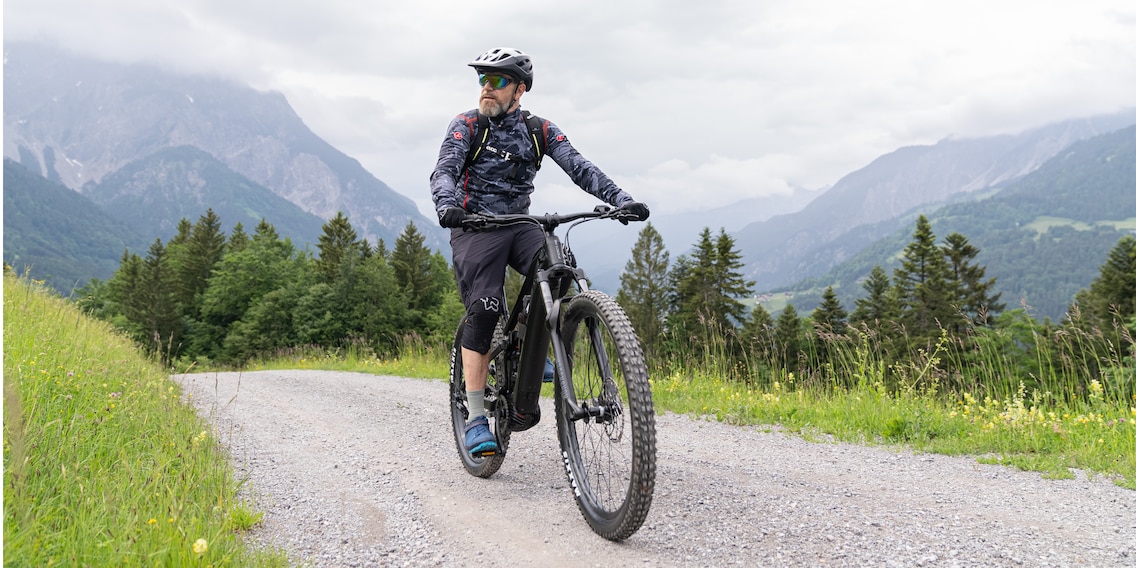 Castelli's new «Unlimited» gravel collection is a great fit for mountain biking too

Castelli has released a new line of gravel bike clothing. I've jotted down my first impressions of the «Unlimited» collection here. Long story short: the gravel gear works well on mountain bikes too.
Some bikes are for the road, others are for the trail. You've got racing bikes, mountain bikes and gravel bikes. Then there are cyclocross, BMX and dirt bikes, to name just a few. When it comes to variety, the selection of cycling clothing out there easily rivals the selection of bikes, with brands offering collections for all manner of specific biking situations. The tradition-steeped, Italian firm Castelli is no exception.
In 1876, Vittore Gianni opened the Castelli tailor shop in Milan. He'd previously been the one to dress AC Milan, Juventus and the Milan Ballet. The first ever bike clothing was made in the 1910s for the world champion and five-time Giro champion Alfredo Binda. Today, the company provides kit bearing its distinctive scorpion logo to various UCI World teams, including Quick-Step Alpha Vinyl and the Italian national cycling teams.
Gravel, MTB or road?
Castelli has positioned its current «Unlimited» collection in the gravel sector, but you can obviously wear it when cycling on the road or MTB trails too.
I've been cycling gravel and mountain bikes on roads, gravel paths and trails on a regular basis for about a year and a half now. No matter what type of bike I'm riding or what kind of surface is underneath me, eye protection and gloves are part of my standard kit. If you've ever been whooshing downhill and had a mosquito or clod of dirt from the wheel of the rider in front fly into your eye, you'll know why. And if you've ever been blasted from your bike, hands first, you'll also know why you should wear gloves.
Castelli's «Unlimited LF Glove» is a decent product with robust fingertips, which are supposed to make the gloves more durable. What's more, using your smartphone's touchscreen while wearing them isn't an issue. The elastic bits on the sides of the gloves also make it easy to put them on and take them off. I'm really happy with them.
Castelli Free Unlimited bib shorts
As well as eye protection and gloves, bib shorts are constant companions for me on bike rides. I basically never get into the saddle without slipping into a pair. My butt knows why. The thing that impresses me most about Castelli's 230-gramme «Free Unlimited Bibshort»? It's not the compression pockets on both legs, nor is it the mesh pockets on the back. These days, features like these are standard on good bib shorts. Same goes for non-slip leg cuffs, minimalistic straps that're good for keeping cool, and an upper with compression that's meant to provide a certain level of muscle support. In fact, every manufacturer provides these things nowadays.
What makes these bib shorts unique is their incredibly soft, comfortable padding. Never before has my rear end been treated to such a sensation while biking. Castelli calls it the Progetto X2 Air seamless seat pad for long days in the saddle. I just call it bliss for the buttocks.
Castelli Unlimited Trail Baggy Short
As much as I'm into bib shorts, I haven't quite grasped why shorts need more shorts on top of them. That sentence had one too many «shorts» in it. Moving on. Is it because of the extra pockets on the «Unlimited Trail Baggy Short»? Or maybe it's the two-way ventilation zippers running down the entire length of the leg, which are constantly open these days on account of the heat? If so, why not just spare the extra 275 grammes altogether? That way, there'd be no need for ventilation zippers to combat the heat, which, without the shorts, wouldn't even be an issue in the first place. I just don't get it. All things considered, it can only be down to style. Whether we're talking gravel bike or mountain bike collections, they always seem to include something «baggy».
I don't object to that – it doesn't hurt to look good. The shorts really are stylish, cutting a fine figure with or without a bike in tow. This summer, I quite often wore them just for the hell of it. The small, integrated belt means it can be adjusted for summer holiday-related weight fluctuations super easily.
Castelli Unlimited Puffy Vest
Puffy Vest. Sounds a little bit like a US rapper. Okay, it'd work if the V were a W. The «Unlimited Puffy Vest» may not rap, but it does keep you warm. Right down to a temperature of -19 °C, Castelli says. At the beginning of June, I took it to Montafon, back before the heat of summer set in. Although the mercury didn't drop below zero, it was still chilly enough for me to whip out the vest. It weighs just 186 grammes, keeps you warm with the Polartec Alpha lining and doesn't take up much room when packed away.
The windproof outer layer is made of microfibre treated with a DWR or «durable water repellent». This involves applying a polymer to the outside of the vest, which lowers the surface tension of the material, causing water to simply roll off it.
Castelli Perfetto RoS Long Sleeve
I'll finish by introducing a product that stands out from the crowd: the best-selling jacket Castelli proudly calls «Perfetto». It's not part of the Unlimited collection, but seeing as the jacket truly is almost perfect, that doesn't matter. Packed with high-tech stuff, it'd take far too long to list all of its features. So, here's a little taste of them. Castelli uses an exclusive, water-repellent Gore-Tex material on the outside and a Gore-Tex wind stopper on the inside. The material sewn onto the back provides stretch and breathability, while taped shoulder seams keep moisture out. There's also a covered YKK Vislon zipper, two ventilation zippers, two rear pockets and a narrow pouch for a bike pump.
Castelli's «Perfetto RoS Long Sleeve» comes in an array of colours, the blue/gray/pro-red being my personal favourite. Apparently, I'm not the only one – at the time of writing, this colour was sold out. If you click on the product, you'll see the other colours the jacket is available in.
---



What matters isn't how well you play when you're playing well. What matters is how well you play when you're playing badly.
---
---
---
These articles might also interest you
Skeleton Loader

Skeleton Loader

Skeleton Loader

Skeleton Loader

Skeleton Loader

Skeleton Loader