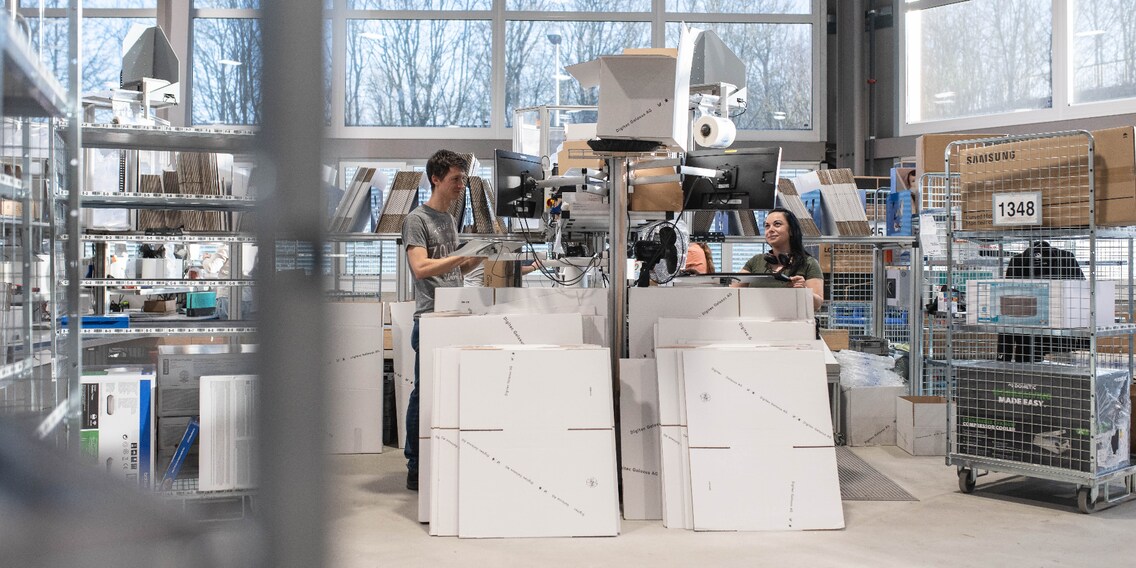 Carton the Climate Killer? Calculation is key
Oversized cardboard packaging and too much stuffing material are on customers' minds. The often-berated cardboard box really only plays a secondary role in terms of the climate. Regardless, we've set a clear goal: an additional 1.2% annual reduction in packaging-related CO2 emissions per shipment, by 2030.
Anyone making online purchases is loaded – loaded in terms of cardboard. Since the lockdown, online purchases have increased dramatically. With it, cardboard has slowly but surely taken over many households' living space – piece by piece, mountains of cardboard are erected in the garage, cellar or on the balcony. Daily sightings of the Piz Cartùn have led many an online shopper to wish for nothing more than the next carton collection day.
Cardboard is the undisputed star of packaging in e-commerce: it's made from renewable raw materials and it's light, malleable, robust and reusable. The recycled cellulose reliably protects fragile articles. Multiple orders can be bundled into one carton and delivered at low cost – in 95% of cases, we do so using recycled carton. But cardboard boxes have a really bad rep in our community. On its behalf, Copypasteroli recently commented, «The smallest of products get delivered in the largest of packages. And oftentimes, each item is packaged separately. So, when it comes to packaging, I'm sure you could do away with at least half of the material currently being used.» And there's Braincandy, who commented, «Packaging material made up two thirds of my last order – there was more foil than actual order.»
Double-packaged doesn't mean more durable
This point of criticism is quite understandable. Because as you unpack your order, your brain may indeed wonder why secondary packaging and endless metres of plastic snakes are needed at all. Because whether it's a food processor, a thermometer or headphones, almost all products are already packaged in cardboard by the manufacturer in such a way that they can survive even a fall from a truck without damage. So, we also see how the packaging situation could use improvement. That's why we've made it a top priority. The focus is to reduce packaging and filling materials, as well as to develop new logistics concepts that don't require additional packaging.
Save 200 tons of cardboard in 2020
With the commissioning of the first fully automatic packaging machines in November 2018, we've opened a new chapter in the history of packaging. Despite the corona-fuelled sales boost we've experienced, 70% of all orders are packed in tailor-made parcels without any filling material. In April, we also optimised our cardboard packaging and reduced its weight per square metre by 60 grams. Compared to 2019, this results in savings of 14%, or 200 tonnes, of cardboard. This corresponds to the weight of a jumbo jet or 150 medium-sized cars. And so the story shall continue. Our logistics professionals are looking for climate-friendly alternatives for the remaining 30% of large cartons that are still packed by hand and padded with stuffing material. Our goal is clear: by 2030, we want to reduce packaging-related CO2 emissions per shipment by 1.2% annually.
Reusable packaging takes time
«Kickbag» is one of the many multiple-use concepts currently being discussed in the industry. Swiss Post, for example, is using the Kickbag, made from recycled PET, in a pilot project on the Swiss market. However, the concept is more suitable for clothing than for vases or laptops. The fundamental question is whether reusable packaging can even establish itself in the near future as an alternative in online trade. Because today's logistics centres have been fully designed for cardboard. And changing this takes a lot of time and money. Customers who have declared war in the Battle of the Packaging can already take up arms today. In the greater Zurich area, we've been testing lightning delivery since the end of January. Delivery of your order is CO2-neutral and it arrives right to your front door, without secondary packaging. It's a packaging-free delivery option with great potential. Those 30% of our customers who collect their orders themselves from our shop also save on packaging material.
One drill = a lifetime supply of cardboard boxes
As a company, we've launched various initiatives to save on packaging and stuffing material. And we'll continue to intensify these efforts in the coming years. Those who can calculate, however, will quickly realise that the CO2 savings potential in packaging is rather modest in a larger context. A short model calculation: producing an average Digitec Galaxus cardboard box creates between 200 and 300 grams of CO2. On the other hand, the food processor or power drill that's packed in it is responsible for at least a hundred times that amount. So, if you want to reduce your CO2 footprint sustainably, you're better off borrowing your neighbour's hammer drill. In this case, the CO2-savings would be 549,190 grams, or the equivalent of 1,817 carton boxes from Wohlen. As far as the carton boxes are concerned, that's enough to last almost a lifetime of online shopping.
---
Making sure employees and media know what's up at Digitec Galaxus is my job. But without fresh air and a lot of exercise, I basically stop functioning. The great outdoors provides me with the energy I need to stay on the ball. Jazz gives me the tranquility to tame my kids. 
---
---
These articles might also interest you
Skeleton Loader

Skeleton Loader

Skeleton Loader

Skeleton Loader

Skeleton Loader

Skeleton Loader