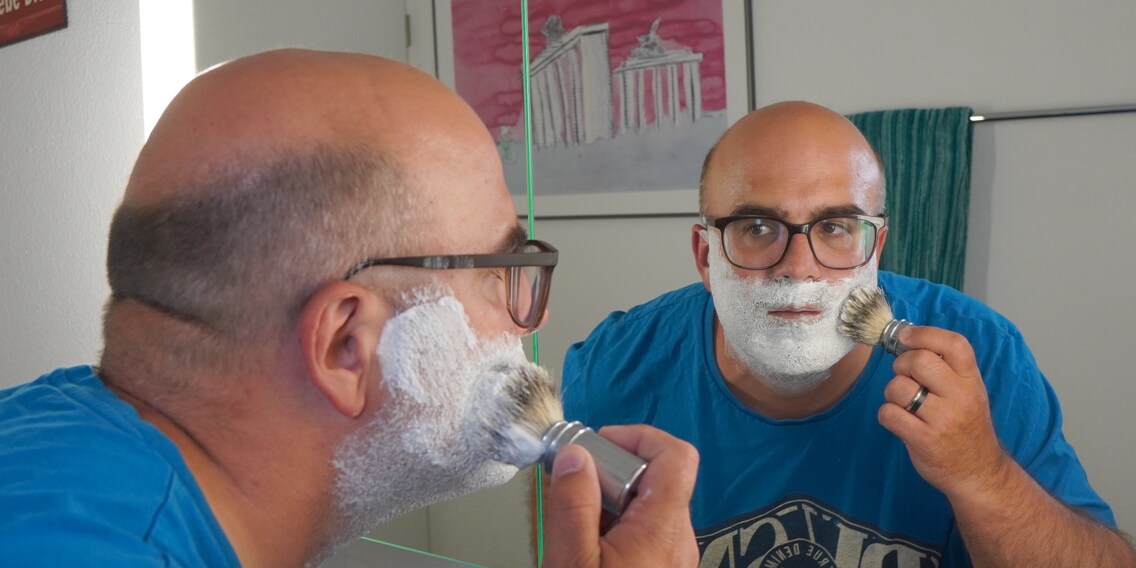 Better than aerosol shaving foam: why I'm switching to shaving cream

Using a shaving brush to massage soap- or cream-based foam into your face is the perfect preparation for a wet shave – regardless of whether you use a safety- or cartridge razor.
It's like a ritual. First, I take the shaving cream and squeeze a few centimetres of it into my hand. Then, I take a wet shaving brush and slowly whip the cream up into a lather. Once it's the consistency of a nice, creamy foam, I use the brush to carefully massage it into my cheeks, chin and around my mouth.
The mixture needs to be left on the face in all its white glory for at least three minutes – regardless of whether it's come from an aerosol can, tube or soap dish. After that, I can whip out my safety razor.
Astounding differences across products
I haven't had my new ritual for long. After all, I only just ditched my Gillette cartridge razor in April, when I swapped it for a traditional safety razor with a replaceable blade. The logical consequence? I've now had to switch from using ready-made foam from an aerosol can to using a shaving brush with cream- or soap-based foam. The only question is: which should I go for? And what's the best way to do go about it?
There are over 70 different creams and soaps available in our shop. Relying on tips from the Community, I picked one soap and three creams to try out.
It immediately struck me how different they were. Some manufacturers' foam is super soapy and feels filmy on the skin. I prefer the more voluminous ones – but that's a matter of taste. The same goes for the quantity of perfume.
Shaving soap is very long lasting and doesn't dry out. The thing is, you'll definitely need a bowl or dish to create the lather. When using a cream, I can lather it up in my hands or right on my face. This is faster and saves the effort of cleaning the soap and its container after shaving.
Compared to shaving foam or gel from the can, shaving soap and cream can be rubbed in much better and more intensively. Even after three minutes, I still have a substantial film of foam on my face. Ready-made foam from the can, on the other hand, dries faster and its consistency breaks down.
Opting for soap or cream makes for an easier, more pleasant shave than using canned products. The blades glide even better, with the skin and beard hairs more nicely softened. That's even the case when using the Gillette razor with disposable blades. In other words, switching to a shaving brush is always worth it, no matter what kind of wet razor you use.
The biggest sticking point? Having a consistency somewhere between cream and soap, the foam clings stubbornly to your sink. Simply running the tap isn't usually enough to get rid of it. The rest, meanwhile, ends up on your clothes. And wiping it off is no use because you're still left with the stains. You either need to wash the foam off or chuck your shirt right in the washing machine.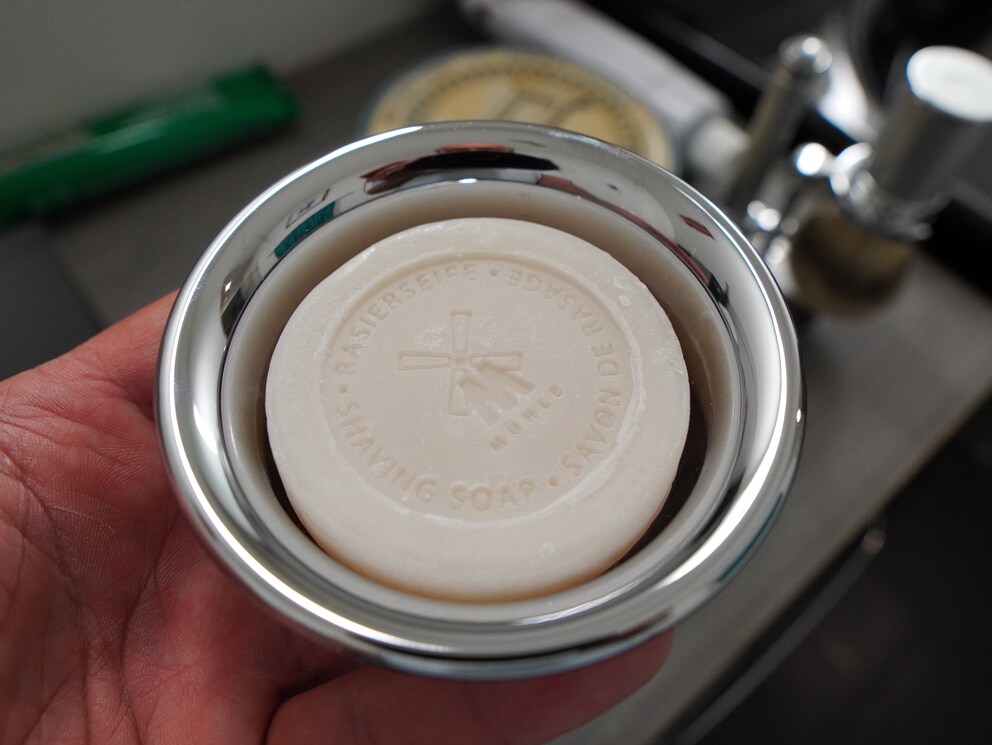 How my sample soaps and creams fared
Mühle sandalwood shaving soap: It really does look like a round bar of soap. I lather up the surface of the soap using a damp shaving brush. This works well, but the film it leaves on my skin is rather thin and soapy. However, that's not necessarily a disadvantage when shaving; the blade still glides well over the skin. I like the frothier alternatives better, though.
Palmolive Men Classic shaving cream: The cheapest cream in the running comes in less attractive packaging, is slightly greenish and smells very faintly of toothpaste. But that's not unpleasant. I take some paste and work it into my skin with the damp brush. The cream gains an astounding amount of volume, allowing me to apply a thick layer that's creamy rather than foamy – great for shaving.
Proraso Sensitive shaving soap: This variety is also very reasonably priced. Although it's called soap, it comes from a tube and has a thick consistency. The gel lathers up well and is considerably less soapy than expected, which is a good fit for its light, fresh scent. I'm able to rub in a thick layer, and I have a comfortable shave.
Reuzel shaving cream: What an appearance. Not only does the cream have a pearly shimmer, but it also comes in an aluminium tin with a retro design. However, it does require an astounding amount of shaving cream to create a bit of foam. Though it's nice and thick, it's more of a cream than a foam. Shaving with it is wonderful, with the razor gliding nicely over the soaked skin.
With my review done and dusted, my pick of the bunch is the Proraso Sensitive shaving soap. At 33 francs per litre, it's priced perfectly reasonably. You could well end up paying double that depending on the brand. The important thing is that the cream lathers up nicely and isn't overly perfumed. And that it harmonises well with my rookie technique.
What shaving soap or cream do you use? And do you have any other tips on wet shaving? Let me know in the comments!
Header image: Lorenz Keller
---



Gadgets are my passion - whether you need them for the home office, for the household, for sport and pleasure or for the smart home. Or, of course, for the big hobby next to the family, namely fishing.
---
---
---