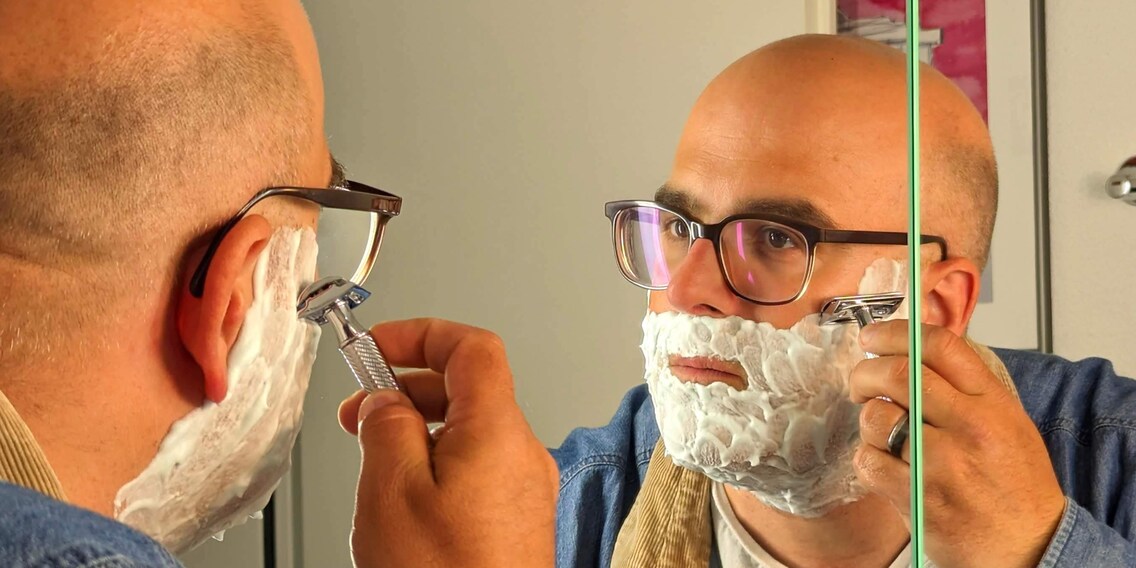 Are safety razors better than standard plastic ones?

For 30 years, I've been shaving almost daily with a plastic cartridge razor. It's neither eco-friendly nor cheap. I'm taking a step back to the future to an 1874 invention: the safety razor.
It's my first time, and I'm admittedly a bit nervous. Despite their name, safety razors somehow don't look all that, well, safe. I'm seeing flashes of skin irritation and nicks. But I take a deep breath and dive in. First order of business: I wash my face and spread the shaving foam.
Next, I place the razor against my skin. The Internet claims the ideal angle is 30 degrees. I say you intuitively know just how angled the blade should be against your skin. From the first pass, I hear a gentle rasp. It's not an unpleasant sound, but it's certainly more intense than with a multi-blade razor.
Straight razors have been used for classic wet shaving for well over 100 years. In contrast to today's (often multi-blade) cartridge razors where you switch out the entire head, safety razors rely on just one single, double-edged steel blade. Cartridge razors from Gillette and the like also predetermine the correct shaving angle. With safety razors, it's up to you.
Step by step, I shave one side of my face. I'm concentrating much more than usual – not just because it's my first time. If the blade is too steep, there's a high risk of cutting yourself.
I'm still a bloody beginner
Despite reading the instructions, I'm clearly still making mistakes. I slightly injured my neck – in a place that's also proved tricky in the past, mind you. I guess my angle was off. The good news is that by the very next day, I've learned my lesson and manage to shave without drawing blood.
Another beginner's mistake is to go on shaving with half-dried lather after your photo session (see header image). Doing so also immediately earned me a nick. The razor relies on your skin being moist and softened. After the first few days, I come to realise that what works best for me is to shave directly after showering.
Other lessons learned: less pressure is more. The result is just as good, with a lower risk of injury. In addition, the entire process takes a little more time. Shaving in a hurry isn't a good idea.
In just a few days, I get the hang of it. A gentle swish is all it takes – and the stubble is gone. In this sense, safety razors are much more efficient than modern razors with three to five blades. It works great on my cheeks and neck. Transition areas, my chin and my upper lip take significantly more time and concentration with the safety razor.
I know that I'm still a bloody beginner (literally). For example, I continue to use shaving gel from a can instead of shaving soap or shaving cream, which you'd lather up in a bowl using a brush and then apply to your face.
The over 100-year-old shaving technique
It's quite amazing when you consider that using a safety razor is technically speaking a step back into the 19th century. In England in 1874, the first models appeared on the market. They were reminiscent of carpenter's planes. Among the pioneers was the manufacturer Wilkinson, well known to this day. The biggest difference to today? The blade on these proto-safety razors was much more exposed, similar to a straight razor.
Then, shortly after the turn of the century, American King Camp Gillette invented the safety razor. With that, the two brands that still dominate today were in business. In the new safety razor, you didn't clamp in regular knife blades that needed sharpening. Instead, you put in thin steel blades that you replace after they're used up. The blades also lie between two combs, offering more protection.
This basic form has hardly evolved since then. The name safety razor stems from these razors being safer and easier to use than their proto-version or straight razors.
But the triumph of the safety razor was abruptly interrupted after the Second World War when electric razors became affordable. Since the 1970s, cartridge and disposable razors have also replaced safety razors in many households. Leading this revolution were, again, Gillette and Wilkinson.
Seductive marketing and too high a cost
These are brands I know very well – the Gillette cartridge razor with a cleaning element, which launched last year, as well as the five-blade razors from competitor Wilkinson Sword. And yes, the marketing done by these big manufacturers has always worked on me. I bought the battery-powered razor that vibrated – and made for a very pleasant facial massage. I also bought the first six-blade cartridges – a flop because they were nigh impossible to clean.
But I've always gone back to my three-blade razor, the Mach3 by Gillette. It offered the best value for money, in my opinion. You can get the cartridges for less than two francs apiece and they usually last longer than the models with up to five blades.
Where there's an oval, there's stubble
So, now I've become acquainted with the safety razor. I tested a model from Mühle and one from King C. Gillette. They're very similar, as necessitated by the very principle of safety razors. You're not trapped in a single system. Blades and razors can be freely combined; the standard applies to all manufacturers.
What's very nice is that they help shrink the mountain of waste. Ideally, the thin metal blades are wrapped in paper only, and a ten-pack fits in a mini carton box. There's no comparison to cartridge razors and all their plastic packaging.
However, if you're hoping the metal blades can be recycled, you'll be disappointed (at least in Switzerland). In most communes, they belong in household trash – preferably wrapped in the replacement blade's paper. Whether specific recycling companies accept steel blades must be clarified on an individual basis.
In terms of price, safety razors also offer an advantage, despite the higher initial investment. Cartridge razors are available for as little as 10 francs, while safety razors will run you 20 to 40 francs – with much more expensive options also available. But good safety razors last for decades and a single blade costs only 20 to 40 rappen. For cartridge razors, each head costs 2 to 4 francs. Even though the blades on a safety razor are quicker to become dull and need replacing, the savings add up.
Price and environmental concerns clearly speak for the safety razor. And both factors contribute to the comeback of the over 100-year-old technology – not only among men, but women, too, as editor Natalie Hemengül discussed in her article.
Plastic razors aren't yet gone
Be it through safety razors, blades, shaving brushes or accessories, many small brands have jumped on the chance to attract new customers. Traditional brands such as Mühle or Merkur Solingen are celebrating a comeback. In addition, pioneers like Gillette and Wilkinson are bringing back the razors they invented 120 years ago.
I'm not ready to dispose of my plastic razor just yet. Traditional shaving takes time and leisure – and I don't always have that. But I'm going to practise as often as possible over the next few weeks to go from bloody beginner to razor-sharp shaving pro.
Drop any tips and tricks you have in the comments – for example, which shaving soap or cream I should start with as a beginner.
Header image: Lorenz Keller
---



Gadgets are my passion - whether you need them for the home office, for the household, for sport and pleasure or for the smart home. Or, of course, for the big hobby next to the family, namely fishing.
---
---
---