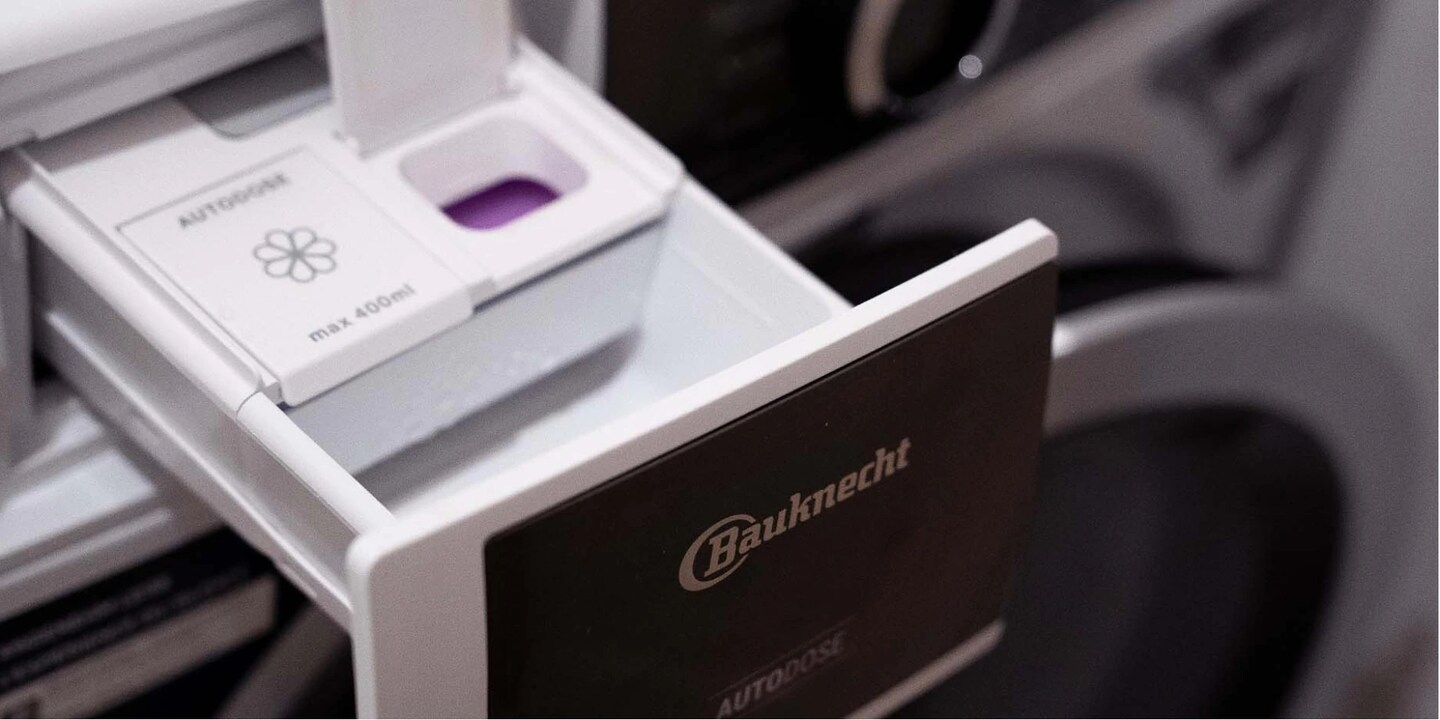 This article was translated automatically.
Bauknecht B8 Review: Never again without autodosing

The Bauknecht B8 W946WB washing machine is expensive at 1349 francs. But it comes with a nice feature that doses detergent automatically. But is that alone worth buying such an expensive machine? I do the math.
New apartment, new washing machine. The Bauknecht B8 (I'll leave out the annoying abbreviation W946WB) stands out with its large porthole. The front-loader has been sitting in my old apartment for eight weeks now, washing away and now has sixteen wash loads behind it. A few more, because I'm so excited that I'm doing a lot of washing right now.
My choice fell on the "B8" because it has a large drum, is quiet and with the energy label "A" very energy efficient. Okay, it wasn't quite cheap, but you don't treat yourself to anything else, do you? After all, the machine is supposed to last an eternity. 15 years, according to rental law, but then it runs every day. For me, I therefore reckon with 20 years.
After 20 wash cycles, I can say that I only need half as much detergent. And my laundry is clean.
Big highlight Auto-dosing and volume
By far the best feature of the machine is the auto-dosing. Instead of the normal dosing compartment, a tank similar to that of a car awaits you. It holds 400 milliliters of fabric softener and 800 milliliters of detergent. The machine measures for you during washing how much detergent it needs. When the tank runs out, the B8 grumbles.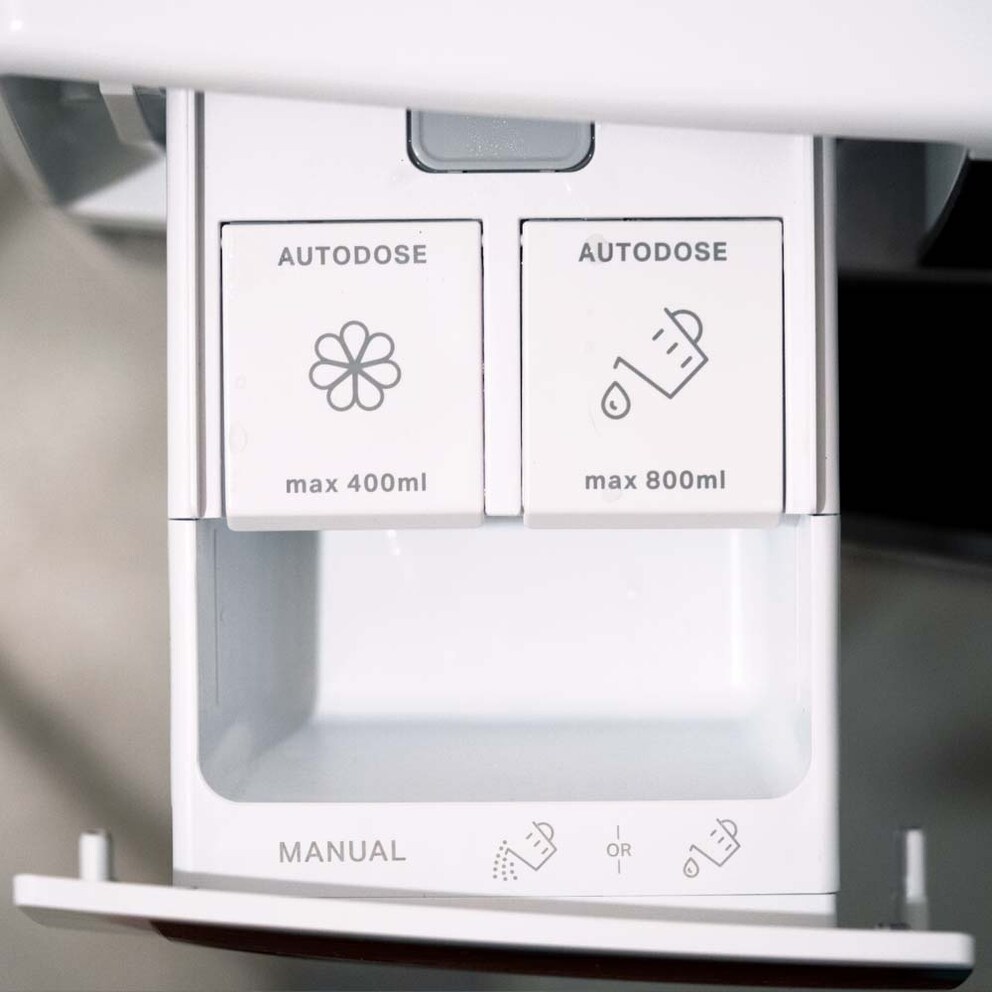 This feature has cut my detergent consumption in half without further ado. My bottle of Persil suddenly lasts far longer than it says on the bottle. 25 washes? More like 50. That's great. Who likes buying laundry detergent anyway? Bonus: I don't have to worry about detergent as often as I used to, thanks to the tank and lower consumption, and that's just fine.
Whispers to itself
The washing machine is next to my bedroom, so it can't be loud. The B8 isn't either. It booms to a maximum of 71 decibels. That's about as loud as a vacuum cleaner. However, it rarely makes this noise. During the test weeks, it barely emitted more than a low hum. Only the steam hygiene option sounds as if someone is stomping through my apartment.
And if I still want to sleep while washing, Bauknecht offers the "mixed wash extra quiet" option. Then the B8 hums barely audibly for seven and a half hours through the night.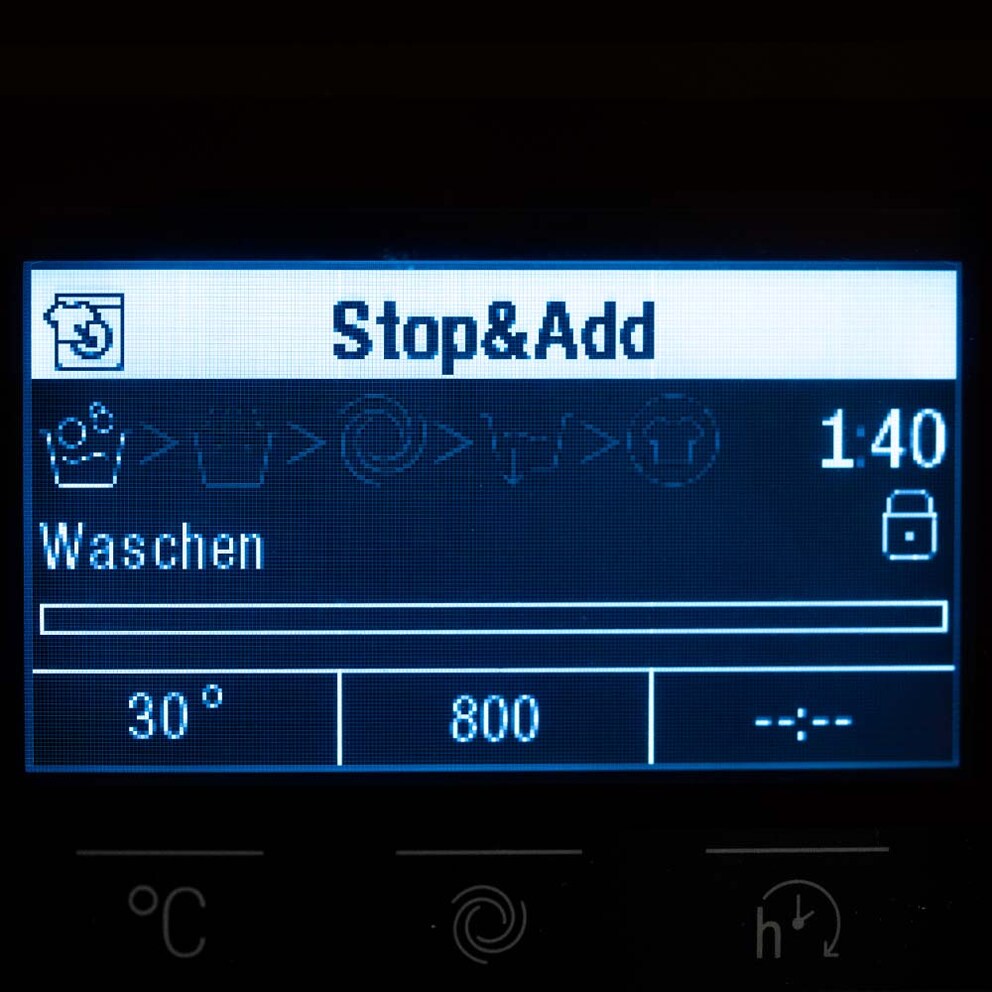 The Bauknecht is not only quiet, but also tells you what it's doing. The screen alone makes the B8 an upgrade to the old machine in my flat share. That's where a look at the manual was essential. What do the signs with the circles, triangles, dots and squares mean? How did we ever get any laundry clean with cryptic symbols as main orientation points? The B8 explains everything to you in words. Was that so difficult, old-machine manufacturers?
So far, so practical. But the B8 is expensive as hell. Just nine kilos of laundry for 1300 francs seems a bit steep.
Is it worth buying such an expensive machine?
While the B8 washes, I do the math. With auto-dosing and lower water consumption, the expensive machine saves resources. But at what point is it worth buying the 1349 franc Bauknecht? For comparison: The Hoover HWPD 69AMBC/1-S is the cheapest comparable machine in the range at 758 francs. Plus Persil and Lenor.
The rules for the following calculations:
All prices are listed without subsidies, volume discounts and promotional prices.
All prices remain the same during the entire operating time.
The lifetime of a washing machine is set at 20 years.
For simplicity, the machine will operate without maintenance or damage during this time.
Without auto-dosing, I simply dump detergent and fabric softener into the drawer. I don't care about the correct measure. So one bottle of fabric softener and one bottle of detergent last two months, so I use six each in a year. With auto-dosing, consumption drops to three bottles each per year. I wash two loads a week.
The Bauknecht uses one liter less water per load, unlike the Hoover. We calculate with a water price of 1.85 francs for 1000 liters. This means that the water consumption is hardly significant. This results in operating costs for the machines after the purchase, without electricity:
Bauknecht: 82.61 francs per year
Hoover: 156.75 francs per year
Over time, this graph emerges:
The result: From the eighth year of operation, the initially more expensive machine becomes cheaper in consumption and at the end of the 20 years of operation, I have saved 891.85 francs.
But: Most of the time you buy a washing machine when you move. So if you started a family, that's more people. For the sake of simplicity, I calculate with three persons over the whole lifetime.
The result: The Bauknecht is already profitable from the third year of operation and in 20 years you save 3857.54 francs.
Conclusion
The Bauknecht B8 W946WB washes perfectly, is quiet and not as expensive as you think. You always need to look at the total cost. I'm surprised that after eight years the machine has already paid for itself with the saved detergent alone. I didn't think it would pay for itself in 20 years. Especially for families and frequent washers, the Bauknecht B8 is an absolute recommendation from me.
---

My world moves in 25 frames per second. As a journalist, I report – not because I can, but because I can't help myself. After all, the world is full of stories that are waiting to be told. Adventures don't wait. From national to international news, hand me a camera and a mic and I've got it covered.
---
---
These articles might also interest you
Skeleton Loader

Skeleton Loader

Skeleton Loader

Skeleton Loader

Skeleton Loader

Skeleton Loader