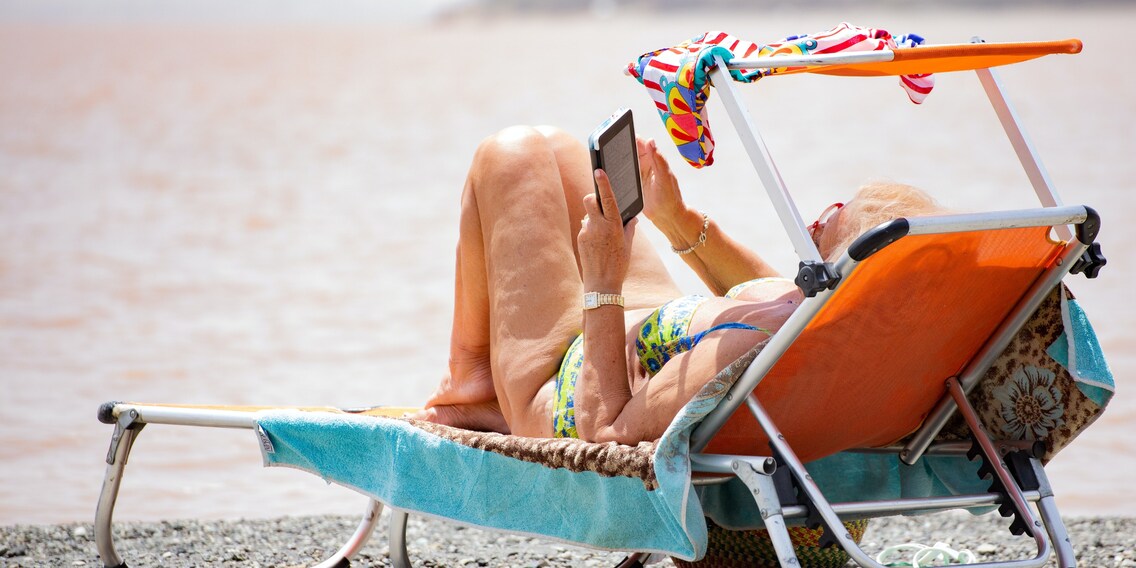 Baggage, bathing suits and Birkenstocks: Switzerland's set for summer
For many of us, our sense of wanderlust has awakened from its pandemic-induced stupor. Suitcases are doing even better on Galaxus than they were before the pandemic. And that's not all. GPS trackers for luggage are flying off the virtual shelves, too – possibly as a consequence of the chaos at some airports. Read on to find out who's rushing to buy swimwear before the summer holidays, and what kind of open-toed footwear is trending.
Whereas the pandemic has kept most of us bound to a single country in recent years, in 2022, we're once again indulging in cross-border travel. Travel agencies are reporting a booking boom, while a recent survey of holidaymakers revealed that 57 per cent of the Swiss population is planning a trip abroad this summer. Not only that, but our sales figures show that travel is back on the agenda this year. Suitcases and backpacks which spent the last two years gathering dust in our warehouses are currently all the rage. Wheeled suitcases which double as seats are extremely popular with kids.
There's a run on luggage and GPS trackers
It doesn't matter if you're travelling by car, train or plane – you'll usually have luggage with you. In June, Switzerland made a beeline for suitcases and other baggage: luggage sales increased by 120 per cent in comparison to last year. Looking at the first half of the year, the increase is as much as 158 percent – even higher than pre-pandemic sales.
The desire to travel seems to have a significant influence on what we buy. We can only speculate as to why. Did everybody's baggage rot away in the attic during the pandemic? Or do people need to buy carry-ons to skirt the additional costs for check-in baggage? This could well be the case in view of current flight prices, courtesy of inflation and expensive kerosene. Another striking aspect is that baggage in loud colours in totally in. With one of these bad boys, you'll spot your suitcase on the carousel in no time – if it arrives, that is.
The fear of losing luggage could explain why GPS trackers ended up in the shopping carts of numerous Digitec Galaxus customers this June. A hundred and sixty three per cent more than last year, in fact. But how do they work? It's pretty simple: you pack the tracker in your suitcase, then you're able to locate it using an app.
I packed my bag and in it I put ...
With or without a GPS tracker, plenty other things go in your holiday luggage, from toilet bags to sunscreen and e-readers. Sure, this stuff could be put to just as good use at the outdoor swimming pool round the corner. No matter whether they're at home or abroad, our customers seem to be in the summer spirit: sunscreen flew off the virtual shelves 69 percent more often in June than in the same month in 2021. Toilet bags (+52%) and e-readers (+58%) are also popular vacation buddies.
As for footwear: the demand for espadrilles and flip-flops seems to have lulled, with only sandals recording an increase in sales in June (+ 15%). Birkenstocks and Crocs are particularly sought after.
And when it comes to swimwear, only men have been buying more (+ 77%), with O'Neill, Quiksilver, Billabong and Jack & Jones swimming trunks especially likely to end up in the shopping cart. Swimsuits and bikinis, however, saw stable or even declining sales last month.
Are you all set for the summer holidays? Or will you be taking a vacation later in the year? Is a staycation on the cards or are you going further afield? Is there anything missing from your holiday packing list? Happy holidays!
---
Studies claim that we have a shorter attention span than goldfish. Ouch! My job is to get your attention as often and for as long as possible. How? With content you enjoy. Outside of the office, you'll find me on the tennis court, curled up with a book, Netflixing or travelling. 
---
---
These articles might also interest you
Skeleton Loader

Skeleton Loader

Skeleton Loader

Skeleton Loader

Skeleton Loader

Skeleton Loader