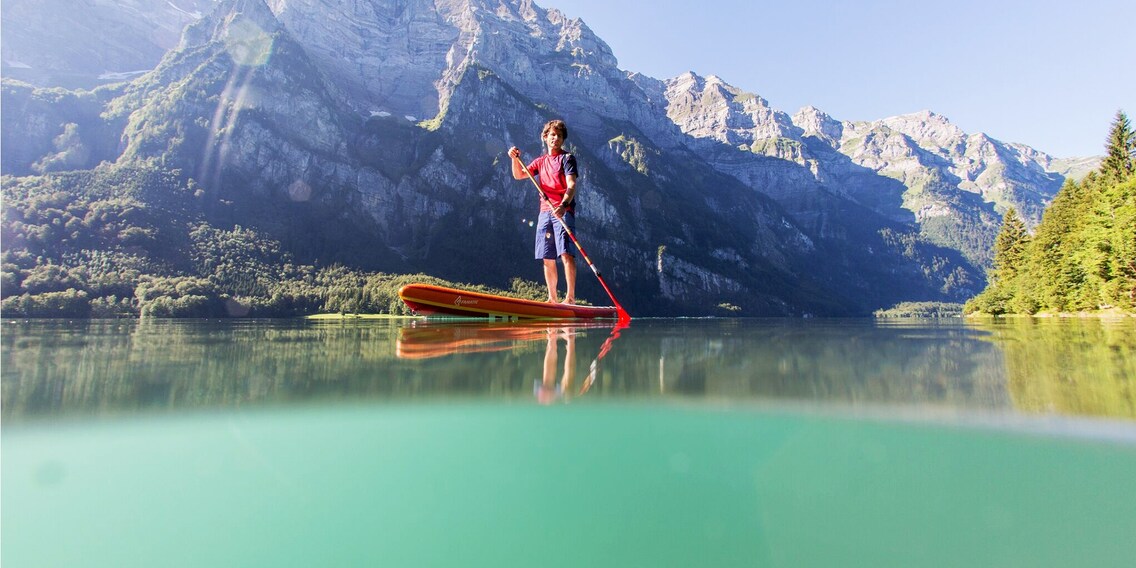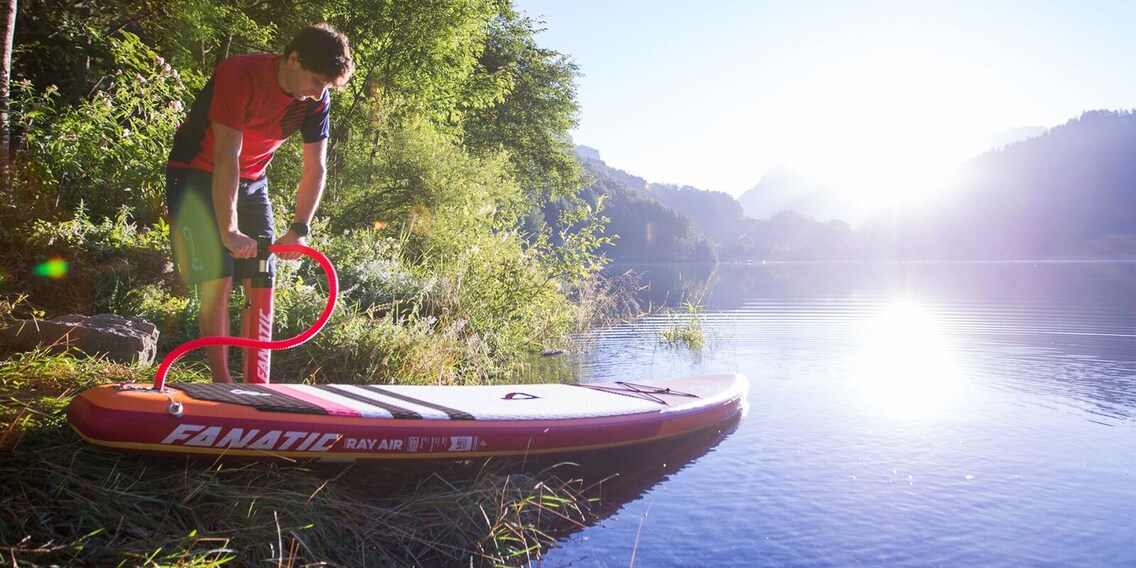 Ask the expert – How to find the perfect SUP board

Flims Waldhaus, on 08.05.2017
Stand up paddle boarding is the ultimate summer sport. After a tough day at work, you can drift across a lake, chase the perfect waves or strengthen your body by doing yoga on a stand up paddle board (SUP). Stand up paddle pioneer and extreme paddler Thomas Oschwald is here to share his exclusive tips on buying the right equipment. Now there's nothing getting in the way of your SUP adventure.
Stand up paddle boarding is easy to master and has something to offer no matter what your level. By the very nature of the standing position you have to adopt, your arms, legs and torso get a proper workout without straining the joints. In SUP boarding, as in any other sport, it is very important to use the right equipment. When you're looking for the perfect board, there are a few things to consider. Extreme paddler Thomas Oschwald tells us what really matters.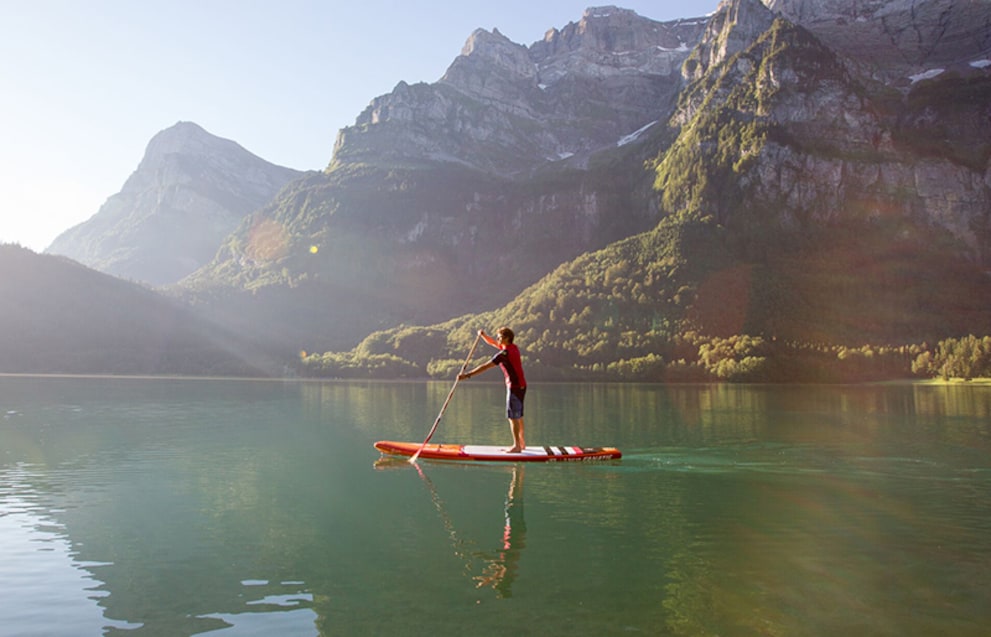 Inflatable versus solid SUPs?
I recommend solid SUP boards for racing and surfing waves, where performance and direct power control is essential. For everything else I would definitely suggest the inflatable boards (iSUPs). The advantages are obvious. Firstly, they are lightweight and easy to transport in a rucksack. iSUPs are also extremely robust thanks to as many as three layers of PVC. Other benefits include ease of storage and having a large selection to choose from. The comfortable surface is also perfect for sunbathing and goofing around on. This is where iSUPs are really not comparable with a souped-up lilo. High-quality, inflatable SUPs are extremely rigid. In terms of performance, they come close to that of solid SUPs and are practically indestructible. For my expeditions I almost exclusively use inflatable SUP boards. I have paddled up to 100 kilometres (62 miles) per day on them and have never had a leak.
SUP shape
If you intend to spend most of your time on lakes, I would recommend an SUP with a pointed nose and a single fin (that looks like a shark's fin). This type of board glides effortlessly across the water, has reduced water resistance and stays on course. The all-rounder SUPs with a curved nose are slightly more stable. These boards often have three fins, turning your SUP into the ultimate toy in small waves. However, all-rounder SUPs are just as much at home on a lake. The only thing to bear in mind is that the two additional fins and rounded nose provide noticeably more water resistance.
SUP length and width
As a general rule, long boards are for speed and wide boards for stability. The volume of an SUP depends on its length, width and thickness. The more you weigh, the more volume you need in your board for it to sit properly on the water. In other words, it would make sense to opt for a longer, thicker, wider SUP to carry more weight. A high-quality board can comfortably take up to 100kg (15.7st), meaning you can also have two people on the board when you paddle round the lake.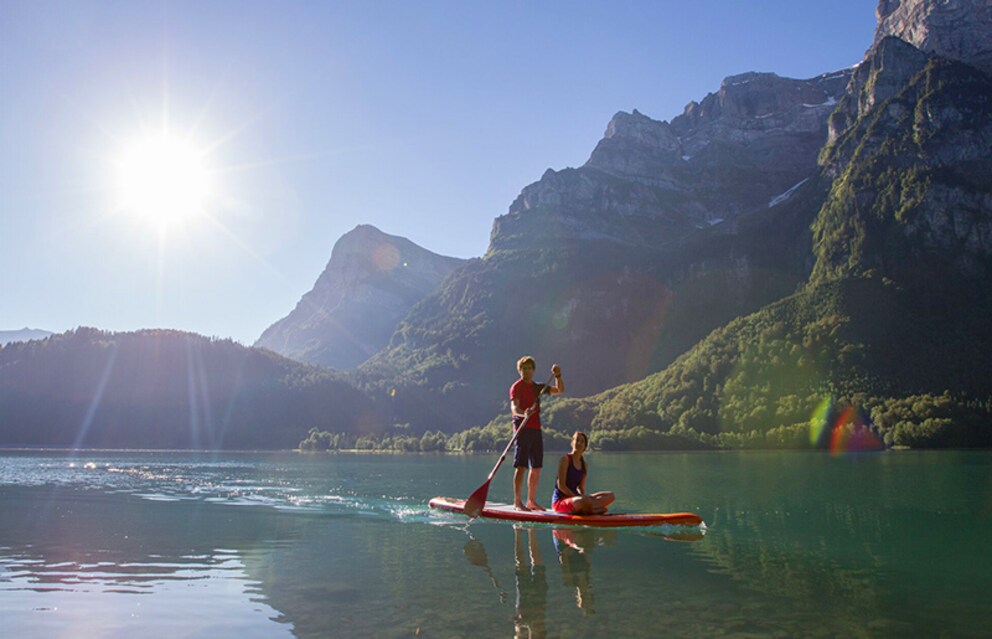 See all Stand up paddle boards
What SUP paddle is best?
With certain offers, the paddle is included when you buy your SUP. This is usually a fairly heavy aluminium paddle. If you are a beginner or just want to paddle occasionally, this should suffice. However, if you intend to spend more time on the water, I would definitely recommend choosing a carbon paddle. The more carbon fibres the paddle contains, the more expensive it will be. But this investment will pay off in the long run as you won't tire as quickly. When it comes to iSUPs, the best option is the 3-piece telescopic paddle. The advantage here is that you can dismantle it for easy transport it in a rucksack.
SUP accessories
By Swiss law, you have to wear a life jacket if you are paddling more than 300 metres from the shore. Even if you aren't as far out, always make sure you can swim back to shore if an accident happens – for example, if the water is freezing or there is an offshore wind.
Bear in mind that your inflatable SUP is only a flotation device when it contains air and is next to you. This is why it pays to have a leash (an accessory that connects you to your SUP). If you fall off, you won't risk your board floating away from you. If you are paddling on a river, you should always wear a life jacket but NEVER have a leash around your ankle. In certain situations, failing to follow these instructions can be quite dangerous. The reason is that the leash can stop you separating yourself from the SUP and without a life jacket, the current could push you under the water. Don't forget to bring a waterproof bag for all the bits and bobs you need for your mini SUP adventure or expedition.
You may also find these interesting (in German):
Skeleton Loader

Skeleton Loader

Skeleton Loader

Skeleton Loader

Skeleton Loader

Skeleton Loader
---



Always looking for new challenges in sports and in everyday life, I always push myself to my limits. It is my conviction that all the big and small challenges in life will help me get ahead. As an extreme paddler, I don't feel like going down paths that I know in advance are possible without any problems. A journey, a dream or an adventure should never lose the uncertainty and always keep the chance to make something seemingly impossible possible.

<a href="http://supthelake.ch" target="_blank">supthelake.ch</a> 
---
---
These articles might also interest you
Skeleton Loader

Skeleton Loader

Skeleton Loader

Skeleton Loader

Skeleton Loader

Skeleton Loader