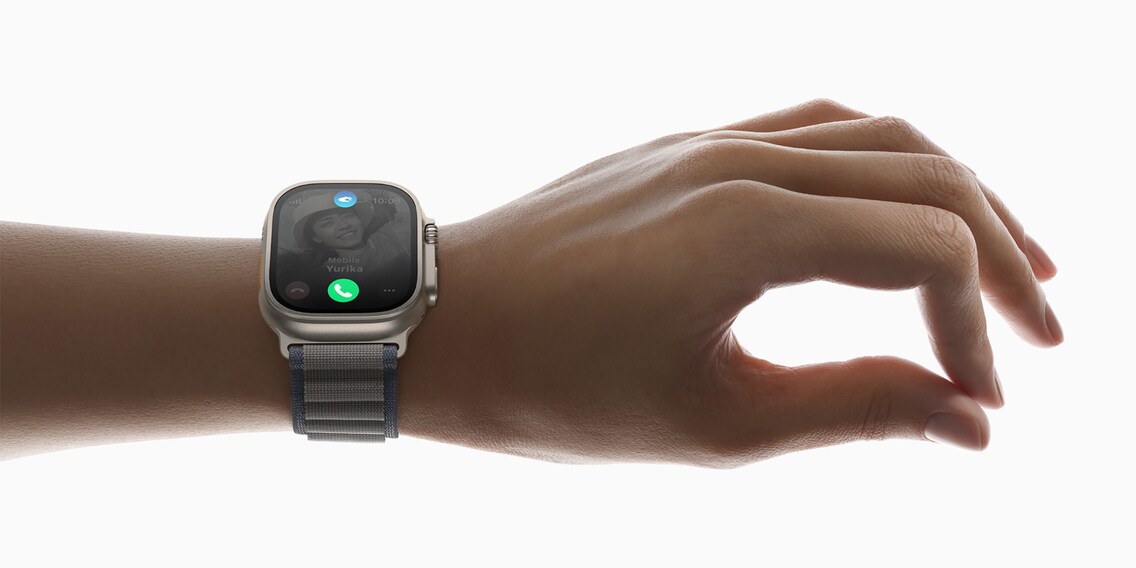 Apple Watch Ultra 2 and Series 9 find iPhones and recognise finger movements

Translation:
machine translated
The Apple Watch Ultra 2 and Series 9 have got brighter displays and more power. In addition, there is a new location chip and a new gesture for operation.
The Apple Watch Ultra 2 remains the robust model for outdoor activities and provides even more data during sport than its predecessor. However, it shares many of the innovations with the Series 9.
More power for offline Siri
. This starts with the new S9 chip. This has 60 per cent more transistors than its predecessor, so it can do significantly more calculations. Apple speaks of 30 per cent more performance and a twice as fast "Neural Engine", as Apple calls its AI. > The biggest advantage of the extra power is probably that Siri now works without a data connection. Apple calls the function "On-Device Siri". Although only with the data and apps on the Apple Watch - that should still be enough uses.
You will also soon be able to ask Siri on the Apple Watch for your health data stored on the smartwatch. This is expected to work in English and Mandarin first this year. Other languages are to follow.
Double Tap: When you can't get to the Watch
. The Apple Watches have learned a new gesture this year: double tap. The smartwatches recognise when you tap your index finger and thumb together twice. This activates the main button and accepts a call, for example. You can also use it to scroll through widgets or pause music playback.
This sounds like a small thing, but there could be many occasions to use the new gesture. For example, when you can't ask Siri for help or your second hand can't reach the touchscreen. In addition, the gesture is likely to be used when operating the Apple Vision Pro.
The gesture will not yet work at launch. It is expected to come to Watches from October.
Find iPhone and shine brighter
The Apple Watch Ultra 2 and Series 9 feature a new second-generation Ultra Wideband chip. With it, they can locate your iPhone and give you an even more accurate indication of which direction you're facing.
The UWB chip also improves the interaction with the Homepod. If an Apple Watch gets closer than four metres to the speaker, music control appears on the display.
Apple has also increased the brightness of the always-on display by 1000 nits. On the Ultra 2, it is now 3000 nits. The Series 9's 2000 nits is equivalent to doubling the brightness of the previous model. In dark environments, such as in the cinema, you can reduce the brightness to 1 nit.
Battery life remains unchanged from previous models. 36 hours on the Watch Ultra 2 and 18 hours on the Watch Series 9.
Price and availability
Apple will start selling the new Apple Watch Ultra 2 and Series 9 on 22 September 2023.
The Apple Watch Ultra continues to have a Stainless Steel case and comes in a choice of three colours. Its recommended retail price is 899 euros or 799 francs.
The Apple Watch Series Ultra is available in three colours.
The Apple Watch Series 9 comes in 41 and 45 millimetre aluminium cases and a choice of five colours. Its recommended retail price starts at 449 euros, or 399 francs in Switzerland.
Titelfoto: Apple
---



As a primary school pupil, I used to sit in a friend's living room with many of my classmates to play the Super NES. Now I get my hands on the latest technology and test it for you. In recent years at Curved, Computer Bild and Netzwelt, now at Digitec and Galaxus. 
---
---