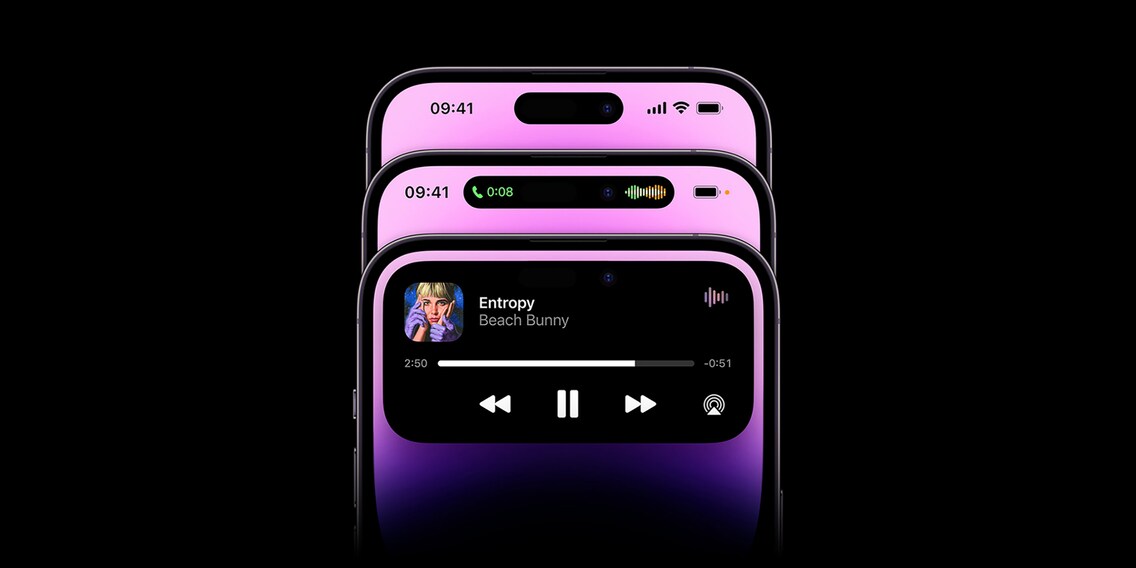 Apple, take me to Dynamic Island
Translation:
Patrik Stainbrook
Android smartphones have had a camera hole in their displays for years. However, with the release of Dynamic Island on the iPhone 14 Pro, Apple of Cupertino have once again proven that they can drum up hype with the smallest of trivialities.
The iPhone 14 Pro no longer has a notch. Instead, the front camera and the sensors for Face ID are located in an oval hole at the screen's upper edge. Outside of the Apple universe, the only reactions this elicited was apathy. Samsung made the front camera hole suitable for mass use with the Galaxy S10 around early 2019, at the latest. Meanwhile, Android devices without a hole are the exception. But with Dynamic Island, Apple has once again outdone itself. I now want the iPhone 14 Pro.
Classic Apple: a new spin on an old idea
This is just so typical of Apple. Taking something that has been around for a long time, but making it potentially much more interesting than any alternatives by adding a twist. If the iPhone 14 Pro had only changed from a notch to a so-called «punch-hole», much gloating would've been done among Android users: «This has been standard on Android for ages, and Apple is selling it as a novelty.»
But Apple has thought long and hard about how the iPhone can continue to differentiate itself from Android devices. The result is Dynamic Island. It visually makes the camera hole disappear beneath a mix of notification bars and control elements. Apps use them to display information, show small controls, or let you click on them for a larger view.
Apple might have hit the bull's-eye with Dynamic Island. Without further research, I'm quite hyped for it. Where Android manufacturers have at most offered matching wallpapers, Apple has created a new form of interaction. A small UI feature that seems totally benign at first, but which has the potential to transform how you use your iPhone.
With Dynamic Island, Apple is widening the already unusually large gap between the iPhone 14 and 14 Pro in terms of features and functions. This should increase the sales prospects of the Pro model. It feels like the iPhone 14 is only a minimally modified version of the iPhone 13. So why not go for the cheaper model from last year?
Despite all the enthusiasm for Dynamic Island, I won't buy the iPhone 14 Pro. It's clearly above my personal budget threshold for buying new smartphones. Instead, I'm hoping other manufacturers will be inspired by Apple.
---



When I was but a young student, I'd sit in my friend's living room with all my classmates and play on his SuperNES. Since then I've had the opportunity to test out all the newest technology for you. I've done reviews at Curved, Computer Bild and Netzwelt, and have now arrived at Galaxus.de. 
---
---
These articles might also interest you
Skeleton Loader

Skeleton Loader

Skeleton Loader

Skeleton Loader

Skeleton Loader

Skeleton Loader