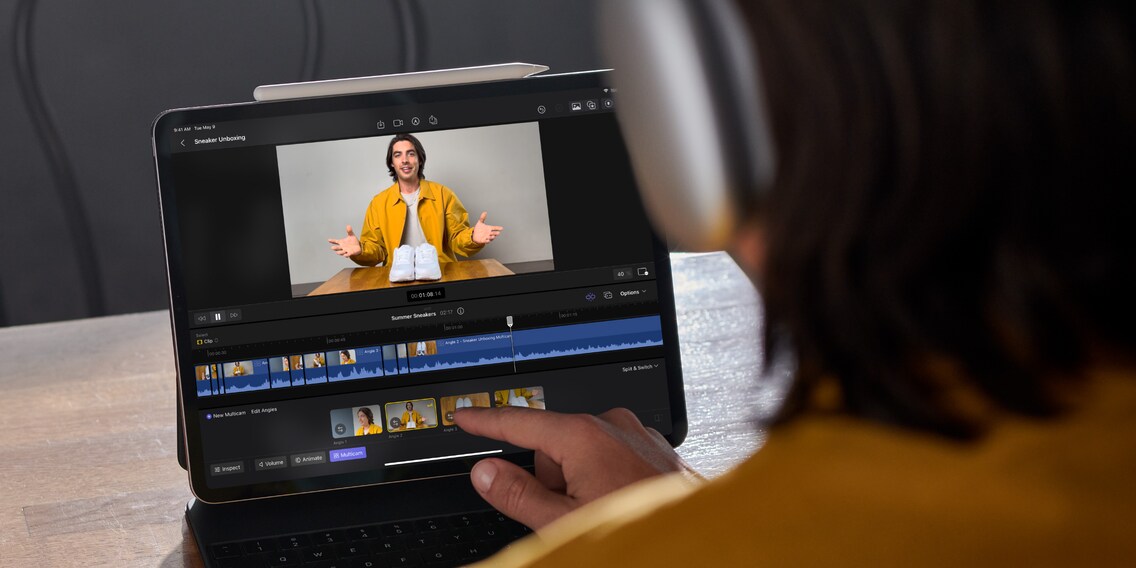 Apple introduces Final Cut Pro and Logic Pro for iPad

Translation:
machine translated
For creative professionals who want to produce films or music on a tablet, Apple brings Final Cut Pro and Logic Pro for iPad. The apps are only available in a subscription model.
Apple announces iPad versions of its Final Cut Pro and Logic Pro programmes. Both have been developed with a completely new touch interface that takes advantage of multitouch. The apps will be available as subscriptions in the App Store from 23 May. They cost 5 francs or 4.99 euros per month. The annual subscription costs 50 francs or 49 euros. For Final Cut Pro you need an iPad with an M1 or M2 chip. For Logic Pro, the A12 Bionic chip of slightly older iPads will suffice.
Final Cut Pro
In the iPad version of Final Cut Pro video editing software, you navigate the magnetic timeline with a digital jog wheel. Clips can be moved with your finger, and frame-accurate editing is also supposed to be possible. This is probably best done with the Apple Pencil, which is more precise than a finger. With the Pencil, you can also draw or write directly over video content. There is also a library of graphics, effects and audio material.
Not much more than an absurd gimmick, Pro Camera Mode gives you full control over the iPad's built-in camera. You can manually control things like focus, exposure and white balance... Apple writes that it lets creatives "shoot, edit and publish from a single device while on the go". That's technically true - but the meagre video quality of an iPad camera doesn't match the professional standards of an editing programme like Final Cut Pro.
Most filmmakers are likely to edit footage from dedicated video cameras. Thanks to the Multicam function, parallel recordings from several cameras can be automatically synchronised and edited together. You can switch from one setting to another at the touch of a finger. For things like cropping a subject or voice isolation, Apple promises automated processes that take little time thanks to Machine Learning.
Logic Pro
The audio mixing programme Logic Pro is also said to be easy to use thanks to multitouch support. Just like Final Cut, with a keyboard connected, the usual keyboard shortcuts are supported. Just as with Final Cut, you could also record content directly in Logic Pro via the iPad microphone. Again, this makes little sense for professional productions.
A full-featured mixer includes channel strips, volume faders, pan controls, plug-ins, sends and precise automation. The new Sound Browser offers dynamic filters and displays all available instrument and audio patches, plug-in presets, samples and loops in one place. With the tap of a finger, you can preview the sound before loading it into a project. The app includes over 100 instruments and effect plug-ins such as vintage EQs, compressors and reverbs.
With a range of beatmaking and production tools, you can split and invert samples, programme beats and bass lines, and create custom drum kits. Beat Breaker, a new time and pitch morphing plug-in, lets you shape and mix sounds by swiping and dragging them open and closed.
---


My fingerprint often changes so drastically that my MacBook doesn't recognise it anymore. The reason? If I'm not clinging to a monitor or camera, I'm probably clinging to a rockface by the tips of my fingers.
---
---
---