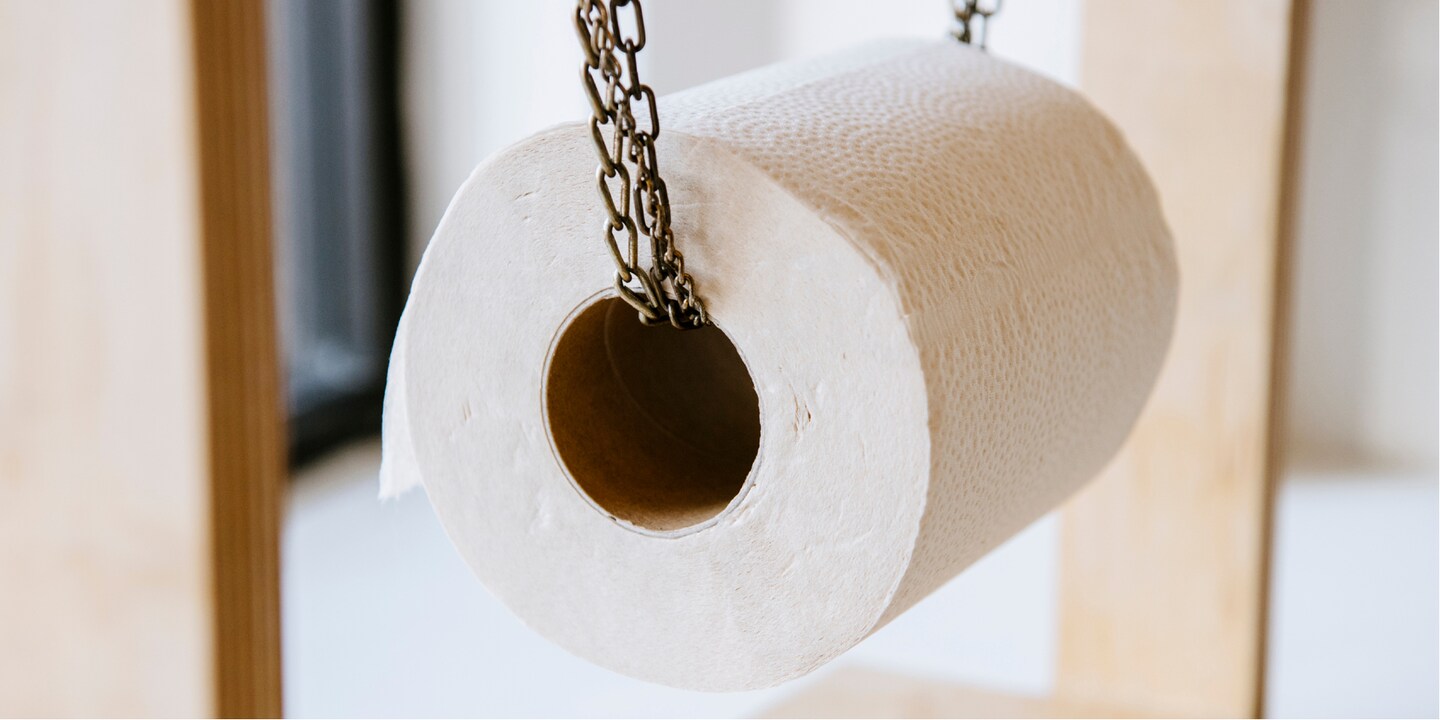 Aesthetically pleasing toilet roll holders

We use it every day, but we hardly ever pay attention to it: it's the humble toilet roll holder. Now this everyday object is getting its well-earned time in the limelight in a virtual design show.
I've never seen such surreal toilet roll holders. It may only be a virtual event this time, but the images alone are enough to impress. From body parts to selfie sticks, the contemporary designs from international design studios are loud statements for this most private of spaces. They're sometimes playful, often unusable and are always somewhat unusual to handle.
Over and under
The Marta museum is showcasing the often overlooked everyday item with its show «Under / Over». In partnership with the tree-free toilet paper start-up [«Plant Paper»], Marta invited international creatives to share their take on the toilet roll holder. The result is more than 50 different objects that will be available to view on the website and in the galleries in Los Angeles from 12 September to 1 November.
The holders move between art and design. They pay less attention to function and look more like sculptures. Take the cage-like model by landscape architectural design studio Terremoto, which «locks up» the toilet roll and makes it unusable. Or there's the «Toilet Tongue» by Studio Bnag. This one simply provides somewhere for the toilet paper to sit rather than holding it. Jorge Pénades Design, on the other hand, keeps the toilet paper safe by chaining it up.
However, I'd like to try some of the other designs. The 2-in-1 solution «We Should Do It All» doesn't just have a place for the toilet roll; it also provides the smartphone with a fitting position. The creative studio behind the special selfie stick holder took inspiration from «our fetishisation of self-suffiency and individualism» and incorporated it into the design. «What's the true context of our phones in our culture of constant distractions and dopamine hits from push notifications? Can you leave your phone behind to go to the toilet?»
Personally, I can. That said, I'm on the fence about whether I'd like to take a battery-powered drill to the bathroom with me. Design studio OOIEE's toilet paper holder looks particularly interesting. It verges on playful. Does the paper unroll at the touch of a button? How much is left after a visit to the toilet?
There's more to it
On the one hand, the exhibition aims to draw attention to neglected subjects when it comes to design. On the other, it explains how toilet paper is made and what environmental role it plays. Since the launch of «Plant Paper» in 2019, the manufacturer has worked to «draw attention to this overlooked sector» and focus on packaging design, according to the exhibition press release. «With the purchase of fluffy, plastic-wrapped, bleach-white rolls, many Americans are unwittingly aiding the politicallyconservative efforts of conglomerates like Koch Industries.» These companies are known for harming the environment by felling trees and spraying the pulp with harmful chemicals. «Plant Paper,» however, is toxin-free toilet paper made from fast-growing FSC-certified bamboo.
A rare commodity
Now I've seen the unusual designs, I'm curious. What do the toilet brush holders in our range have to offer? Just like in my toilet brush test, I came across a gap in the market. Out of 299 products, I found only a handful that stand out from the sea of brushed nickel and polished chrome. These included whimsical designs like a weightlifter, a little house and the «Baby Cloud» by Lyon, which provides a neat storage solution. They turn toilet paper into a decorative item.
The Marta Museum regularly showcases everyday objects in its exhibitions, raising their profile and encouraging reflection. We've seen how toilet paper can quickly become a rarity, like it did at the outset of the Coronavirus pandemic. No everyday item is a given. They deserve a prominent place too.
---

«There are only two ways to live your life. One is as though nothing is a miracle. The other is as though everything is a miracle. I believe in the latter.» – Albert Einstein
---
---
---
These articles might also interest you
Skeleton Loader

Skeleton Loader

Skeleton Loader

Skeleton Loader

Skeleton Loader

Skeleton Loader