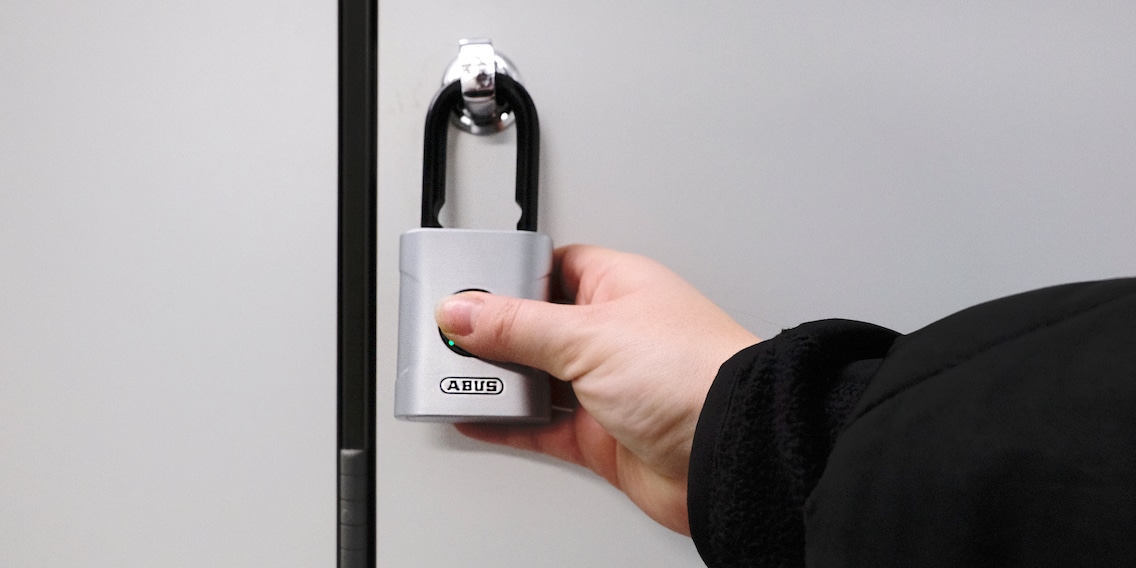 Abus Touch: a fingerprint lock with minimal issues

A massive padlock that can be unlocked by a maximum of 20 different saved fingerprints? Sounds perfect for sealing off shared basements and allotments. Or securing your locker at the gym. But it's actually the latter that reveals a slight flaw in the Abus Touch.
Until now, I've only had one padlock. It's hanging on my basement door – unusable. That's because my home was broken into recently, and the bolt was removed, which is why the lock just hangs there like a token statement. Mind you, I at least tried to lock the basement, unlike my locker at the gym. Each time I go to work out, I forget to bring a padlock with me. Not only that, I don't like carting a key from one machine to another.
It seems like the perfect conditions for trying out the Abus Touch 57/50. Namely because it works using a fingerprint. Up to 20 can be saved, to be precise. This also makes the lock ideal for enclosed areas that you share with family or friends. The lock is massive, coming in at a width of 5 cm, 10.3 cm height and a weight of 390 g.
A huge lock that's easy to use
The Abus Touch 57/50 comes with batteries included, which is great as I've never tried CR2 ones before, so I don't have any lying around in a drawer. According to the manufacturer, the battery can handle the lock being used 10,000 times. In other words, if you use the lock six times a day, theoretically you wouldn't need to change the battery for at least four and a half years.
Saving fingerprints is quick and you don't need an app. The first two fingers are recorded as administrators. You need these to save all others and to delete any fingerprints. The Abus Touch 57/50 always recognises my finger easily at home – no matter how I place it on the touch surface. And the lock then springs open within a second.
The lock struggles with wet fingers
In the gym changing room, I'm initially unsure if the U-bolt of the lock will even fit through the locker opening. Fortunately, it can be threaded through to millimetre accuracy. After working out for an hour, I want to retrieve my valuables. At the first attempt, the black circle on the touch surface turns red – fingerprint not recognised. I assume it's because of my sweaty hands. After giving them a good dry, the lock then springs open.
The Abus Touch doesn't cope well with getting wet. This also means if you have it hanging outside in the rain, you'll first need to dry it before the lock will recognise your fingerprints. That's not a huge problem, as you've always got at least one sleeve to give the touch surface a quick wipe.
But what impact does this have on the security side of things? Abus itself gives the lock a safety score of 8/10. According to German TV channel Southwest Broadcasting's show Market Check (in German), the battery compartment being accessible externally means that thieves can gain access to the circuit and modify it. But it's not any less secure than a cylinder lock.
Verdict: strong lock with a slight weakness
Except for when it's wet, the Abus Touch 57/50 recognises my finger without fail. What's more, it's easy to use and, I'm thrilled to say, it doesn't require an extra app. A fingerprint lock like this is a good alternative to standard key padlocks for areas you share with a number of people. But at 80 francs, it's clearly too expensive to use on a changing room locker in the gym.
---


My life in a nutshell? On a quest to broaden my horizon. I love discovering and learning new skills and I see a chance to experience something new in everything – be it travelling, reading, cooking, movies or DIY.
---
---
---