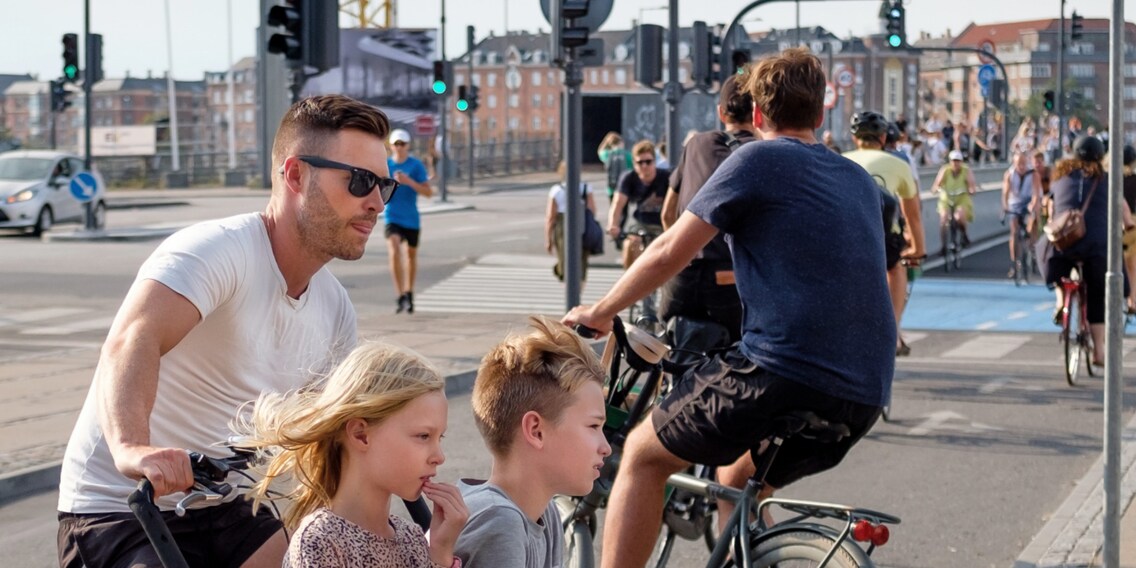 Abroad, many dads hit the road without a helmet

I recently admitted to being a cycling dad who doesn't wear a helmet – and got quite a bit of stick for it. Rightly so? How do parents do in other countries?
I take the liberty of not wearing a helmet when I'm out cycling with my kids. When I published this here one month ago, I wasn't trying to provoke – contrary to what many readers assumed. Instead, I wanted to reflect on what it means to be a role model and how parents deal with rules and codes of conduct.
OpinionFamily

Why I, a father, don't wear a bike helmet
Of course, I was expecting some reactions to my confession. But I was thrown by the 500 plus comments and some of the fierce responses. It felt like 95 per cent of commenters were denouncing my behaviour as irresponsible. For example, user «shy_lachi» wrote: «A head injury, even from an accident that wasn't self-caused, is a huge burden on a family. Not wearing a helmet means putting that risk on the whole family.» User «the-firefighter» said: «What rubbish you write, thinking you're a right fount of knowledge.» There was some humour as well. «Jason R»: deadpanned: «It's really simple: if you've got something to protect, wear a helmet.» Even my colleague Katja Fischer, mum of two, felt obliged to give me a telling-off in her response.
OpinionFamily

This fun sponge says: Dad, put on your helmet!
There were only very few supporters of my parental disobedience. For example, «mjakopp» who said: «If you try to wrap your children in cotton wool, you'll only see them fall even harder later on.» Or «Lagi82» who wrote: «Crazy how you're treated like a doomed person if you don't wear a helmet to the local shop. Frankly, that scares me more.»
I'm not one for changing my mind as often as my underwear. Yet, the flood of reactions did get me thinking. Is there something wrong with my attitude after all? Or maybe it's them, not me? In any case, my reasonable level of caution isn't exemplary enough, for your average person in Switzerland. In fact, it's deemed negligent.
Helmetless child sitting on a handlebar child seat
I recently went on a holiday with my family. We travelled to England via Rotterdam. Soon after our arrival in the Dutch seaport, I noticed that hardly any of the cyclists pedalling through the streets were wearing helmets.
Inevitably, it made me think about the article I wrote and the reactions to it. I must admit, I did enjoy the small wave of satisfaction that washed over me. «Oh, if only all the haters could see how unreasonable cyclists are here.» The icing on the cake was a helmetless mother who was on the road with her helmetless toddler. But wait, there's more! The kid was sitting on a child seat mounted on the handlebars. So if the mother were to fall, her child would act as a human airbag, so to speak. Even for my taste that was taking things a bit too far. I don't think I ever went round like this with my kids. Unfortunately, the mum had already passed us before I could take a photo. At this stage I was sure I wanted or even needed to share these impressions with the Galaxus Community.
All the more so because I enjoyed the freedom of cycling in Rotterdam as I pleased, without getting any dirty looks. For the two days we were there, I rented a cargo bike to put my kids in without helmets.
Myself and my wife on another bike were helmetless. After all, we didn't want to look like square Swiss tourists. Let alone, trample on local customs. On our tours through the city, the number of cyclists wearing helmets could be counted on one hand.
Separate bike lanes provide increased safety
To be fair, Rotterdam – especially compared to a city like Zurich – is an Eldorado for cyclists. There are separate bike lanes and separate traffic lights everywhere. Sometimes, cars need to be extra patient and wait for the train of bikes to start moving. A completely different world to a place like Zurich, where cycling can occasionally feel as safe as being a cat in a dog's kennel. In addition, there are hardly any inclines in Rotterdam, which means very few electric bikes. Everyone just cycles along in a very laid-back tempo. What does this mean in a nutshell? The risk of a collision between two- and four-wheelers is comparatively small.
By the way, this also goes for my mother's birthplace Copenhagen. There are heaps of cyclists without helmets there too. Keep in mind that we're talking about a city of millions with a lot of cars and buses. And just like in Rotterdam, the low accident rate is down to the fact that bikes are given the same, if not higher, priority than motorised vehicles.
So far, so good. But what's the deal in less bike-crazy England? After spending just under a week in the countryside, where there are practically no cyclists, and some time in urban areas, I can say: around half of cyclists were wearing helmets. That's significantly more than in Rotterdam.
But England also seems to be home to the species of irresponsible parent. In the small seaside town of Margate, I took a picture of Paul driving his daughter Nellie Bee around on a bike – at least she was wearing a helmet. When I asked him if I could take a picture for a follow-up article on my «confessions of a helmetless cyclist», he just laughed and nodded. Whether he was laughing at my question or at the fact that so many people in Switzerland seem to get worked up about a father not wearing a helmet remains a mystery.
The conclusion of my field study abroad? When it comes to wearing a helmet, there is not ONE right attitude or ONE correct way of behaving. Rather, it all depends on your objective risk – that is, the infrastructure for two-wheeled traffic. And on your personal perception of safety, of course. On that note, I'd like to conclude by saying: whether you wear a helmet or not, use your head.
Cover image: Shutterstock
---



Half-Danish dad of two and third child of the family, mushroom picker, angler, dedicated public viewer and world champion of putting my foot in it.
---
---
---
---
These articles might also interest you
Skeleton Loader

Skeleton Loader

Skeleton Loader

Skeleton Loader

Skeleton Loader

Skeleton Loader