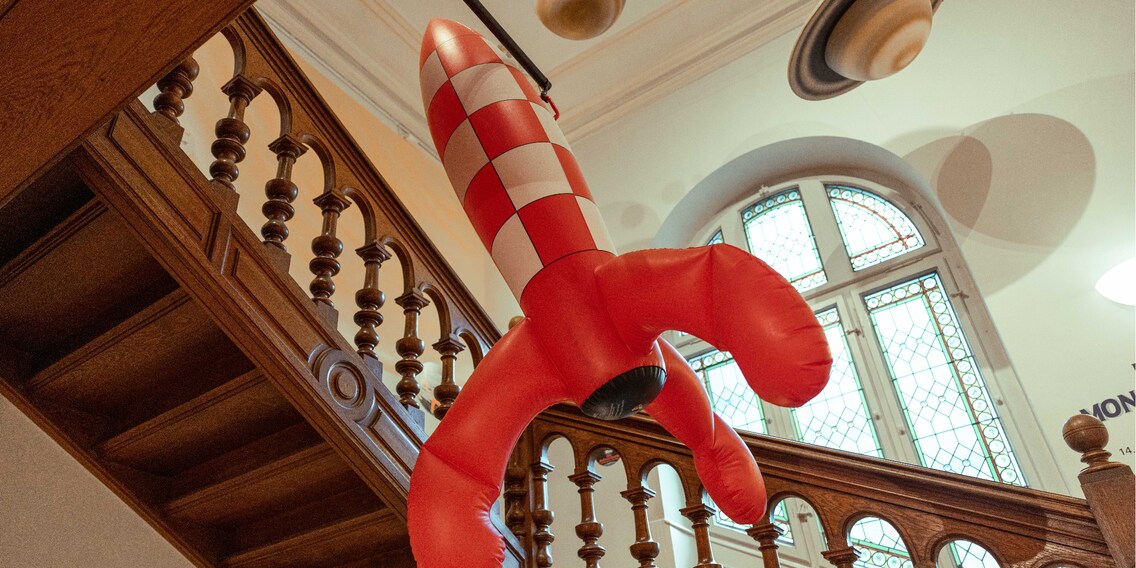 A visit to Switzerland's only children's museum

The only children's museum in Switzerland has been in Baden for almost 40 years. Read on for a run-through of my visit and find out how a private collection became a modern museum, and why it's about much more than just toys.
Located in a venerable villa in Baden, the Swiss Children's Museum is actually closed this morning. But museum director Daniel Kaysel has made two exceptions. The first is for a class that will be given a tour of the museum by a member of staff that morning. The second is for me. For the next three hours, the 58-year-old will guide me through the 20 rooms of the museum on Ländliweg.
How this toy museum became the Swiss Children's Museum
Daniel was 21 when his parents opened the museum in 1985. «Back then, nobody was wishing for a children's museum. My parents' passion and persistence are what finally made it a reality. They both started collecting toys at an early age. And my father also thought that the time had come for a museum for children about children, a museum to embody youth culture over the last three centuries and become an experiential space for young and old alike.»
My private tour with the museum director begins on the ground and first floors, which are home to the permanent exhibition. Hundreds of toys such as model trains, dolls and spinning tops from a wide variety of eras can be found in a raft of cases and glass cabinets. «We document the development of childhood over the last 300 years with toys, teaching materials, children's books and much more,» says Kaysel.
«At the very beginning, we called ourselves a toy museum. But because it's about much more than just toys, the name was changed to the Swiss Children's Museum,» says Daniel Kaysel. The tour quickly reveals what the museum director is trying to achieve. For example, the dolls' houses on display show social change. So, a living room in a doll's house from the 1970s also shows how people lived in the 1970s. The toy mirrors the era concerned. «When children visit the museum, they should get a feel for history through the toys.»
The museum's current director cleaned the museum every Sunday when he was an architecture student
Getting the Swiss Children's Museum to its upcoming 40th anniversary has been no small feat. «My parents were supported by the city, but it was always a financial balancing act,» says Kaysel. The trained architect remembers well how he and his brother, who is two years his senior, were involved in museum operations right from the start. «When I was a student, I always cleaned the museum for a few hours on Sundays. My brother, who had trained as a carpenter, often lent a hand when practical help was needed.»
A good ten years after the museum – which is mostly run by volunteers – opened, the desire to run things more professionally started to grow. After an article about the museum's financial situation was published in the «Badener Tagblatt», the «Swiss Children's Museum Foundation» was founded in 1996. «A married couple from central Switzerland became aware of my parents' commitment and set up the foundation.» It was this same couple who donated the beautiful villa on Ländliweg to the museum's foundation a few years later, where the new children's museum opened exactly 20 years ago. «As an architect, I was able to help shape the conversion and expansion of the villa into a modern museum,» Kaysel recalls.
Together, we head to the first basement floor, which hosted the special exhibition «Full steam ahead! – 175 years of the Spanischbrödlibahn (Swiss Northern Railway)» at the time of my visit. As well as a permanent exhibition, the children's museum attracts visitors with one or two special exhibitions each year. «In an average year, we record around 26,000 to 28,000 admissions. We actually have a fantastic starting point, because our audience is growing,» says Kaysel. He's finding himself greeting more and more parents who visited when they were children. «We see ourselves as a kind of entry-level museum, where children can experience something exciting and learn a lot at the same time.» Ultimately, it's about sparking emotions in the children.
«A striking number of grandparents come to our museum because they want to convey history and values to their grandchildren.» It's not uncommon to hear grandchildren saying to their grandparents: «No way, you used to play with that when you were little?!» As children typically experience things by doing things themselves and trying things out, there's also a large room on the first basement level with lots of games and experiments. For example, there's a railway system, various board games and a large marble run by Alain Schartner. «While a grandparent is explaining toys from days gone by to their grandchild upstairs, things are different down here, where grandchildren teach their grandparents how this or that game works,» says Kaysel.
Daniel Kaysel has worked for the museum for as long as it's been in the villa on Ländliweg. In his current role, he is primarily responsible for exhibition and budget planning as well as marketing the museum, while his older brother has been involved for even longer. Seven years ago, the two men officially took over the management of the museum from their parents. So, what's it like running a museum with your brother? «It's great because we complement each other very well.» His brother inherited his parents' collector gene and now curates the museum's collection, but, as a carpenter, he's also responsible for all the manual work. «I, on the other hand, come from the creative field, and I love the challenge of using objects to tell a story.»
Today, the museum employs around 20 people, who cover just over five full-time positions. Daniel, his brother Marcel and a historian are the only ones who receive a monthly wage and spend a lot of time on site. In Daniel's case, «often» often means seven days a week. It's no wonder, as the museum gives more than 200 guided tours a year, many of which are led by the museum director himself.
The special exhibition on the Spanischbrödlibahn (Swiss Northern Railway) shows that exhibiting objects in a contemporary museum no longer cuts it. The route between Baden and Zurich has been faithfully reproduced with great attention to detail. But that's not all. The history of the railway is told at seven stations from the perspective of seven real protagonists.
The special space exhibition is so successful that it's now part of the permanent exhibition
A visit to the second floor and the «Rocket, Moon and Stars» exhibition proves that it's not enough to simply exhibit objects. Designed as a special exhibition, it's now included in the permanent collection. «The exhibition has been so well received by school classes that are learning about space that we simply can't bring ourselves to close it now.»
There's even an original piece of a rocket to look at. What's also striking about this exhibition is that there's something for almost all ages. There's a knowledge section, interactive boards, and also a Lego corner for little ones. «Everyone should feel comfortable here – not least the parents. They shouldn't be stressed because their children aren't allowed to touch anything. As a father, it always annoyed me when I was in a museum with my children and I felt like I was being watched all the time.»
None of it would be possible without public funds
After some uncertain times in the early years, the museum is now on a solid financial footing, which is not least due to the foundation capital. The return on that capital, together with sponsorship and membership fees, make up around a quarter of the budget. «The Swiss Children's Museum Association currently has around 350 members,» says Kaysel, not without pride. Another quarter is generated by visitors, and around half of the budget comes from public funds from the city of Baden, the canton of Aargau and some surrounding communities.
Kaysel emphasises that the demands that museum visitors place on a modern museum are generally much greater today than they were ten, 20 or 30 years ago. «Whereas objects used to be in the foreground – in our case, the toys were the main focus – they now play a more supporting role.» It's more about telling the guests a story based on the objects and giving them a lasting experience.»
Understanding of a topic can be deepened with weekend activities and holiday courses. For example, the museum runs Lego robotics workshops and animated film courses during the spring and autumn holidays. The «Theater im Park» event has also been part of the museum's fixed programme for eight years, where plays are performed in the gardens four times a year. «In addition, taking the museum to people is also important,» emphasises the museum director. For example, the children's museum runs the solar mobile race, which was held for the first time in 2006 in the station square in Baden. The 10th edition of the race is set to take place next year.
The traditional Christmas exhibition this year is dedicated to Norway
There's a very special highlight in mid-November when the traditional Christmas exhibition opens. Each year it's dedicated to a different country. This year, Norway is the 14th country to have the honour. «For us, this is always an opportunity to attract people with a different cultural background to the museum.»
Even though Daniel doesn't look it, in less than ten years' time he could theoretically retire. And then? He believes in the future of museums in general, even if obviously nobody can predict exactly what they'll look like in a few decades. Because one thing's clear: social change doesn't stop at museums. «Of course, the digital world will continue to find its way into museums. But I firmly believe that museums can provide the urgently needed deceleration and reflection.»
My personal tour is over. I'm really impressed by how this initially private toy collection has blossomed into a museum with a national reputation over the past 40 years. Daniel Kaysel's working day, on the other hand, only really begins in two hours' time when the museum opens its doors to children, parents and grandparents, and the beautiful villa fills with life for a few hours.
---



Half-Danish dad of two and third child of the family, mushroom picker, angler, dedicated public viewer and world champion of putting my foot in it.
---
---
These articles might also interest you