I'm no early bird – but am trying to change with a light alarm clock.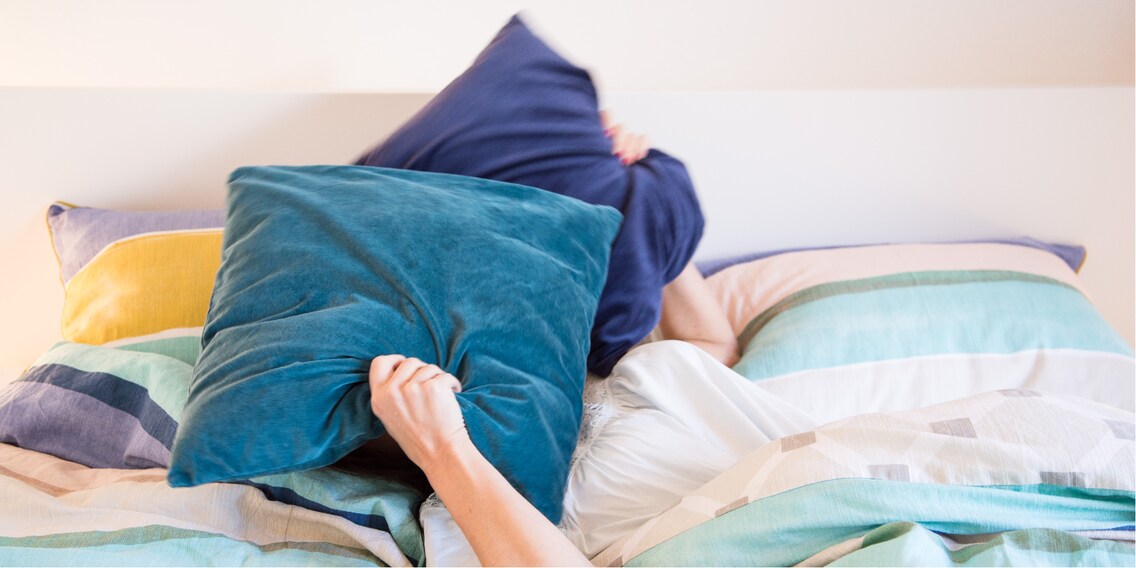 Getting up first thing – not one of my fortes.
A morning grump tests the Wake-Up Light by Philips

I, a self-confessed morning grump, have always had trouble getting up. That's how I got the idea of testing a light alarm clock. At the moment, I wouldn't really trust an alarm clock like that. In this test report you will find out whether it does what it says and whether it will really help me optimise my sleep-wake rhythm.
My typical sleeping habits: Going to bed early and getting at least 8 or 9 hours sleep. In spite of this, I still wake up feeling exhausted and all my efforts to date to become a "happy" early bird have failed. My alarm clock up to now? My mobile phone! I have chosen the Phillips Wake-Up light as it is the top-seller among the light therapy lights. I will test this model for five days and hope to get up easier and generally feel better. And we're off!
The test object:
Day 1
My first time with the Wake-Up Light. Personally, I found installation fairly straightforward. You just need to invest a little time – as you do with any instructions. It took me about 20 minutes. However, despite the available demo-mode, I did worry a little whether the light alarm would really work the next morning. There are a number of ways of being woken up: By the sunrise mode, by one of 5 natural sounds or by the radio. I went for the combination of light and birdsong. On Monday morning, everything works to my satisfaction. And indeed: Waking up to sunlight followed by birdsong was really very pleasant. I did have some difficulty switching the alarm off. I first have to switch off the alarm function, then the light and then reset the alarm for the next day. But today I woke up more relaxed and refreshed.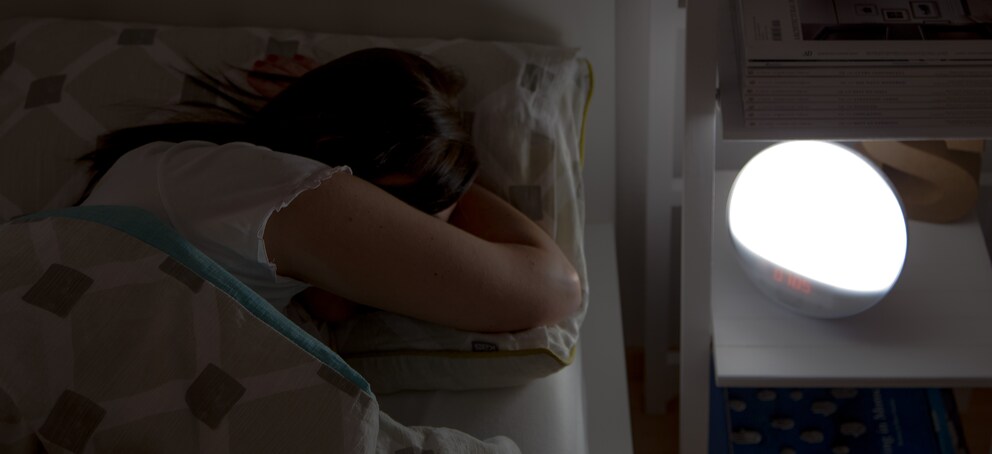 Day 2
An even more gentle awakening. The dawn light is really pleasant and slowly gets brighter according to the time set by me. The birdsong then starts punctually at my programmed wake-up time. I do feel less exhausted than when waking up to my mobile. Pleasantly surprised, I get up more easily and with more energy. In addition, there is a snooze function that you can use. Directly touch the big light to get another 9 minutes in bed.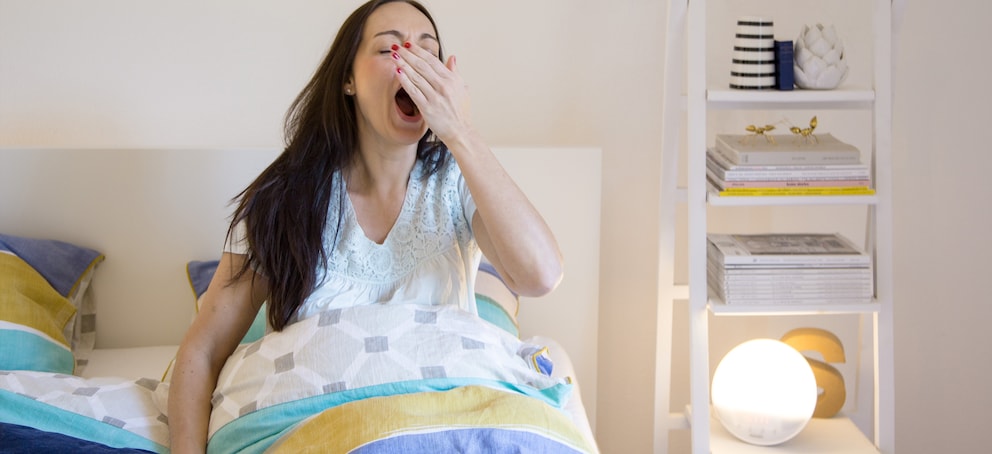 Day 3
Waking up was very pleasant today too. I still haven't been able to find a simple switch-off function though. That means I now deactivate the alarm every morning and then activate it again so I can be woken again the next morning. I switch the light off with the switch off button provided for that purpose (it switches itself off after 45 minutes). Those are two clicks too many for me in the morning.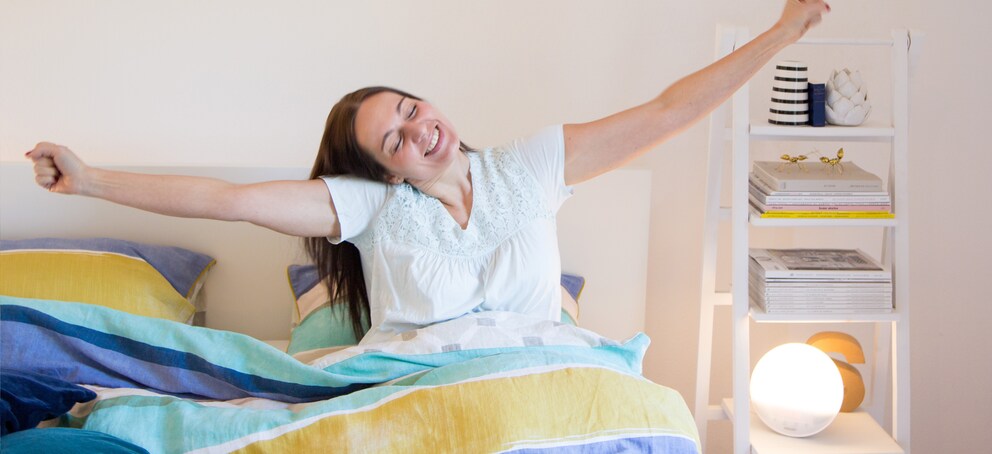 Day 4
Yesterday, I went out for a meal with colleagues and did not get home until late. Normally that would mean a sleepy morning after. My mood darkens if I don't get at least 8 hours sleep. The Wake-Up Light woke me gently again. I was not jolted from a deep sleep. The light allows me to wake up gently. That means my morning starts calmer and more relaxed. A good start to the day... despite sparkling wine the previous evening.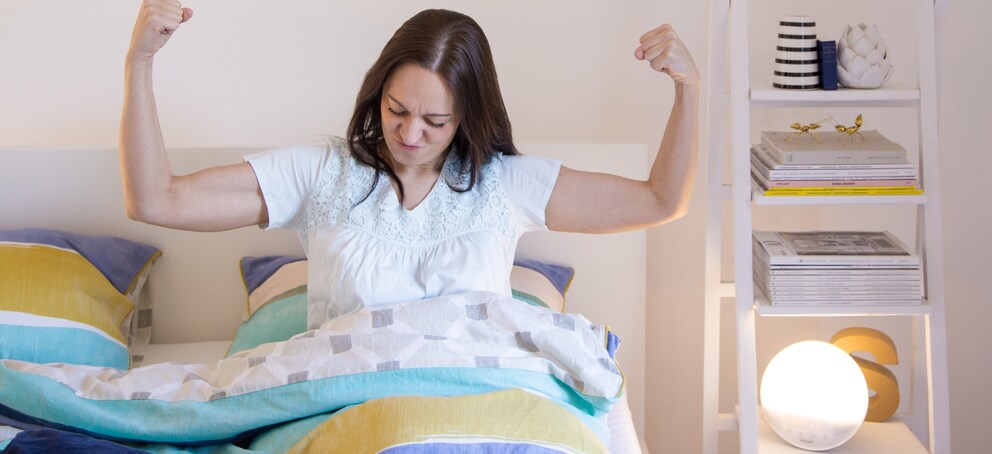 Day 5
Oops, I forget to set the alarm the previous evening. But my body has got used to the new wake-up routine and I actually open my eyes this morning without the alarm going off. However, I still feel a bit groggier than the last few days because of the lack of simulated dawn sunlight. So this morning I have decided to definitely continue with a light therapy alarm.
My personal summary
Pros
I wake up with more energy
I find it easier to get up due to the simulated sunrise.
The natural sounds get me up and running faster and in a more relaxed way.
My new wake-up time and the more relaxed wake-ups are priceless.
I am in a better mood in the mornings and I start the day more relaxed.
I like the design
I could also use the alarm in reverse as a sleep aid.
The alarm can also be used as a light. I don't really need a bedside lamp anymore.
Neutral
You quickly get used to this comfortable, relaxing way of waking up. That is why I don't know how long this positive effect will last for. However, I am convinced that it will change my waking up in the long term.
Cons
Personally, I find the alarm clock too big. To begin with I struggled with positioning it next to my bed/on my bedside table.
The switch-off function in the morning could be improved with, for example, just a simple click (like the snooze function).
Two wake-up times can be set. There is no possibility of selecting wake-up days so that the wake-up function switches off at weekends and switches back on on Mondays.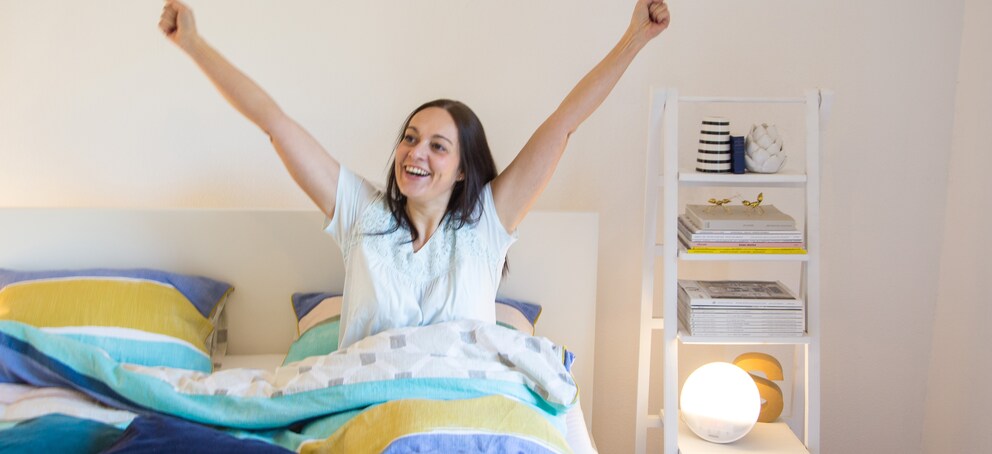 This takes you to the whole light alarm range.
---



My role as Category Sourcer Home & Living allows me to let off steam in a cheerfully colourful world of textiles, furniture, lamps, accessories, table & bar. My heart beats for my job and besides my interests in interior design, fashion and music, I love summer and the Italian way of life. 
---
---
These articles might also interest you
Skeleton Loader

Skeleton Loader

Skeleton Loader

Skeleton Loader

Skeleton Loader

Skeleton Loader