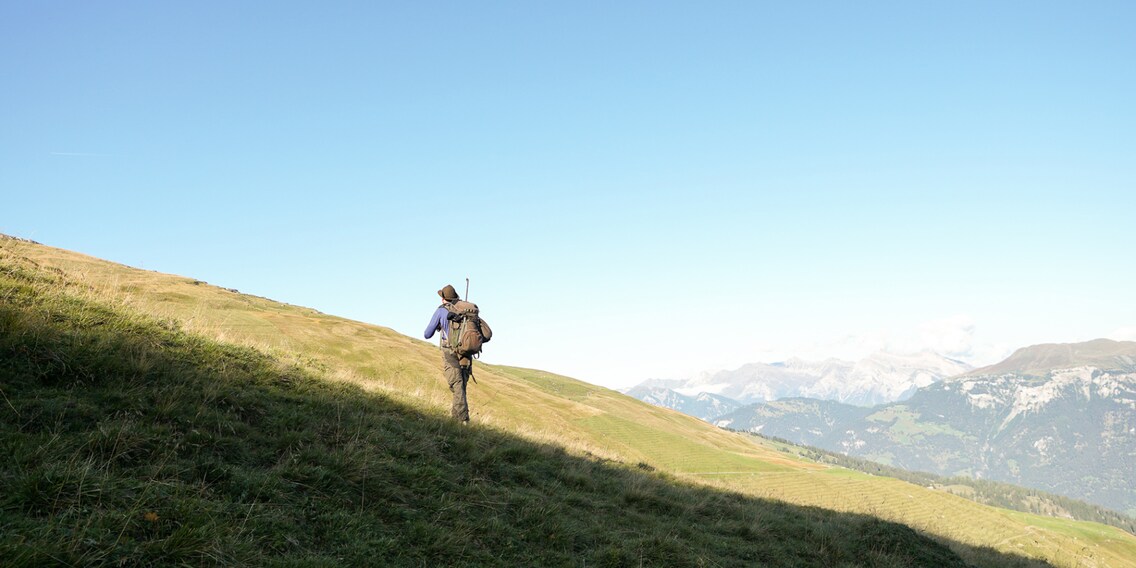 A matter of life and death

On the trail in the canton of Graubünden. Hunting is a well established tradition here and has strong roots in the community. I accompanied three hunters in search of local game.
I was awake. It was pitch-black outside. I lay still in my sleeping bag and listened to the nature surrounding the hunting cabin. Something was quietly skulking and snorting around the hut. Maybe it was wild boar? I took a quick look at my watch: it was 4.50am. A few hours ago, we were sitting around by candlelight, accompanied by red wine and fresh venison ragout. Claudio, Marco and Marc – the Graubünden hunters – and me. They were taking me along on a hunt up Piz Beverin. It was time to get up.
Breakfast was coffee, bread, jam and cheese. Then we headed out. A new day awaited. The red dawn sky appeared to be as shy as the game, reluctantly emerging over the mountain ridge. Reverence. Like we were in a church. Our voices were hushed. I went with Marco to «Heli 1» while Claudio and video producer Manuel made their way to «Töbeli». The names the hunters gave their positions describe the terrain. «Töbeli» is in a valley basin, which is where Claudio and Manual spent the morning. There's more on that in the video above. «Heli 1» is an actual helicopter landing area. This is where Marco and I set ourselves up. Meanwhile, Marc covered the «Heli 2» position.
I can't sit still
Marco and I sat in the dark and waited. The first rays of sun crept over the top of the mountain and bathed the landscape before us in cool light. After half an hour, I once again became painfully aware of what I had known for a long time: I can't sit still. The view was so awesome – and my position was so uncomfortable – that I kept moving every few minutes. Meanwhile, Marco sat stoically. He examined the terrain in front of us with binoculars. «Are you OK?» he whispered. I nodded, untruthfully. I wondered whether it annoyed an experienced hunter – Marco has been hunting for 29 years – to be sitting next to a twitchy townie. If so, he didn't let it show.
We sat at Heli 1 for almost three hours. We talked about anything and everything. But mainly hockey. Marco played in goal for EHC Chur in the 80s. He played alongside Thomas Vrabec, among others. He now works as a self-employed physiotherapist. I almost asked him to look at my left knee, which had been hurting for a few weeks, but I stopped myself. «I have to laugh now when I think about how we trained 30 years ago,» said Marco. He added: «They used to ask if we had aching muscles. And their solution was more training. We now know that's completely the wrong thing to do. And then we had to do frog jumps up the stands and back down again. You could hardly walk the next day.» We laughed quietly and then silence descended again, binoculars up to our eyes. The game was nowhere to be seen.
Every now and then, I pretended to need to pee. It gave me an excuse to stand up and stretch my legs a bit. Marc was in position in Heli 2 a few steps away. He lay there motionless, scanning the landscape with his binoculars. If I didn't know better, I'd have thought he was a mannequin. I couldn't see any movement at all.
A matter of life and death
Soon afterwards, I was sitting with Marco again. We waited, watched and talked about the Swiss players in the NHL and their prospects for the new season. Then he told me how he had shot two does in one day the week before my visit. In quick succession. The second came only seconds after the first. It happened at around midday. He had sat there at Heli 1 from dawn and waited for six hours. «That's what hunting's like,» he said. «You wait, watch, get lost in your thoughts and then the game is suddenly standing in front of you.» Suddenly, it hit me once again that while we chatted about ice hockey, this was a matter of life and death for the deer and stags. I felt uneasy.
Why do people still go hunting? I wanted to get an answer to this question during my visit to see Grisons game. As Marco told me about his hunting experience, I looked him in the eye and saw a mix of pride, gratitude and humility, and even anguish. And even if I don't really understand hunting, I understood why he does it in that moment.
«Nothing else is going to happen today. Let's go back to the hut.» Marco stood up and put his equipment in his rucksack. The game stayed hidden. No deer or stags would be losing their lives here and now. «Do you think Switzerland will win gold at next year's home World Championship?» I asked Marco on the way back. «It's possible.» Clinching the ice hockey world title on home soil would be great, but it's not a matter of life and death.
Find statistics on Grisons game here (in German). Get more information on the topic from the Department for Hunting and Fisheries (in German).
Follow my profile here for more reports, profiles and background.
---



What matters isn't how well you play when you're playing well. What matters is how well you play when you're playing badly.
---
---
These articles might also interest you