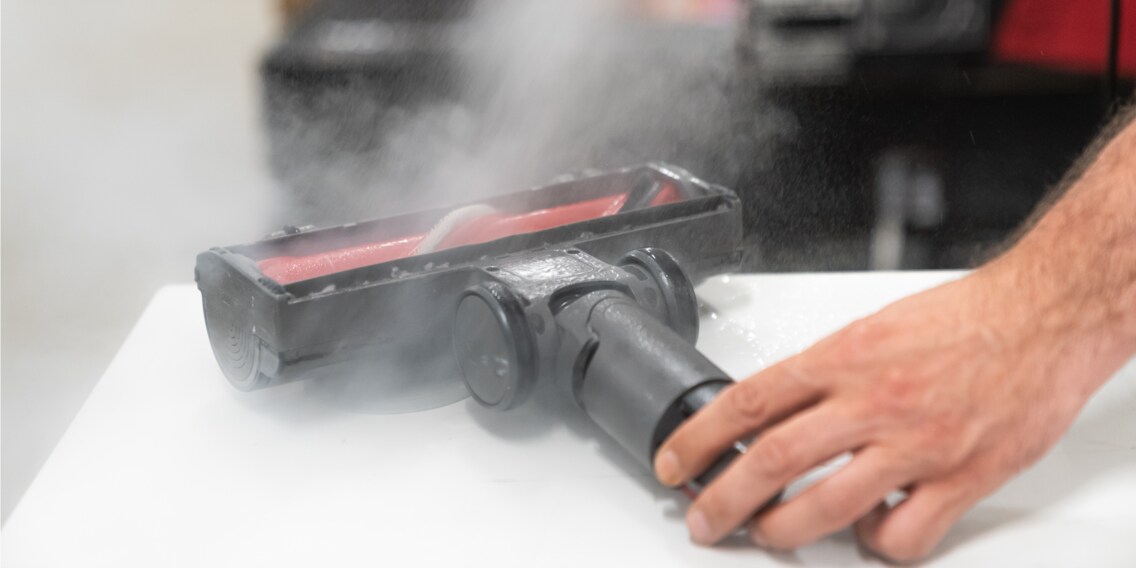 95 per cent of our returns live on

As an online retailer, we're often asked what we do with returns or products that aren't selling. And rightly so. Our philosophy? If a product still works, we'll sell or donate it whenever possible.
Tens of thousands of parcels leave our warehouses every day. With this in mind, it's par for the course that unsuitable products occasionally find their way into people's shopping carts. And that's despite the wealth of expertise we provide in the form of product data, reviews and customer consultations. As sustainability is high on our customers' list of priorities, we gather all relevant data on returns and slow-sellers. A truly Sisyphean task we've been toiling away at for years now.
Let's start off with returns: «Digitec Galaxus's return rate is low compared to the rest of the industry,» says Lauritz Fricke, the man behind the company's returns management operation. «We've seen a rate of 1.75 per cent in the last 12 months.» The fate of these returned products depends on what condition they're in when they're handed over to our after sales professionals. In 70 per cent of return cases, customers open the cardboard box containing the item, see the original packaging and immediately realise they've ordered the wrong product. They then return their order with the original packaging intact. After being inspected by our After Sales Team, the product goes back to the warehouse. It's then relisted on our shop as a new product.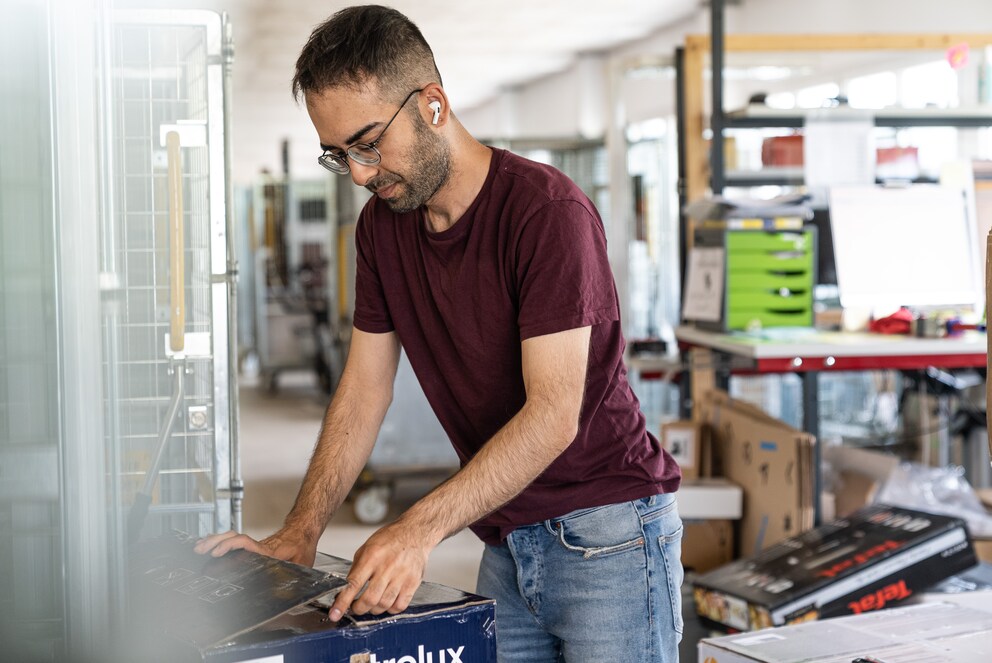 Used + Tested section in high demand
Thirty per cent of returns come back to us after the original packaging has been opened. When this happens, things get slightly more complicated – a great deal of know-how, patience and manual work is required. If the after sales crew deems the product to be in perfect working order but showing signs of use, it's painstakingly refurbished and sold on the shop at a discount as «Used + Tested». Two thirds of this type of return – or 20 per cent of returns as a whole – fall into this category. These cut-price mobile phones, toasters, coffee machines and board games are very popular with our customers and sell like hot cakes.
That just leaves returns that aren't economically viable to reprocess, as well as hygiene and security products. These make up around a third of products returned outside of their original packaging (10 per cent of all returns). «Even if they're not going to be winning any beauty contests, we donate intact products to our partner organisations whenever possible,» Lauritz continues. «This is about half of that latter group, so 5 per cent of all returns.» The remaining five per cent of returns, which includes hygiene and security products, don't get a second life. After all, the demand for used toothbrushes, damaged motorbike helmets and phone covers for long-discontinued handsets is understandably low. When it comes to products like low-budget USB sticks, the effort required to delete the data securely is totally disproportionate. We take safe, appropriate steps to recycle these products so they can be returned to the product cycle as raw materials.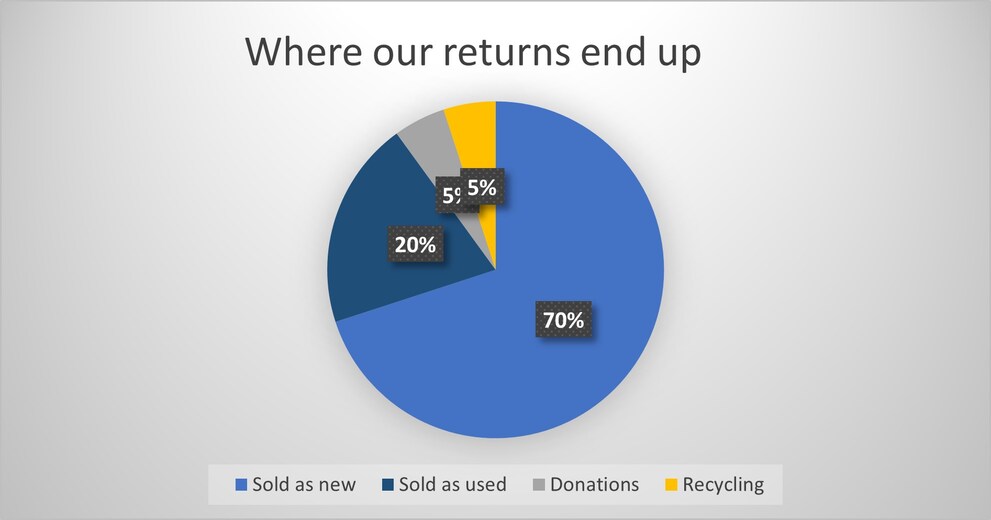 Bargain hunters love slow-selling products
This just leaves one question: what do we do with seemingly unsellable products? The simple answer? We let the bargain hunters loose on them. We take products that are almost impossible to sell – be it a special mouse, a door handle set or tiger-print sandals – and reduce the price until a bargain hunter sets their sights on it. Our IT crew has created a special algorithm to make sure the right products go on sale. If the products don't pique the interest of our price-savviest buyers, we raffle them off to our employees.
Warranty claims, on the other, are the manufacturer's responsibility. They usually decide if a product can be repaired or replaced. Whether or not a product is approved for repair depends on the product itself, the price and the effort required to fix it. Repairing low-end products such as inexpensive keyboards or webcams is uneconomical. If products aren't defective, they're examined carefully and put up for sale again where possible. We donate a large proportion of the products left over. The only items we separate and recycle are the ones we either can't sell or are expressly forbidden from selling.
There's still more to do
Using natural resources economically is important to us, with returns management being just as crucial. That's why we're working hard to reduce the proportion of products we recycle to well below 5% and to reduce our business model's carbon footprint to net zero by 2050. You can find out more about our climate targets and projects on the sustainability section of our website.
What do you think of the way we deal with returns? Where do you see room for improvement? Join the discussion, share your ideas and let us know where we can go the extra mile.
---



Making sure employees and media know what's up at Digitec Galaxus is my job. But without fresh air and a lot of exercise, I basically stop functioning. The great outdoors provides me with the energy I need to stay on the ball. Jazz gives me the tranquility to tame my kids. 
---
---