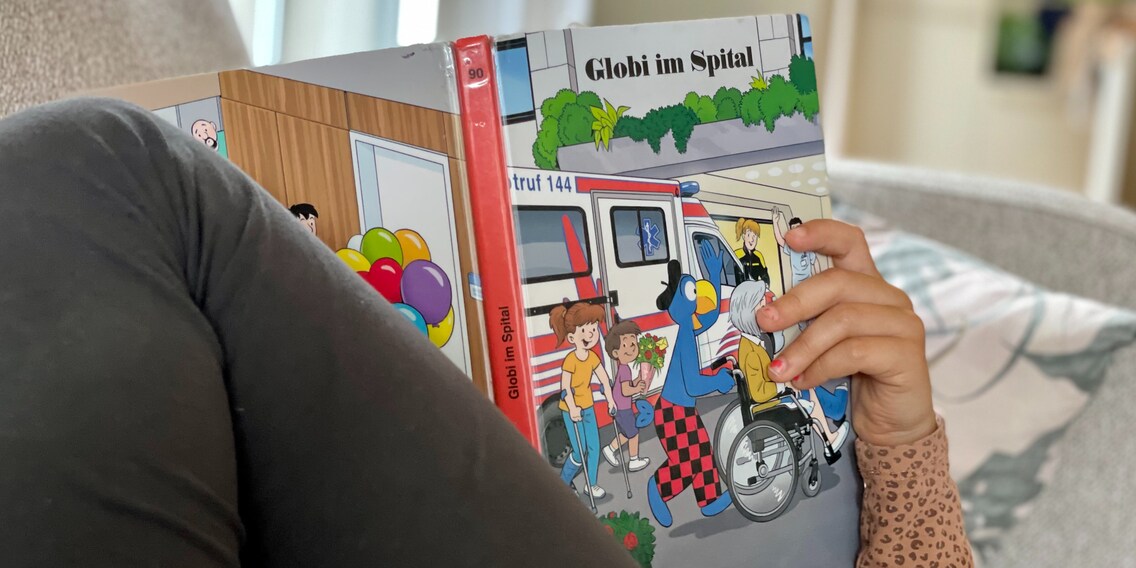 This article was translated automatically.
90 years of Globi: These are the things you probably don't know about the cult figure yet
Every child knows Globi! And yet there are things that I didn't know about the bird of the nation - and that might be new to you, too. Here are some surprising and (un)useful Globi facts for the 90th anniversary.
I grew up with Globi. With his books, but especially with his radio plays. Why haven't I told my own children a story about my children's book hero yet, I ask myself as I start researching this article. At least the six-year-old would actually be old enough by now. In the Netflix and YouTube age, my daughters have had contact with hip international animated series from Peppa Pig to Paw Patrol, but little with Swiss cult characters. That has to change.
I had already tried the Punch and Judy show without success. They were (still) too afraid of Häx Nörgeligäx, Räuber Chnollenas and Lumpetüüfel. So for the next attempt, I stock up on Globi volumes from the library. And at home, they are unexpectedly well received: as soon as I put them on the living room table, I see the older girl lying on the sofa with a book in her hands - for a full hour. I am surprised at her stamina. At the same time, I'm amazed at how the fascination for the bird in plaid pants with black-and-white illustrations obviously still works effortlessly today. After a few pages of the book, my daughter has become part of the new Globi fan generation.
A generation of many: Globi is now 90 years old. On the occasion of his 90th birthday, I went in search of clues and learned some exciting and sometimes surprising facts about the cult figure. If you ever have to answer a quiz question about Globi again after reading this, you're sure to score points. And if not: Bisch en Globi! (More about the idiom under point 4.)
1. Globi was an advertising mascot
Originally, Globi was purely a marketing campaign: in 1932, the department store Globus created the blue parrot man to promote its 25th anniversary. Globi was supposed to attract the customers of tomorrow - i.e. children - and appeared as a cardboard mascot at the anniversary celebrations with Chilbi, the so-called "youth meetings," in Globus stores in Swiss cities.
2. mothers demanded Globi verses
In 1935, the first illustrated book "Globi's trip around the world" was published - at that time still exclusively with black-and-white illustrations, without verses. After "great protest, especially from mothers," as the Globi publishing house writes on its website, a subsequent edition of the volume was provided with rhymes for reading aloud. Since then, all volumes have been published with text.
3 Why Globi is called Globi
Actually, the blue African bird with the yellow beak and the checked trousers should be called Kimbukku. But Globi was better from a marketing point of view. On the one hand, the name is easier to pronounce and on the other hand, it is closer to the department store: The people of Basel call the department store Globus "Gloobi", which is why the name "Globi" prevailed.
4 Bisch en Globi!
Speaking of names: "You are a Globi!" you may have heard before. The phrase was used primarily in the past, Andreas Spillmann wrote in the magazine of the Swiss National Museum in 2019, when he was director at the time. Today, however, the rebuke is hardly in use anymore. If you get to hear it anyway, don't worry: It does mean something like "You're an idiot!" - but in a more affectionate way.
5 Globi as a guide
Superstar Globi not only has his own idiom, but also an emergency exit sign. At least in some Swiss school buildings, the blue bird is emblazoned on the green emergency lights.
6. dispute among Globi makers
Globi initiator Ignatius K. Schiele, then "advertising director" of Globus, had a "complex and at the same time very difficult relationship" with the first Globi cartoonist Robert Lips, according to the publisher. It is not clear why. However, the two could not have been more different: Schiele was the strict advertising executive with precise ideas. Lips was the fun-loving and at the same time unsteady type who actually wanted to be more of an artist than a children's book illustrator. Despite the differences, the collaboration lasted 30 years.
7 Globi's look over the years
Lips illustrated a total of 33 Globi adventures and developed the parrot bird's facial expressions. After his death in 1975, new illustrators followed in his footsteps and adopted the typical features of the character: did you know, for example, that Globi's pants always count around 7.5 little houses from top to bottom? Illustrator Samuel Glättli recently said in an interview with the family blog "The Angelones". "The checks are also always flat, so they don't adjust to the curvature of the pants. Also, you never see Globi from the front, so you never see both eyes at the same time." Also important when drawing, he says, is the correct beak shape. "Globi's beak has special curves that just have to be right."
8. little Kaspar Villiger was a Globianer
According to the National Museum blog, a 14-year-old Globi fan founded the first Globi club in 1936, and 16 years later such 700 communities already existed. The Globi newspaper formulated principles for the clubs that were close to Boy Scout principles. Among them: meaningful leisure activities, cultivating comradeship and doing good deeds. Kaspar Villiger, later a member of the Swiss Federal Council, took these principles so much to heart that, as an eleven-year-old, he sent 15 francs he had earned himself in an envelope to the Globi newspaper - so that the editors could distribute the money "among the poor," as he wrote.
9 Globi as trash literature
A bright rascal for children, an irreverent rascal for adults: In the 1940s and 1950s, Globi was considered a children's hero and trashy literature in equal measure. Even later, the stories were repeatedly criticized for racism, sexism and cruelty to animals. Sometimes Globi tied the cows' tails together, sometimes he lectured Africans about the protection of rhinos. And women in general hardly appeared in the books. In the 80s, Globi's image was revamped: the new Globi was interested in environmental protection and animal welfare, and he had a cheeky girlfriend in Globine at his side.
10 Globi's success in figures
The most popular Globi book of all time is "Wie Globi Bauer wurde" (How Globi Became a Farmer) from 1941: 285,100 copies of it had been sold by the end of 2021, Globi Verlag, which has belonged to Orell Füssli since 2007, announced on request. Silver goes to "Globi der Kinderfreund" with 180 080 volumes sold. In the digital age, a classic volume still achieves a sales figure of between 20,000 and 25,000 copies in its year of publication, it adds. Even the cooperation with tennis star Roger Federer could not match the old success. "Globi and Roger" is not even the winner of the last ten years (41,366) - an agricultural edition also wins in this period: "Globi, der schlaue Bauer" with 64,154 copies. More bare figures: A total of 8 million Globi volumes were sold by the end of last year; including special books, the figure is 9.24 million. In addition, 3.4 million audio plays found their way into Swiss children's rooms. A total of 28 million Globi products went over the counter.
11 Globi, the party animator
(Audio) books, tableware, bedding, hiking trails, aerial cable cars: Globi can be turned into a business in many ways. You can even book him for your children's birthday party: A Globi mascot surprises the birthday child, organizes games with the guests and poses for selfies. If you wish, Globi's girlfriend Globine or publisher buddy Papa Moll can also come along. A children's event agency based in Baden acquired the exclusive license for this at the beginning of 2022. I recently conducted an interview with the owner.
12. spat with Spotify
In 2021, all Globi audio stories suddenly disappeared from Spotify. Reason: the duration of the individual chapters. The Swedish streaming giant wants radio plays to be at least three minutes long. After all, Spotify pays per play, i.e. per chapter played. With Globi, however, the individual sequences have always been shorter than two minutes. A few days later, Globi's adventures were available again - newly edited. All chapters now have a playing time of at least three minutes, usually only a few seconds more.
13. WAM on the ears
For 46 years, actor and dubbing artist Walter Andreas Müller has lent Globi his voice in radio plays. Will anyone ever be able to replace him? "Honestly, I have of course already suggested to the publisher that they might have to think about a solution if I can no longer do it," the 76-year-old said in a recent interview with Schweizer Illustrierte. "I already sometimes think about how long my voice on stage, but also my legs and my energy, will keep up." But for now, he says, he's still enjoying it.
14th Globi film adaptation flopped
As loud as the radio plays have been clanging in Swiss children's rooms for years, a Globi movie went down without a sound. Or did you know that an animated film based on the children's book was shown in Swiss cinemas in 2003? The German-Luxembourg-Swiss-Japanese co-production flopped partly because of its anime aesthetic. "It's not that simple, of course," criticized the NZZ at the time. "Because Globi is Globi, after all, and looks like Globi. And that doesn't really fit into current fantasy worlds. And so Globi in 'Globi und der Schattenräuber' seems more like an old-fashioned Daniel Düsentrieb who has been transported to a virtual future."
15. Globi is an investment
Globi books are worth a small fortune today, at least the originals from the early days. The third volume, "Globi at the National Exhibition" from 1939, is the most expensive collector's item and was sold in 2015 by a Zurich antiquarian bookshop for 9500 francs. "The book probably contained sensitive texts for the time during World War II. That's probably why many copies were pulled from the sale," antiquarian Marcus Benz told 20 Minuten at the time. A fan paid 7,000 francs for Globi's first book "Globis Weltreise" from 1935.
A lot of money that I wouldn't dream of paying for a book. I'm not a fan enough for that, much less a collector. Our family is sticking with the library version, especially since my daughter has already read five volumes and is hungry for more. "So, what do you think of Globi?" I want to know from her. "Mhmm, pretty cool!" she piles on. In truth, this is an accolade from a six-year-old who, in the middle of her gap-toothed puberty, finds most things "dumb" anyway. Globi may be 90, but he'll never grow old.
---
Mom of Anna and Elsa, aperitif expert, group fitness fanatic, aspiring dancer and gossip lover. Often a multitasker and a person who wants it all, sometimes a chocolate chef and queen of the couch.
---
---
---
These articles might also interest you
Skeleton Loader

Skeleton Loader

Skeleton Loader

Skeleton Loader

Skeleton Loader

Skeleton Loader