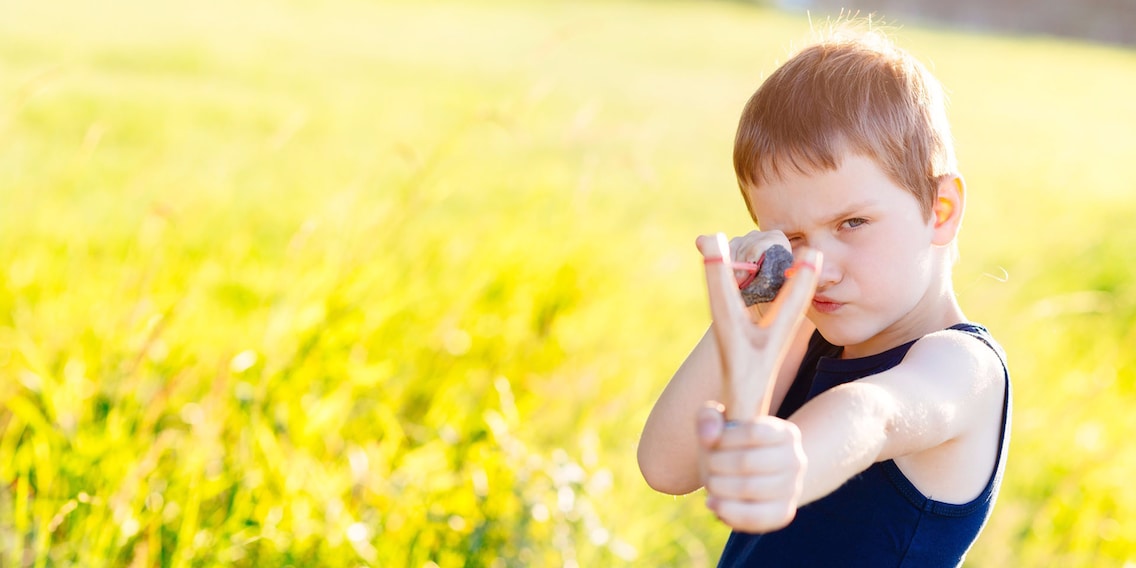 6 gift ideas for kids whose parents you loathe

Sometimes people just like to be nasty. Sometimes there are people who deserve a bit of nastiness in their lives. And sometimes, just sometimes, we simply can't resist. Christmases and birthdays provide the perfect opportunity for spreading a bit of spitefulness. That's why we've come up with six gift ideas that are a dream for kids but a total nightmare for mum and dad.
Finding presents for kids is really easy. I totally disagree with the prevalent gender norms in the toy industry, but if you want to make life easier, you'll probably go for Lego or Barbie. However, if you should choose to follow my political views when it comes to toys, then just go for Lego without the Lego Friends.
If you feel like being a true Grinch this festive season, then you've got to put a bit of thought into those gifts. We know that thinking hard can be exhausting, so we've done the dirty work for you and put together gift ideas that are just perfect for those little sweethearts and even better for their annoying parents.
The criteria were found in no time
The gift must be perfect for a child, i.e. big or loud or shiny
The toy's potential for destruction or general disturbance should be significant
Risk of injury? Yes, please!
Just looking at the gift should make parents realise they will have to take it away from their offspring
The taking-away process must trigger tremendous tantrums
1. The drum kit
A true classic among the gifts from hell. It's big, bulky, brutally loud and just sooo much fun for kids. Grown-ups, on the other hand, will suffer tremendously. Their bambino will be bashing away at the drums as if possessed, creating an absolutely huge racket. Even if the family lives right next to the train tracks and is hardened to noise emissions, it will not have prepared them for this irregular headache of a beat.
How about adding an extra blow by making a throw-away comment like: "Practice makes perfect, little one. Don't you forget that if you want to be a superstar!"
2. Finger paint
Young families often move from their first apartment to a more spacious and prettier apartment once their baby is born. Those posters that were strategically put up to cover cracks and stains on the walls are left behind. Their little bundle of joy will now have plenty of space to take its first steps, build Lego and draw until its heart's content.
Time for a bit of destruction.
Finger paint is totally safe for kids to play with. Safe for humans, that is. Walls, windows, clothes and other toys, on the other hand, are at great risk.
Paint. Everywhere.
Parents will have only two options: pry the colourful toy out of their little one's fingers or survey ever single step the child makes once the paint has been unwrapped. Parental relaxation? I don't think so!
3. Glitter bomb
Glitter, also known as the herpes of arts and crafts, is a nightmare. The particles are minute, shiny and noticed by everyone. What's more, the stuff is near impossible to get rid of. Even high-end vacuum cleaners struggle with it.
With this in mind, there are two ways of milking this twinkling super weapon.
Roll a plush toy in the glittery particles
Make a small puncture in the back of any plush toy and fill the hole with glitter. As soon as the child gives its "loaded" Pikachu or teddy a cuddle, out spills a fountain of glitter.
If you want to be particularly evil…
Fill the hollow parts of the Lego blocks with glitter, construct a pretty little house and make it your present to the child. As soon as the little rascal feels like playing architect, he or she will inevitably come across the glitter. Yay!
4. A ping pong table
Table tennis is so much fun! The only downside is the size of the table. Set up in a stylish apartment or crammed onto a balcony (gardens are rather rare in Swiss cities after all), a ping pong table is pretty much guaranteed to dominate whichever room it's in. Even if the family is lucky enough to have a little back yard, the table tennis table will not fail to dominate it – destroying every last bit of serenity.
Better still: Let's say the kid is around five years old. It will be too young to play ping pong. That means that the table will just be gathering dust for about one or two years.
5. The Barbarian's sword
Conan the Barbarian – a truly iconic figure in cinema history famously played by Arnold Schwarzenegger before his massive breakthrough as the Terminator. So what better present to give little adventurers than this sword? It's 99cm long with a massive blade and weighs an impressive 3.6kg and is dangerous for adults and kids alike.
The best bit is that it looks really cool and is guaranteed to make children's eyes light up. Parents, by contrast, are more likely to envisage impaled siblings and massacred bed linen. Therefore, I think it's safe to say that the sword will be confiscated. For the traumatized tot, it will be extremely hard to erase the awesome sword from its memory so mum and dad will have to put up with some serious whining for days or maybe even weeks.
6. The category "What could possibly go wrong?"
And last but least these beauties: The strobe light in combination with the megaphone and knife is what you could call the holy trinity for the nursery. Somewhere in the darkness, in a sea of flashes, there's a kid running around with a knife.
What could possibly go wrong?
On this note, I would like to wish you all happy holidays! Enjoy all the Christmas biscuits and this peaceful time with your loved-ones.
---



Journalist. Author. Hacker. A storyteller searching for boundaries, secrets and taboos – putting the world to paper. Not because I can but because I can't not.
---
These articles might also interest you
Skeleton Loader

Skeleton Loader

Skeleton Loader

Skeleton Loader

Skeleton Loader

Skeleton Loader