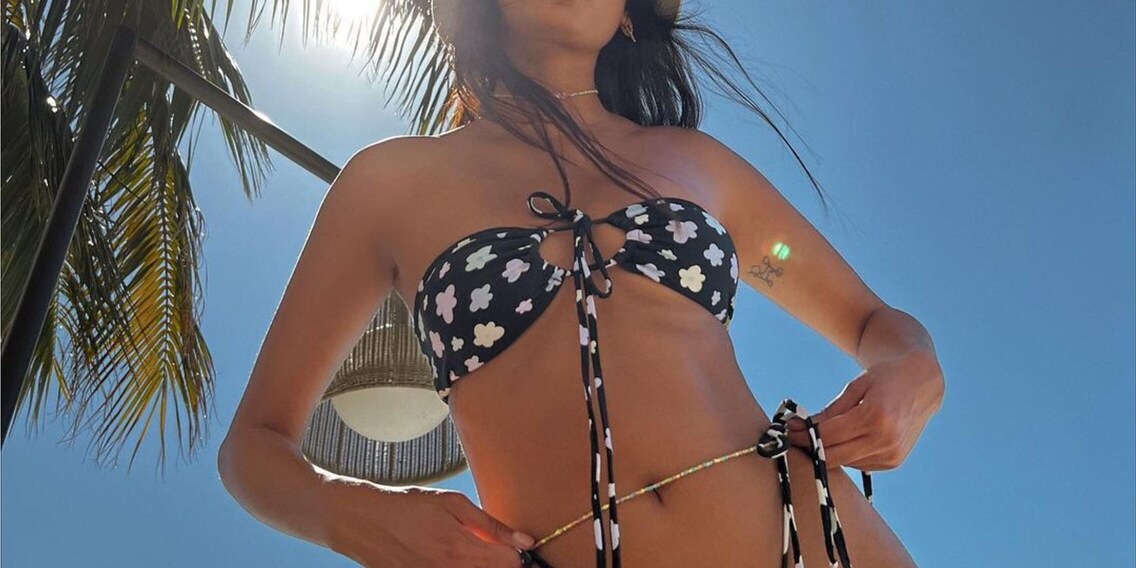 5 ways to wear your triangle bikini top

If you're wearing triangle tops the standard way, you're missing out. Take your swimwear wardrobe to the next level with these unusual ways to lace up your tops. A how-to guide.
I typically make a point of avoiding triangle bikini tops. For one, because I've just seen enough of them. But mainly because I don't trust them; all it takes is one wrong move when sunbathing or casually swimming and it's nipples ahoy. No, thank you. I'd rather save myself the hassle and reach for a supportive balconette top instead.
In the past few weeks, I noticed yet again that triangle tops are the popular choice, be it in on Instagram or down by the lake. Curiosity got the better of me and I found myself wondering, is there a way I could make this classic work for me? Challenge accepted. For the first time in a while, I place a triangle top in my shopping cart: a simple, black model from O'Neill.
By the time the top is delivered, I've already scoured the web for all manner of tying techniques – including very outlandish ones – and am dying to try them out. I'll cut to the chase: I've been won over. I mean, how cool is it to be able to create multiple looks using just one piece of clothing simply by switching up how you tie it! Not only do the different methods make the triangle top more visually interesting, some also offer better support.
Here are my five fave tying styles for triangle tops:
1. Upside down
Let's start off with what's probably the most popular alternative, which was already quite the hype last year. Rightly so, in my opinion; as my shake test showed, compared to the standard way of tying the top, the risk of a nip slip is minimal. Here's how to tie it: turn your bikini by 180 degrees so that the tips of the triangles are facing down. Now, tie what are technically the back strings together at the nape, and what are technically the neck cords around your back. Give the top a little tug and a jerk, and there you have your not-really-new new bikini.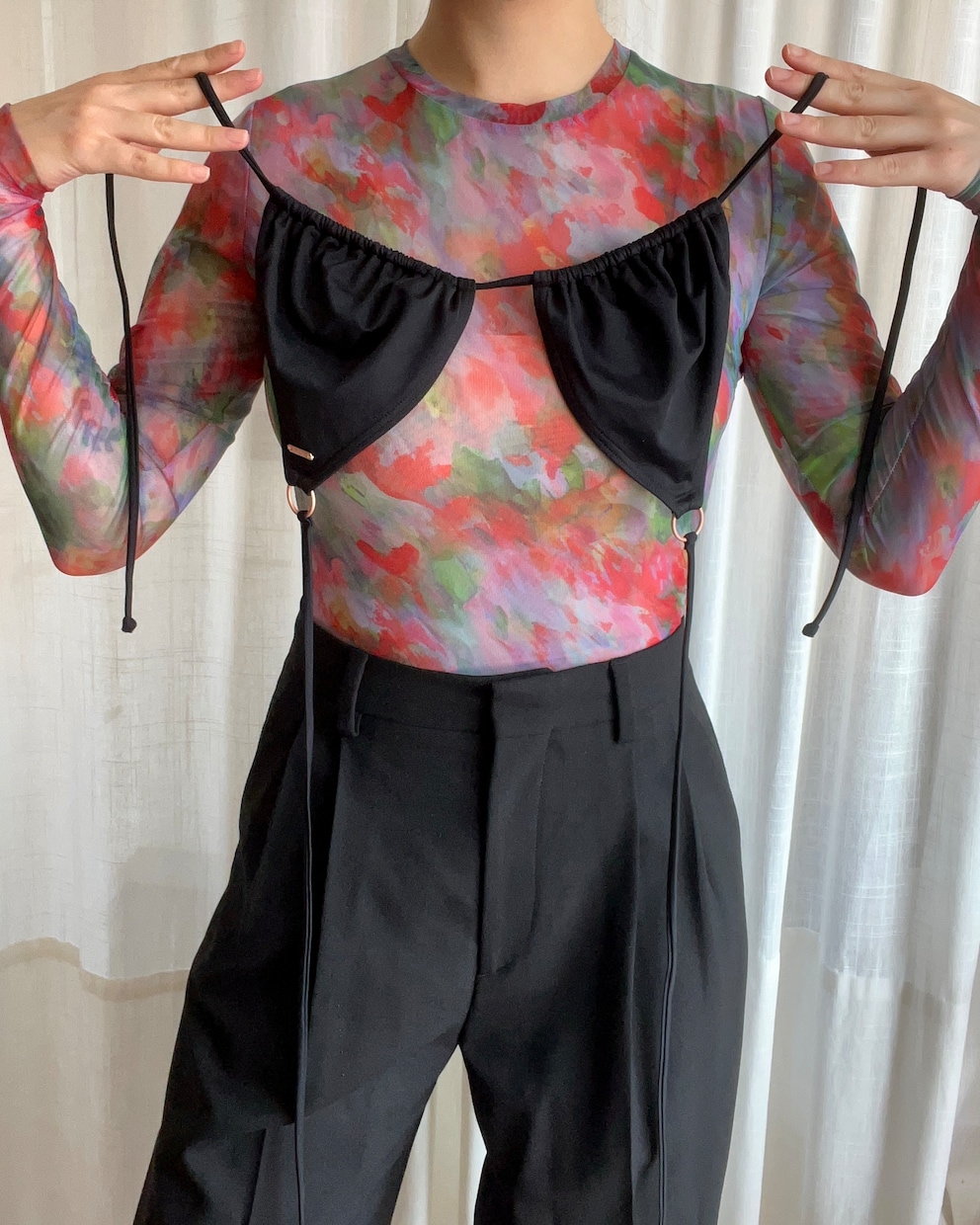 2. Upside down with a twist
This is a slightly modified, more refined version of the upside down – and it's one of my two favourites. Follow the same steps as before, but cross the strings in the front before tying them behind your neck. Done!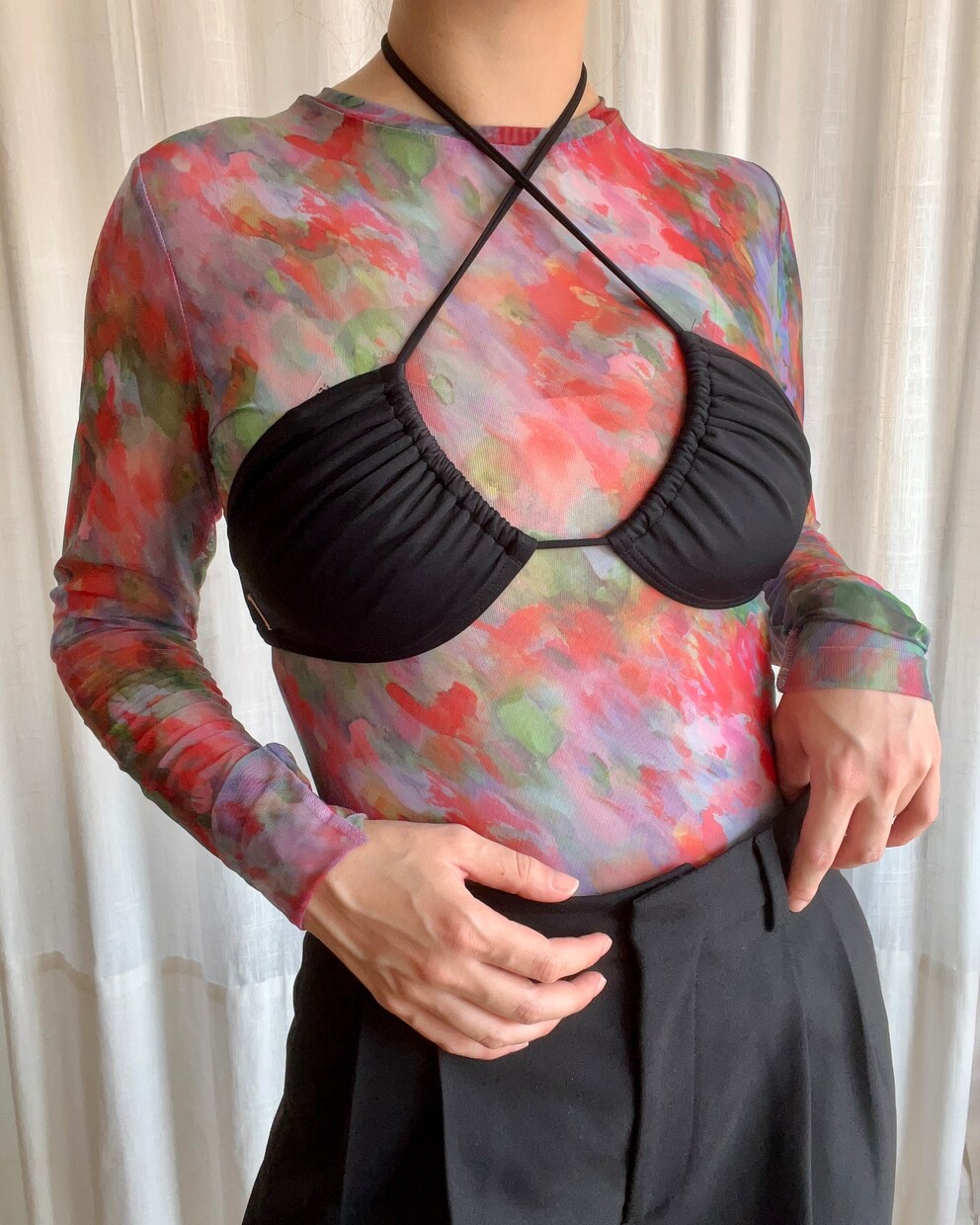 3. Bye-bye, straps
If you prefer the strapless look, you can tie the strings into a bow at the front to create a bandeau bikini. But be careful: this style offers minimal support. It's most suited for smaller cup sizes – or, how I use it, for movement-free tanning sessions when I want to avoid tan lines.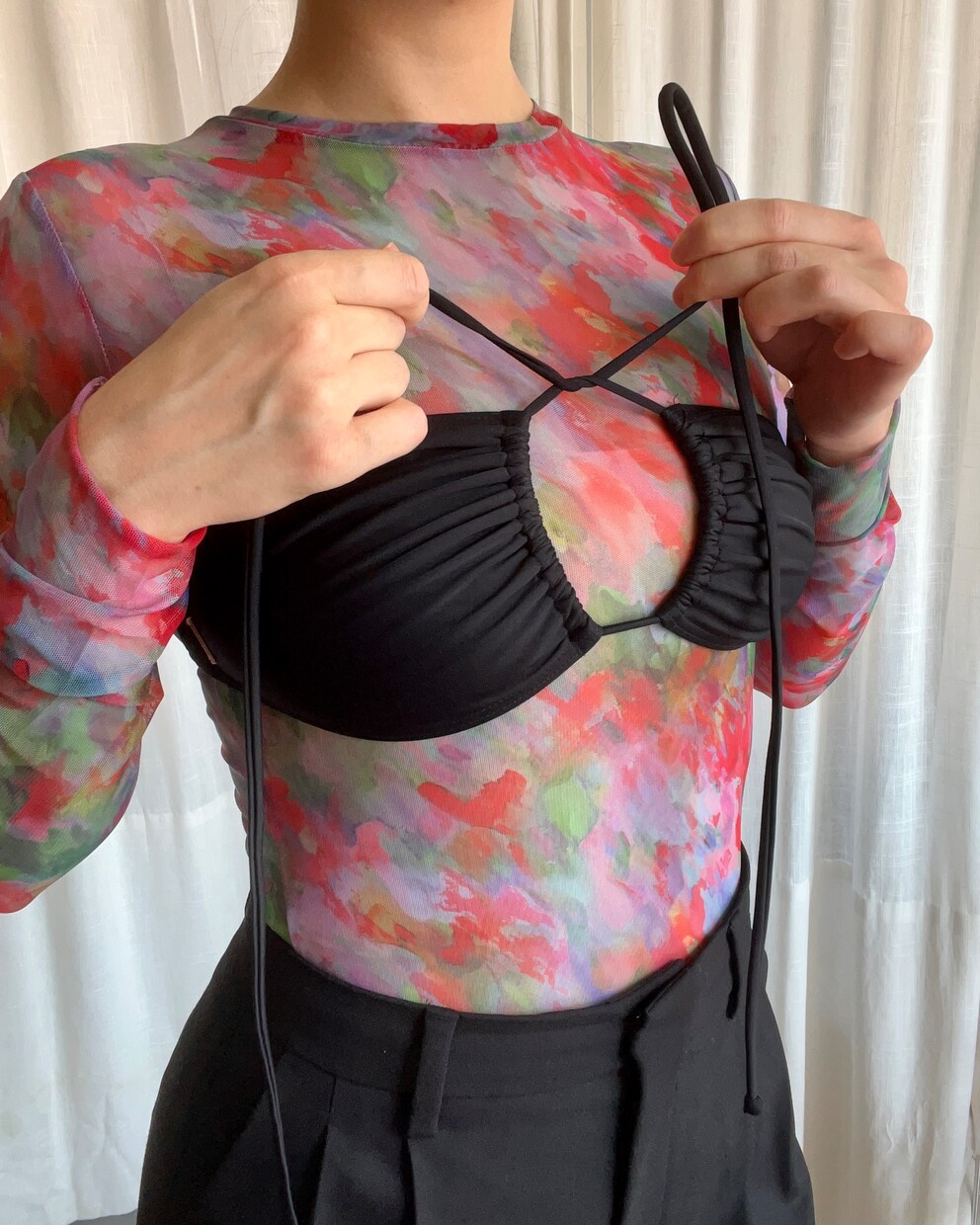 4. Bandeau with support
As soon as you need more support again, you can add it to your strapless bandeau in a few simple steps: untie the bow, but leave the knot, and tie the ends behind your neck. Just like that, you're ready to grab yourself some water or head over to the kiosk.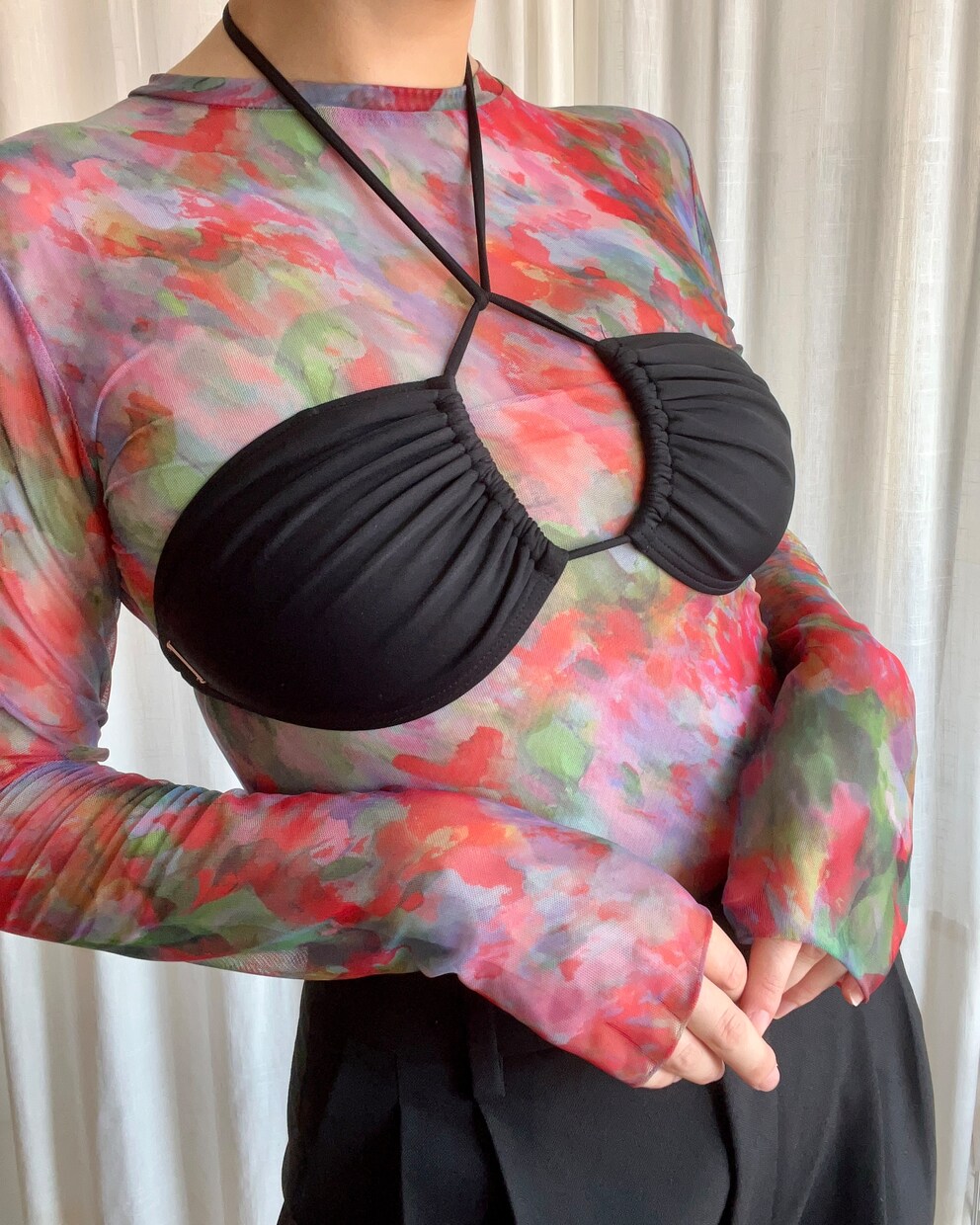 5. For a flattering décolleté
This is my other fave! The ruffled front and bow look particularly cute – and create a beautiful décolleté. Here's how to achieve this look: pull the triangles wide apart on the string. Put the empty string this creates around your neck so that the bottoms of the triangles are facing each other vertically at the front. Then take the end of the neck string, pull them under your armpits and tie them at the back. Tie the open string at the front into a bow – et voilà.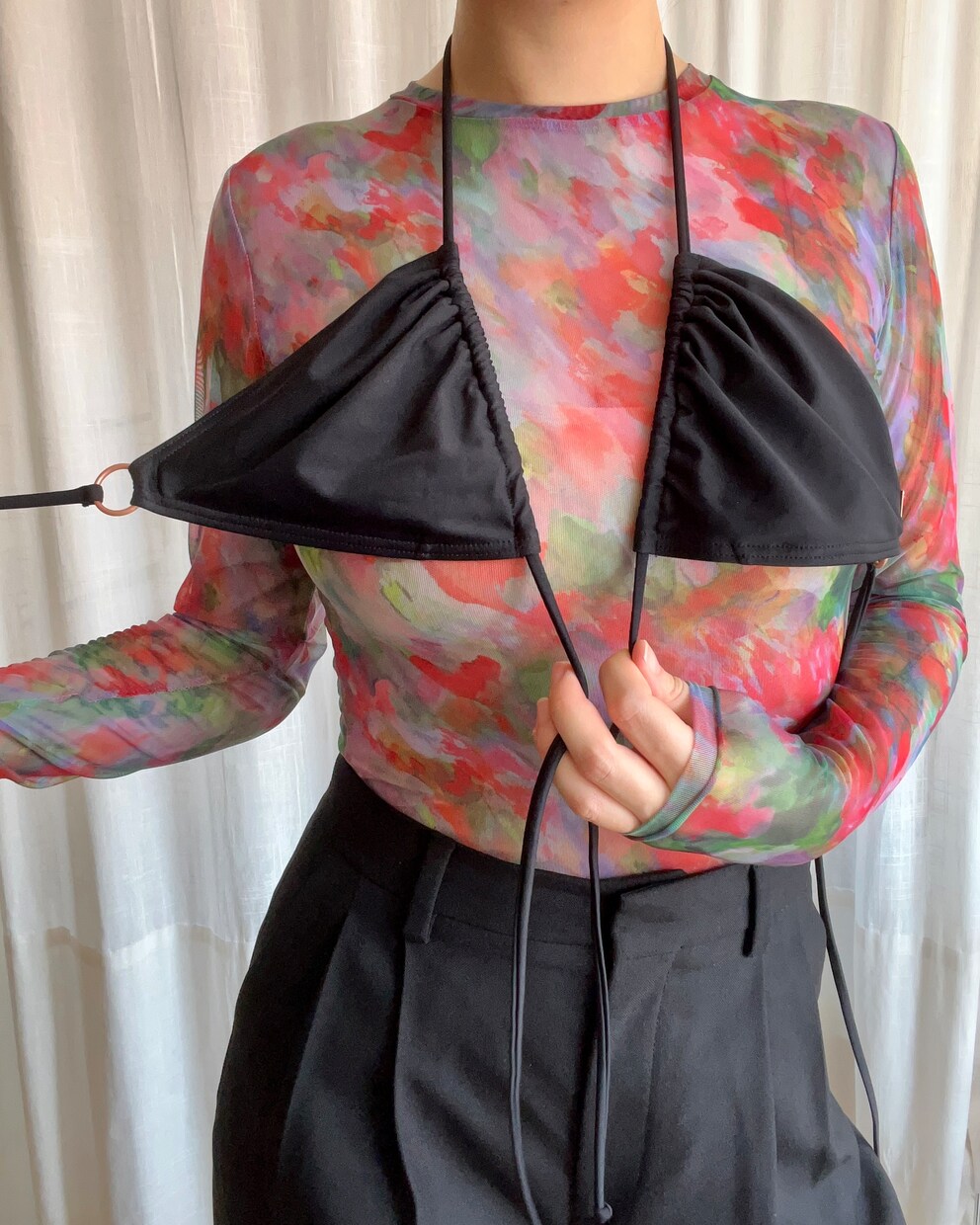 With that, happy sunbathing and swimming!
Header image: Instagram: @giizeleoliveira
---



Has endless love for shoulder pads, Stratocasters and sashimi, but a limited tolerance for bad impressions of her Eastern Swiss dialect.
---
---
These articles might also interest you
Skeleton Loader

Skeleton Loader

Skeleton Loader

Skeleton Loader

Skeleton Loader

Skeleton Loader