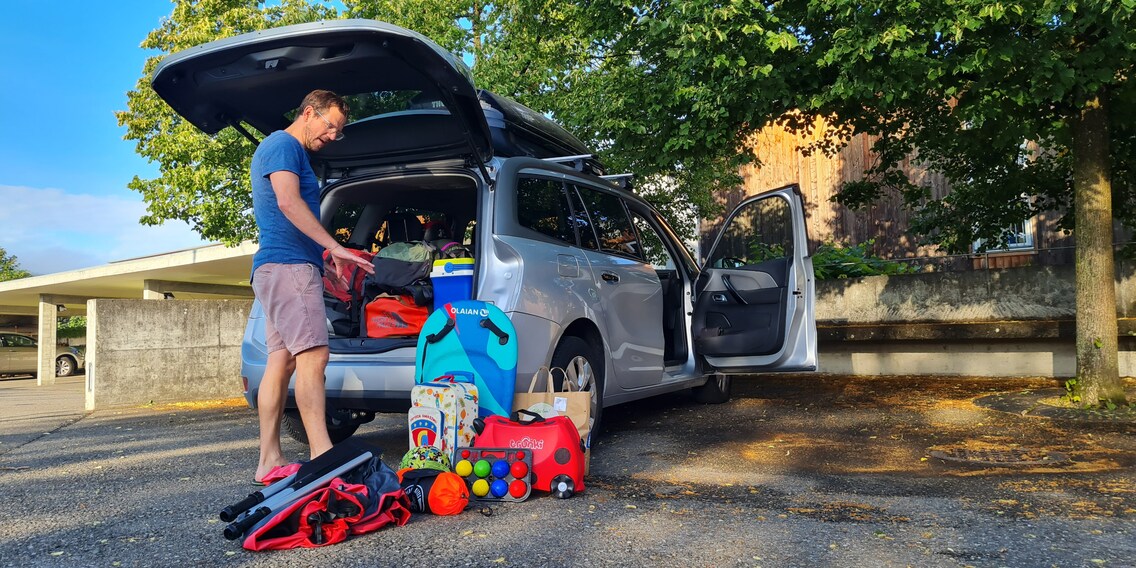 10 packing tricks to avoid a car boot fiasco

Everything was supposed to be set for a lovely vacation. All too often, though, the thrill of anticipation before a family holiday evaporates in the face of the stress and annoyance of packing the car. Here, I'll reveal ten tricks to help you master the art of car packing.
The summer holidays are starting in a couple of weeks. When I think back to summer vacations long ago, the scenes that flicker through my mind involve my slightly cranky father (I'm understating things here out of respect), sweating and occasionally letting out irritated noises as he loads the car. This scenario was often the ritual that'd kick off our summer vacation.
But who am I kidding by using the past tense here? I don't know if it's learned behaviour or just part of my disposition. The truth is, I look similar when I'm packing the car. Basically, I'm normally tense, annoyed and grumpy.
As it's up to me to spare you the same kind of stress, I'll be giving you a guide on how to make packing the car as relaxed as possible. Here are my ten tips, some serious, some tongue-in-cheek.
1. Nothing beats delegation
In family life generally, I'm a big fan of dividing the work. I don't see why mums and dads should have to do everything as a unit. Surely it's more productive and efficient if everyone focuses on what they're actually good at? So, in our family, we've found a balance: my wife packs the kids' stuff and medications, while I take charge of the outdoor, leisure and entertainment gear. Before a big storm of gender-based controversy breaks over me: yes, I pack my clothes and my toilet bag myself. Only one person should load the car, too. The really important thing? That nobody barges in to give their two cents.
2. Top Tetris skills required
I'd wager that it's usually the father who gets the vehicle for long trips. Not because he's physically stronger and better at heaving suitcases and bags into the boot, but because he generally has more of a flair for logically stacking and stowing objects of all kinds. Just saying. Even though this way of thinking is both outdated and simply not proven by science. Jokes aside, the person with the best Tetris skills should be the one to pack the car. And to do so with the kind of logic that'd make even our delivery drivers green with envy.
3. Banish children and other annoying creatures
Since packing is an act of utmost concentration, it shouldn't be disturbed by anything or anyone. In other words: kids and pets have no business being within a 50-metre radius of the car. If anyone sets foot in the restricted zone – on purpose or otherwise – the rule breaker should be put in their place loudly enough for all to hear. But banishment alone won't cut it. Children are encouraged to occupy themselves in a way that won't disrupt the packing workflow. If they don't do this of their own accord, the targeted use of media consumption is also an effective method.
4. Take as little as possible
This tip is as trivial as it is obvious. To make the packing process as short as possible, taking as little as possible on holiday is advisable. I'm aware that this is a balancing act. If you take fewer clothes with you, you'll have to wear each garment for much longer, which may not be conducive to your appearance. Either that, or you'll be forced to wash your clothes every now and then during the vacation. The question is: which option generates more stress? Packing the car or doing laundry during the holiday? The decision is yours to make.
5. A roof box makes things much simpler – but not entirely
A few years ago we bought a roof box and were amazed at how much could be stored in it. Initially, our boot was less densely packed. But somehow it's like money. You always spend however much you've got available – penny pinchers excepted. Simply put: you get a taste for it, then you just pack even more when you go on holiday.
Another disadvantage of the roof box is that you can't get to your luggage as quickly as when it's in the boot. And last but not least, the increased air resistance means your fuel level dwindles faster on longer drives. There's one more thing you should avoid at all costs. Namely, losing the key to the roof box somewhere on the road. The Baden slam poet Simon Libsig beautifully describes in his column (linked article in German) how it feels when you realise you've lost the key.
6. Pack sensibly and systematically
Following on from the above point (accessibility of luggage), taking a systematic approach to loading the car is recommended. This begins with packing your stuff into suitable baggage – usually suitcases or large bags. You could also go for a practical Ikea bag, just like my colleague Katja correctly mentions in her ski holiday packing guide.
If you pack up your things into 34 Migros carrier bags, you shouldn't be surprised if the car is in pure chaos later on. It goes without saying that entertainment devices, holiday reading and snacks have no place in the roof box. And since this is the very advantage of going on holiday by car, don't forget to always leave a little space to bring enough nice souvenirs home safely.
7. Allow lots and lots of time for packing
If you start packing the car an hour before you plan to leave – the departure time will remain just that – a plan. And you've only yourself to blame. Time management is the magic phrase. In other words, the best thing to do is to allow plenty of time for packing. And to reckon with the fact that, among other things, the gains you expected to make with point 3 (see above) might not come into fruition. Your son might want to show you his nice drawings from the last school year while you're packing, or your daughter will want you to quickly explain the treasure map, or your husband/wife will want to flick through the furniture catalogue for a new sofa just before you leave.
8. Pack like a Buddha
This leads me straight to my next tip. Try to think of packing as part of the vacation. Packing isn't a chore, it's an act of great anticipation. Maybe chillout music, a beer or the use of other depressants will help you out with that.
Just make sure that when you finally turn the ignition key, you're completely sober again.
9. When packing, spare a thought for your trusty vehicle
This tip is less about the packing process itself and more about its impact on the trip. In other words, keep the car light, distribute the weight sensibly, protect the floor of the boot with a wool blanket and make sure the tire pressure is adjusted. I always forget to do this myself, but I'm making a firm resolution to do it this year. We'll see how that pans out.
**10. Don't travel by car
The last point is the most effective, although quite radical. Don't want the stress of packing the car? No worries. Just don't take it with you on holiday. This opens up a number of possibilities.
First of all, being at home on the balcony is where it's at anyway. As Goethe's saying goes, why wander far and wide when the good stuff is right in front of you?
Secondly, cycle directly from home to Lake Constance for a biking holiday.
Thirdly, take the train to the mountains and hike to a Swiss Alpine Club hut.
Or the fourth option, consistently and unashamedly travel by plane. If you book the particularly cheap hand luggage option, then you've pretty much reached the peak of packing optimisation.
I'm aware that even if you heed these ten pieces of advice, it doesn't mean that everything will go smoothly when you pack your car. You can flip the whole thing on its head and ask yourself if the stress and tension aren't just a normal part of car packing. After all, once everything is packed and ready to go, all the tension melts away and the holiday spirit gets into full swing – at least until the first traffic jam or until you realise you've forgotten something. In cases like these, I always blame my wife. After all, it was her job to think of everything when she was packing the bags.
---



Half-Danish dad of two and third child of the family, mushroom picker, angler, dedicated public viewer and world champion of putting my foot in it.
---
---
---
These articles might also interest you
Skeleton Loader

Skeleton Loader

Skeleton Loader

Skeleton Loader

Skeleton Loader

Skeleton Loader