This test report was translated automatically.
Test Report
7 fully automatic coffee machines tested 2023: Cappuccino, espresso & co. - exquisite aroma at the touch of a button
Should it be a wonderfully warm Americano, a pure espresso or a cappuccino made sweet by a few millilitres of milk? By now, more than 3,200 millilitres of these wake-up pleasures - in all imaginable forms and colours - are consumed every week, outside and inside the house. We don't let ourselves be put off these pleasures even by serious crises, such as the ones we seem to be experiencing non-stop in the 2020s. And that's perfectly plausible: after all, even a simple espresso is a true marvel of flavour - more than 1,000 different alkaloids, polyphenols and more play into the aroma of an espresso in variable proportions.1 The polyphenols, many of which are also found in grapes, wild berries and the like, promise much more than just a palate-flattering pleasure: they also serve to promote the health of the veins, the heart and other parts of the body.2 If you want to enjoy such specialities within the four walls of your home, you can do so easily with the help of a modern fully automatic machine, for example - without any prior knowledge of grinding, brewing and foaming. This time, we took a look at 7 different models that want to open up pleasure experiences to people in a quick and simple way - all at the touch of a single button. We will illustrate all the essentials about the models below, especially how they can be used, what specialities they can serve, how the aroma, crema and much more (sound output, power consumption, etc.) behave.

6 Products in test
Philips 5400 Series EP5447/90
Unfortunately this product is currently not available in our assortment.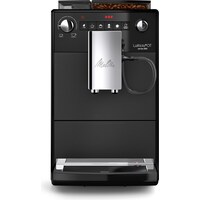 Tchibo Esperto Pro anthrazit
Unfortunately this product is currently not available in our assortment.