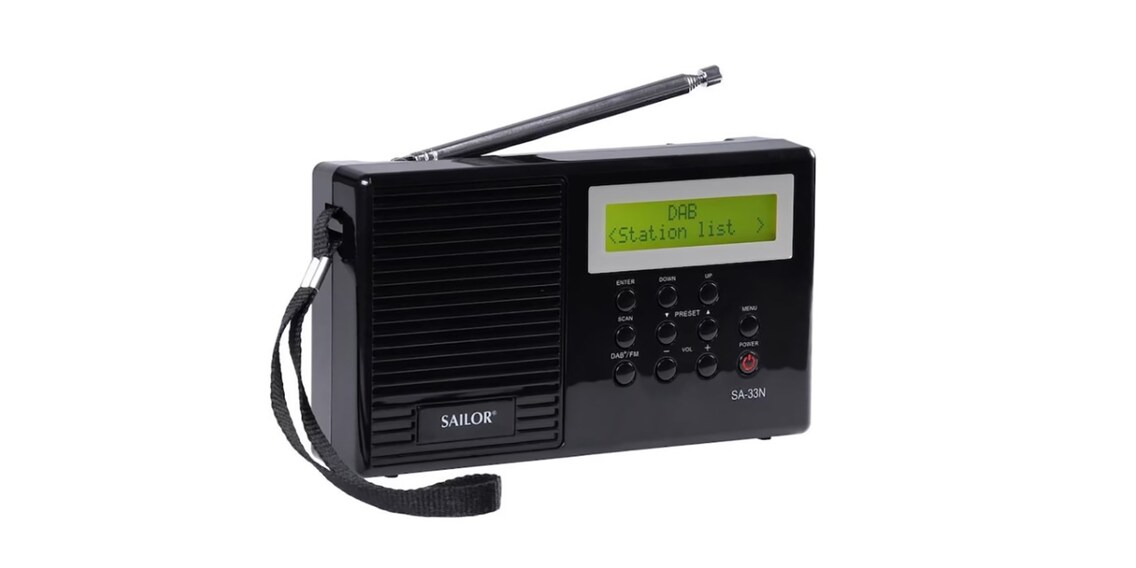 Why this radio is so popular right now

There's a terrible war happening in Ukraine. And Digitec Galaxus is suddenly selling a lot of radios. Read on to find out what one has to do with the other and what the most important sources of information are in a crisis.
The radio named «Sailor SA-33N» was a niche product in the Digitec Galaxus range until recently. It was purchased rarely. Until all of a sudden, it was ordered almost 600 times within a very short time. Junior Category Manager Michael Sievi showed me the impressive figures. So how did this come about?
The terrible events in Ukraine seem to have reminded people in Switzerland that it's important to have a radio at hand when disaster strikes. Since February, the sales figures of the Sailor radio have accelerated. March marked a new record. The Sailor SA-33N radio was ordered five times more often in these two months than in the entire previous year.
The Digitec Galaxus radio sales figures show that the TechniSat TechniRadio 3 and the Roadstar TRA-70 were also ordered more often, but not on the scale of Sailor's SA-33N. What's so special about this radio? The answer is simple: it can run on batteries and supports DAB+ as well as FM. And it doesn't cost much.
But is a radio still the best way of receiving information in an emergency? Am I in trouble if there's a long power cut and I don't have a battery-powered radio? I've asked the Federal Office for Civil Protection FOCP.
Battery-powered radios are part of individual provision
According to Andreas Bucher, FOCP spokesman, owning a battery-powered radio is a recommended individual provision measure for times of crisis. «Radios are an important tool for alerting the population – alongside sirens and the app Alertswiss.» So if you have a functioning radio and the app at your disposal in addition to the sirens, you're well equipped in case of an emergency. You never know which communication channel will be unavailable in a crisis. The FOCP sees the failure of the mobile network as one of the three greatest risks in Switzerland. If the mobile network was down, the Alertswiss app wouldn't work either.
Andreas Bucher also pointed out that an earthquake, for example, increases the probability of a power cut, as it could damage the infrastructure. In this case, you'd need a battery-powered radio.
According to Bucher, people in Switzerland currently don't need to take any special measures due to the war in Ukraine. The usual provision recommendations apply. These also include the individual emergency supplies recommended by the Federal Office for National Economic Supply to bridge supply shortages.
Radio: usually DAB+, but FM in a crisis
What if I only have an older FM radio model? Retailers and the broadcasting industry are focusing on DAB+, i.e. digital radio. Analogue radio broadcasting has been gradually eliminated since 2020. As things stand, FM is to be switched off entirely at the end of 2024. FM radio owners are required to upgrade to DAB+ by then.
Does this mean that from 2024, I'll no longer receive emergency information with an FM radio? Here's the reply I got from Caroline Sauser, spokeswoman for the Federal Office of Communications (OFCOM): «Anyone who listens exclusively to FM radio will only be able to receive programmes from abroad from 2025 onwards (if they live near the border). Only the information on the IBBK network will continue to be available via VHF.» IBBK is the emergency transmission network for critical situations and is used if the everyday broadcasting infrastructure is no longer available – for example due to a massive blackout.
In this case, the government can put broadcasting stations with additional stationary FM emergency transmitters into operation. These have a very large transmitting power and are specially protected. However, this system only transmits via FM. All DAB+ radios also have FM reception by default – which means that in the event of a crisis, they could still receive information. However, the FOCP is currently examining if IBBK information could also be broadcast via DAB+. As Caroline Sauser said, the first results are promising.
---


Testing devices and gadgets is my thing. Some experiments lead to interesting insights, others to demolished phones. I'm hooked on series and can't imagine life without Netflix. In summer, you'll find me soaking up the sun by the lake or at a music festival.
---
---
These articles might also interest you
Skeleton Loader

Skeleton Loader

Skeleton Loader

Skeleton Loader

Skeleton Loader

Skeleton Loader