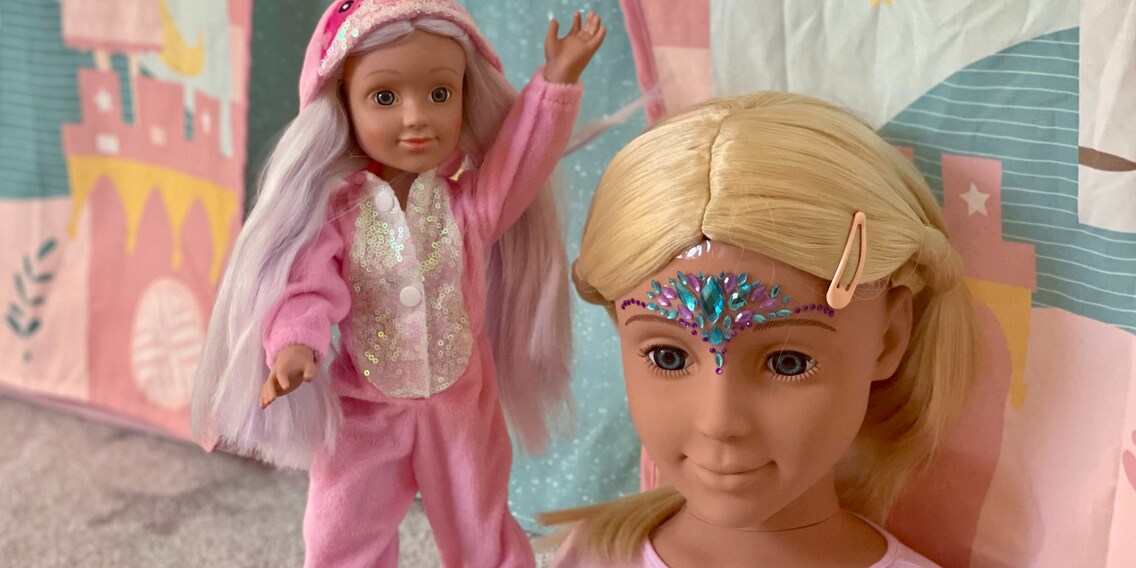 Why everyone is fawning over Swiss-made «Girlys» – and why I'm sorta hopping on the train
The Federers, Madonna and other famous figures have these dolls at home. Why? The enthusiasm for «I'm a Girly» dolls was a mystery to me – until I peered behind their glittery facade.
Meet Lucy, Ava and Jamie. Each dons a glitter and tulle-heavy creation, rounded off by heart-shaped sunglasses, a candy pink handbag and patent leather shoes. When placed out in the sun, their long, luscious hair changes colour.
It doesn't get more girly than that. The product name – «I'm a Girly» – fits the googly-eyed gals like a glove. These fashion dolls can be found in many children's rooms, including those of A-list celebrities like the Beckhams or Madonna. Roger Federer's twins reportedly also love the dolls.
I'm not convinced. The «Girlys» are too everything for me: too bling-y, too tulle-y and too kitschy. Given the age of intense debate about gender identity and sexism, why should dolls cement stereotypes in such an in-your-face way? Is this really necessary?
Children are involved in the doll design
No, it's not necessary, says Theresia Le Battistini, creator of «Girly» and native of Zurich. But it seems to be what kids want. I learn that the 42-year-old founder of the brand gets her little customers on board and allows them to have a say in the products.
According to her, the fact that her dolls are «outwardly more feminine» comes down to the demand of children. And it has nothing to do with gender. Le Battistini has observed that many kids develop an affinity for make-up, fashion and hair – and that goes for both girls and boys.
Thanks to workshops across Europe, Le Battistini and her team are able to feel out what the kids like. In groups, the 8- to 14-year-old helpers design dolls, accessories and outfits and make their wishes known. During Covid, exchanges took place over e-mail and social media. «The beauty of working with kids is that they're totally honest. They straight up tell you if they don't like a product and how you can improve it,» Le Battistini says. «As a manufacturer, this allows us to make sure we're only producing what our target audience likes.»
The Swiss doll boss points out a feature special to the «Girlys»: unlike other fashion dolls, these intentionally have a neutral physique. This, too, is a result of the children's preferences.
Chloé and Ella move in with me
I want to see this in real life, so I order complimentary copies. A few days later, two pairs of steel-blue googly eyes are peering out at me from inside a package: Chloé and Ella are here.
Chloé, or «Chloé the cozy glam» in full, is a full-body doll made from recycled plastic and is part of the «I'm a wow» collection. She dons a fluffy pink onesie adorned with sequins. Her shoes sparkle in silver, and the packaging claims that her white-pink hair turns purple when you take her outside. Her mane passes the test; after a trip out to the garden, Chloé returns with a new hair colour.
She's a challenge to pigeonhole – neither baby nor Barbie. Her face looks like a teenager but is make-up-free. Her body has normal proportions and no bust. Her skin feels soft and premium.
Chloé's friend Ella, on the other hand, lacks a body. She consists of just a head. Ella is part of the «I'm a stylist» collection and wants you to style her hair and make her up with rhinestones. It's a shame I can't attach the adhesive jewellery individually, but only as a ready-made combo. Ella's blonde hair is soft. It can be effortlessly removed and replaced with another wig, available as an accessory for around 30 francs. Even the make-up isn't included with the base doll. To ensure Ella «sits still» during styling, I can attach her to a surface thanks to her four suction cups.
As I write these lines, Ella's sat next to my keyboard, staring at my screen. Every so often I catch myself talking out loud to her: «Hey Ella, you look awfully real!»
From babies all the way to teenagers
Her «Girlys» aren't just baby dolls, Theresia Le Battistini, tells me. Rather, they're a «trend» product. «Our dolls embody the fashion and hair trends of today.» Le Battistini explains that this allows them as a company to cover a broad target group and bridge the gap between childhood and the teenage years. «Younger children see the doll as a companion, a best friend, something to take care of and baby. Older kids experiment with outfits and hair styling,» says the inventor.
Le Battistini, who studied business administration and worked as a project manager at UBS, had the idea to create these dolls in 2014 during her maternity leave. As she frequented toy stores, she noticed that the dolls still looked the same as they did back when she was a child. Le Battistini did research and analyses; she visited trade fairs and recognised potential. Soon enough, she reached her decision: she'd go into business herself and launch her own doll – a contemporary, modern one.
Her project was a success. One year later, the «Girlys» could be found not only in Franz Carl Weber, but also on the shelves of Berlin's KaDeWe department store and London's Harrods. Since 2020, stores in the USA, Asia, Spain and Italy have been added to that list. No turnover figures have been released, but the growth is impressive. In the Covid-filled year of 2020, the toy industry grew by 19 per cent. According to Swiss newspaper «Tages-Anzeiger», that same year, the Zurich-based company grew 400 per cent and sold more than 100,000 items.
Today, Le Battistini leads a team of ten employees. Her company, with its three product lines and numerous accessories, is present on the international stage of doll business. Since last year, she's been collaborating with an upcycling fashion brand and now uses fabric scraps from the fast-fashion industry to create the doll dresses. There are also plans to add a mobile game to the range before the end of the year.
The Zurich native can also count on the support of celebrities across the globe. Free advertising, as she stresses – according to her, the posts by Madonna, the Beckhams and Chrissy Teigen were «unplanned and unpaid». By now, other celebrities reportedly ask for products themselves, «which we're then, of course, happy to provide.»
My verdict: the glitter and the gold
I, too, received Chloé and Ella for reviewing purposes. Now, it's time to say goodbye to them – even if only temporarily. As I pack them back into the box they came in, I make a mental note of this gift idea for my daughters. Mind you, the dolls are still too kitschy and over-the-top for my taste. The story and concept behind the girly «Girlys», however, was a positive surprise. Not everything that glitters is gold. But sometimes it is – if you look behind the glittery facade.
---
Mom of Anna and Elsa, aperitif expert, group fitness fanatic, aspiring dancer and gossip lover. Often a multitasker and a person who wants it all, sometimes a chocolate chef and queen of the couch.
---
---
These articles might also interest you
Skeleton Loader

Skeleton Loader

Skeleton Loader

Skeleton Loader

Skeleton Loader

Skeleton Loader