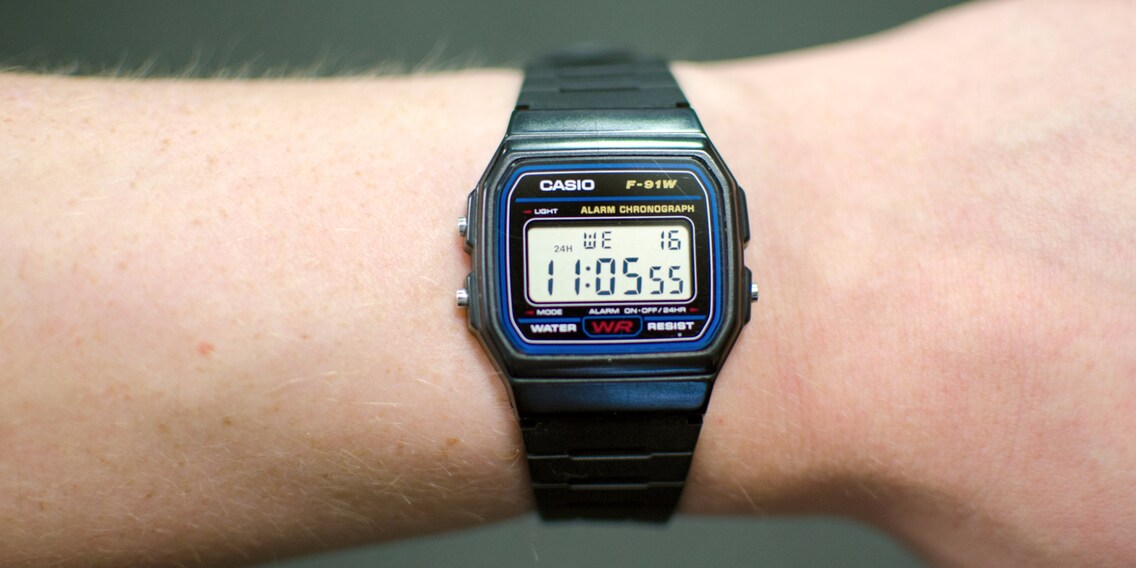 What's the deal with this "terrorist watch"?

For years, rumours have been circulating that the Casio F-91w is a terrorist watch. Is there any truth to the rumour? I went on a quest for evidence.
First, I have to confess that I am a total fan of the Casio F-91w. It is the only watch I have worn in the past five years. Although it was just my watchstrap that recently broke, I bought the exact same model again. At first I just wanted to purchase a new strap but found out that a whole new watch costs just as much. Peanuts in any case.
For a long time, people did not take me seriously because of my watch. Many people told me that their grandfather had the same watch or they asked me if I had won it in a toy vending machine. Later the rumour started that is was a terrorist watch and that it is was used for bombs. So I quickly went from being a gaming-addicted pensioner to an al-Qaeda mujahideen.
Watch specifications
First, however, let me say a few words about the watch and what it has to offer. Given its small price, you get quite a lot. For one it has to be said that it runs very accurately. I have never had to adjust the time other than for daylight saving time. The watch runs on the same battery for half an eternity. Casio promises a shelf life of seven years for this watch. However, some have been known to function perfectly even after 15 years. Furthermore, the watch is "water resistant", which means splash resistant. However, I have swum in the sea with it several times and have also taken a shower while wearing this watch on my wrist. Nothing ever happened. It is still working perfectly.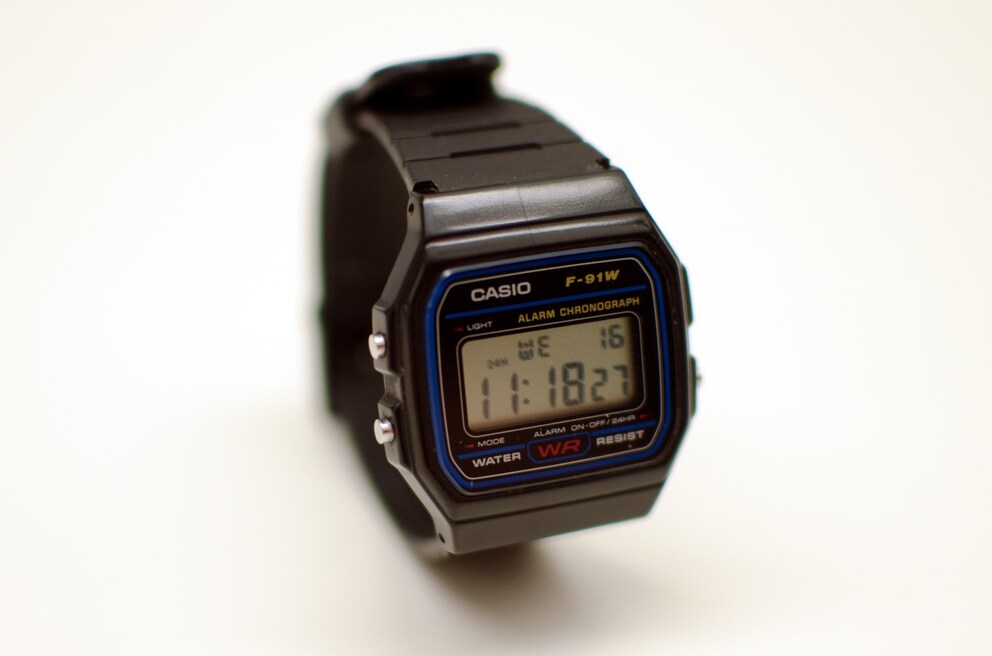 Furthermore, the Casio has three buttons on the sides of its casing – two on the left and one on the right. The button at the top left is for screen illumination. It brights up the screen in a bilious green light. Although the screen illumination is not very bright, it is enough to be able to read the time in complete darkness. The lower button on the left side is for switching between different modes on the watch. You can activate an alarm, use it as a stopwatch or change the time. With the third button, on the right side of the watch, you can switch between the European 24-hour clock and the American 12-hour clock. That is it for the functions. This is all this watch can do, and any additional functions would be unnecessary (as far as I am concerned).
Its small size and almost non-existent weight almost makes you forget that you are wearing a watch. I personally find this very pleasant, given that I am not a fan of oversized and heavy watches.
Why terrorism?
Rumours have it that this watch has been frequently used for bombs by terrorist organisation al-Qaeda. I suspect that this is because of the low price and the high reliability of the clock mechanism. So are the rumours true or is this all an urban myth?
While doing my research, I stumbled upon classified documents of the "Joint Task Force Guantanamo", which are the operators of the prisoner camp in the Guantanamo Bay Naval Base in Cuba. These documents show who is viewed as a potential terrorist and which items make them suspicious. The suspicious items include this watch. The Casio F-91w.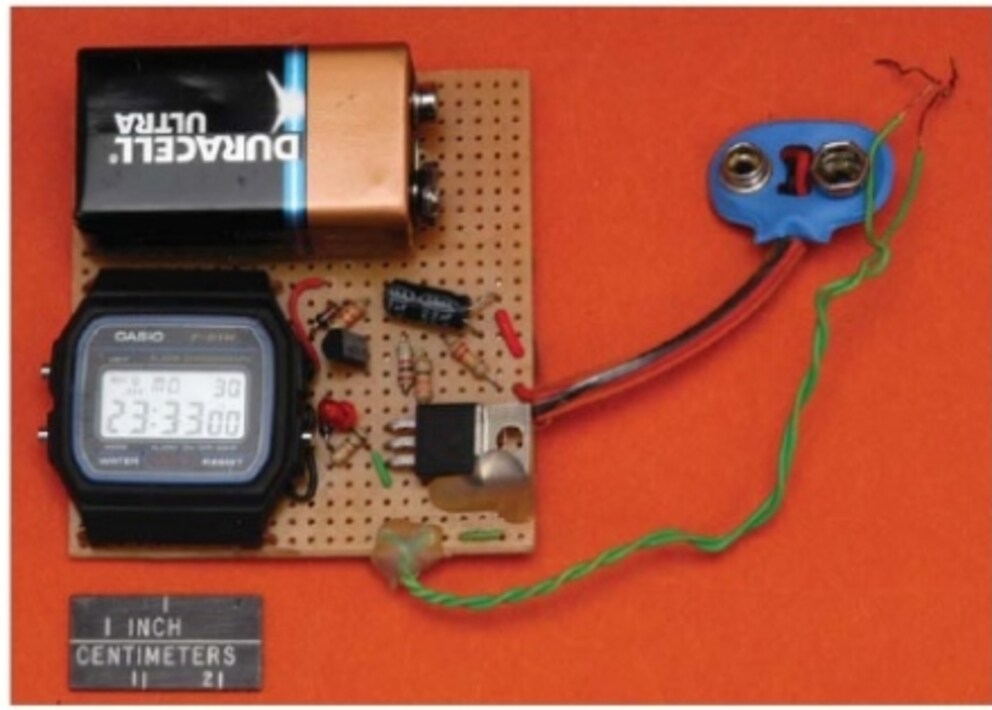 Improvised timer for a time bomb.
This means that there is written proof that a person from the Middle East who is wearing this watch is regarded as a potential terrorist by the US. More items on this list of "suspicious objects" are, for example, satellite telephones or 100 dollar bills.
These documents also state that the possession of this watch is a sign of having successfully completed al-Qaeda training for improvised explosive devices (IEDs). It seems that all Americans know that once a person has completed the "al-Qaeda bomb-making training", each "graduate" receives this specific watch.

Excerpt from "Matrix of Threat Indicators"
This document lists additional – in my view far-fetched – characteristics that are supposed to serve as proof of a person's alleged connection with a terrorist organisation. Anyone who wants to can read the document. I posted the link above.
Conclusion
Despite all the prejudices against this watch, nothing and no-one can keep me from continuing to wear it. Its low price and reliability combined with a no-frills design are all I want in a watch. Personally, I would definitely recommend you buy this watch.
If the black plastic version is too neutral for you, the more daring designs may be of interest to you. The Casio also available in gold and silver.
Other things that might be of interest to you:
---



Riding my motorbike makes me feel free, fishing brings out my inner hunter, using my camera gets me creative. I make my money messing around with toys all day.
---
---
These articles might also interest you
Skeleton Loader

Skeleton Loader

Skeleton Loader

Skeleton Loader

Skeleton Loader

Skeleton Loader