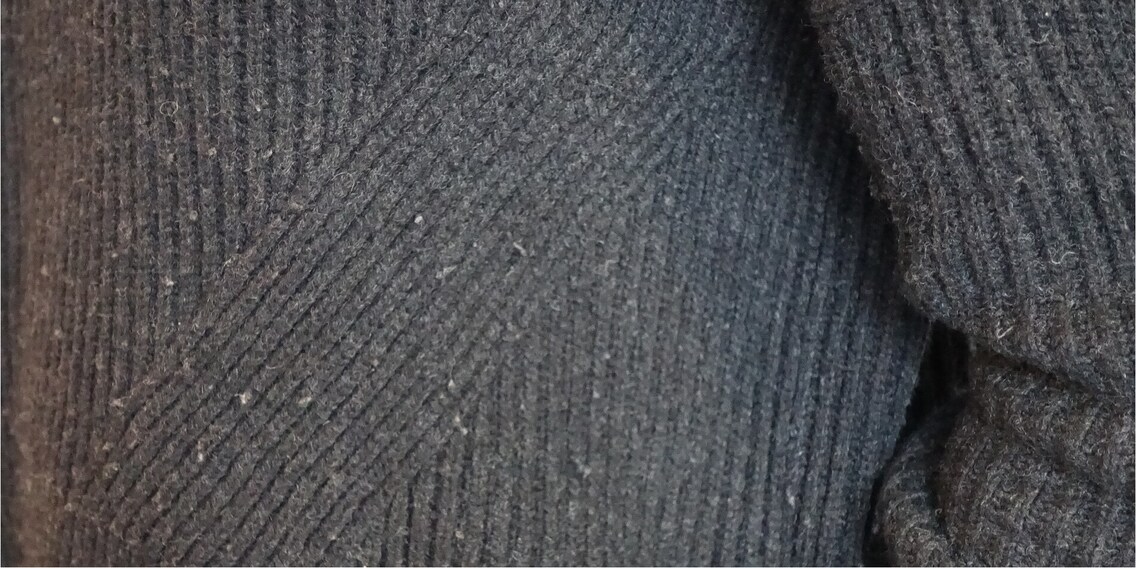 To hell with with pilling

I can't do without knitwear. I'd be cold all the time otherwise. But the unsightly tiny knots that appear on jumpers and cardigans in almost no time dampen my love for them.
What's worse than a bad hair day? Pilling! Nothing looks more slovenly than a jumper covered in little knots. You don't need to know that I'm wearing one such garment in my home office right now. Unfortunately, the unsightly bobbles soon spread on new jumpers and cardigans and take the pleasure out of them. The reason for this worn-out appearance is friction, primarily under the arms or around the hip area (as a result of wearing a bag, for example). And incorrect care.
#1 The key advice
Good news first: you don't absolutely have to wash knitwear by hand. Just select the delicate or gentle cycle on your washing machine (at a maximum of 30 degrees Celsius) and use a liquid wool detergent. Powder creates more friction on the fabric, which you want to avoid with knitwear because of pilling. To prevent more pilling, wash knitted garments inside out and minimise the spin speed. If you prefer washing by hand, I recommend a shampoo containing silicone. The silicone acts like a protective layer on the fabric and ensures that the fibres stick together and are less likely to come loose quickly. The tumble dryer, however, is a no-no as far as knitwear is concerned. Instead, lay your comfy garments flat on a towel. If you hang them up, they'll stretch.
#2 SOS tip
If you're out and about and notice bobbles on your jumper, under no circumstances pull them off by hand. This slackens the fabric and more fibres will come loose. The result is even more pilling. A strong lint roller can solve the problem. I keep one in my office drawer. Alternatively, sticky tape can also work if you press it onto the bobbles and abruptly, but carefully, pull it off. This method isn't the gentlest, but it's practical when you need to act fast.
Prevention is better than cure: as little knots come from loose fibres that get tangled, it's worth not letting it come to that. If you use a lint roller on your jumper now and then, pilling has virtually no chance.
#3 Tough fluff
If the bobbles are particularly stubborn, you need a fabric shaver. Lay the jumper on a flat surface and run the device over it. Pull the garment taut. The sharp blades will remove even the toughest pilling from the fabric. Practise not putting firm pressure on the material where it might pull.
If you don't have an electric debobbler, you could use a conventional disposable razor. Use a new one, not a blunt blade. I don't risk this method with my delicate cashmere jumpers because I'm worried about making holes. Coarse knit garments aren't a problem, though, as long as you're careful.
What do you do to stop pilling? Let me know and leave your tips in the comments. Here's our knitwear range..
---



When I'm not exploring the depths of the sea as an open water diver, I enjoy plunging into the world of fashion. On the streets of Paris, Milan and New York is where I keep my eyes peeled for the latest trends. And I'll show you how to take them from the catwalk to your everyday life. 
---
---
These articles might also interest you
Skeleton Loader

Skeleton Loader

Skeleton Loader

Skeleton Loader

Skeleton Loader

Skeleton Loader