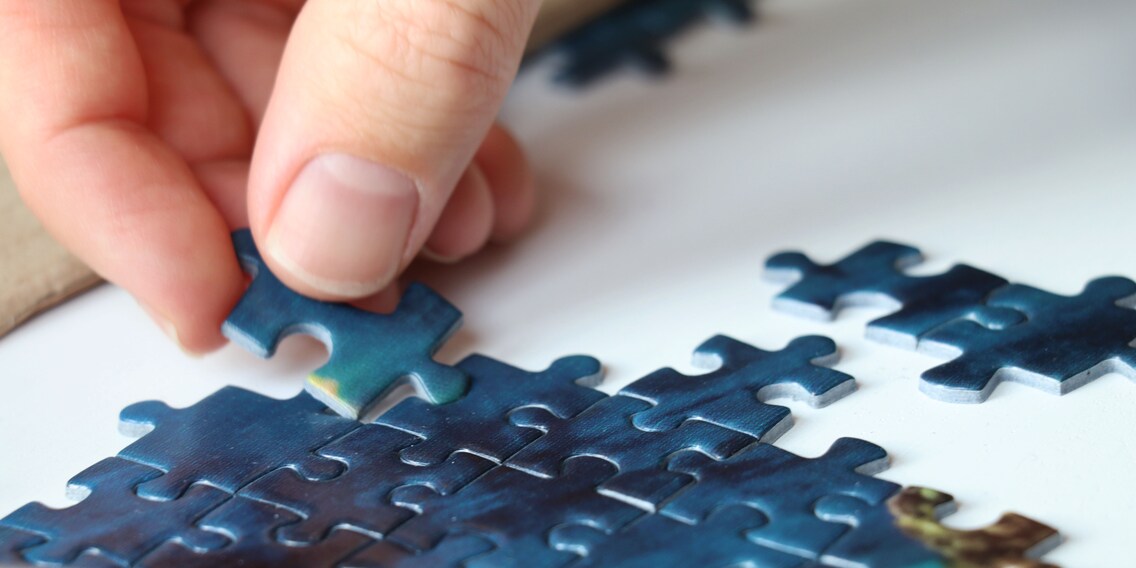 Tips and recommendations for ambitious puzzle newbies

The right image and a handful of tricks make doing puzzles is even more fun. Here are my tips and recommendations for puzzle newbies looking to take on a low-adrenaline challenge.
The perfect image: three recommendations with upwards potential
For starters, 1,000 to 1,500 puzzle pieces are ideal. Working as a team of two, you can finish a puzzle of this size within an evening – perfect for a rainy day. Make sure you give yourself enough time and choose a «friendly» picture. What I mean by that is go for an image with clear contours and several small, differently coloured areas. One good option is Ravensburger's Gnome Grown puzzle. Avoid puzzles with vague colour transitions and large monochrome areas when starting out.
My absolute favourite is Poisons and Potions. I tackled the 2,000-piece puzzle after completing the aforementioned gnome one. I know, I know; it looks quite evenly blue-green. But each shelf compartment here is, in fact, a different shade, making the puzzle a challenge, but not excessively so.
Wizard Merlin, on the other hand, is trickier. The many books and similar shades of blue throughout the entire image really kick the difficulty up a notch.
As a Disney fan, it's no surprise that the beautiful puzzles by Schmidt and artist Thomas Kinkade found their way into my shopping cart. Mind you, the soft brushwork in his artwork initially had me frustrated in no time. That's why I'd recommend them for more experienced puzzlers.
The secret weapon against puzzle-piece dust
Alongside the puzzle pieces, the annoying dust from the cutting process will land on your table. For a long time, I attempted to obliterate the blueish evil using a handheld vacuum cleaner, with limited success. Then, in a moment of ingenuity, I swapped it in for a dry Swiffer cloth. It really pulls in the blueish powder and keeps it trapped. I always keep my cloth handy and occasionally wipe down the table in between the pieces.
The free alternative to a puzzle board
Mobile puzzle tables and boards with their pull-out compartments are undoubtedly practical, but also an investment. If you're only just discovering the joys of puzzles and aren't quite sure if your new hobby will last in the long run, a large piece of cardboard will also do. I cut large shipping boxes to shape, which I use when I want to focus on a specific portion of the puzzle. I gather the relevant pieces, put them on the cardboard and try to piece them together there.
The cardboard works like a serving tray: I can circle the table, looking for further pieces and can transport assembled sections to the correct location within the whole puzzle. An added bonus: you can stack the cardboard trays, saving you table space and allowing you to stay organised.
My final tip: bag it!
In my excitement to get puzzling, I ruthlessly tear open the sealed plastic bags that contain the puzzle pieces. Given my crude opening methods, the bags can't really be used to store the pieces again. Because I can't bring myself to throw them directly in the box, I turn to ziplock bags. The 3-litre size offers a practical solution that's easy to close. For 1,000 puzzle pieces, one bag is usually enough; starting at 1,500, you'll need two. Bagging the pieces ensures none of them get lost.
Food packaging
2.95
per piece for 4 units
10.93

/1m
Toppits Double closure freezer bag
Got more tips? Drop them in the comments!
Header image: Natalie Hemengül
---



As a massive Disney fan, I see the world through rose-tinted glasses. I worship series from the 90s and consider mermaids a religion. When I'm not dancing in glitter rain, I'm either hanging out at pyjama parties or sitting at my make-up table. P.S. I love you, bacon, garlic and onions. 
---
---