These sunglasses are hot in 2023

Translation:
machine translated
What do cats, skiing and the noughties have in common? They influence which glasses we now adorn our faces with. 6 sunglasses trends that set the tone this year.
1. A colourful look
From subtle tints to gaudy shades - sunglasses with transparent, coloured lenses are currently very popular with fashion fans. Retro aviator glasses with bright, tinted lenses dominate street style photos and social media. On the catwalk, for example at Gucci or Versace, gaudy, monochrome models in eye-catching shades like red, bright pink or lime green add exciting colour accents.
2. Sharp edges
Cateye sunglasses from the 1950s are a timeless classic. They are particularly popular right now and are interpreted in many different ways. Whether oval or square, narrow or large, with or without frames - the characteristic feature is that they taper towards the side at the top. This expressive shape gives the glasses a glamorous look. By the way, rectangular cateyes are currently the model of choice for colleague Laura and me.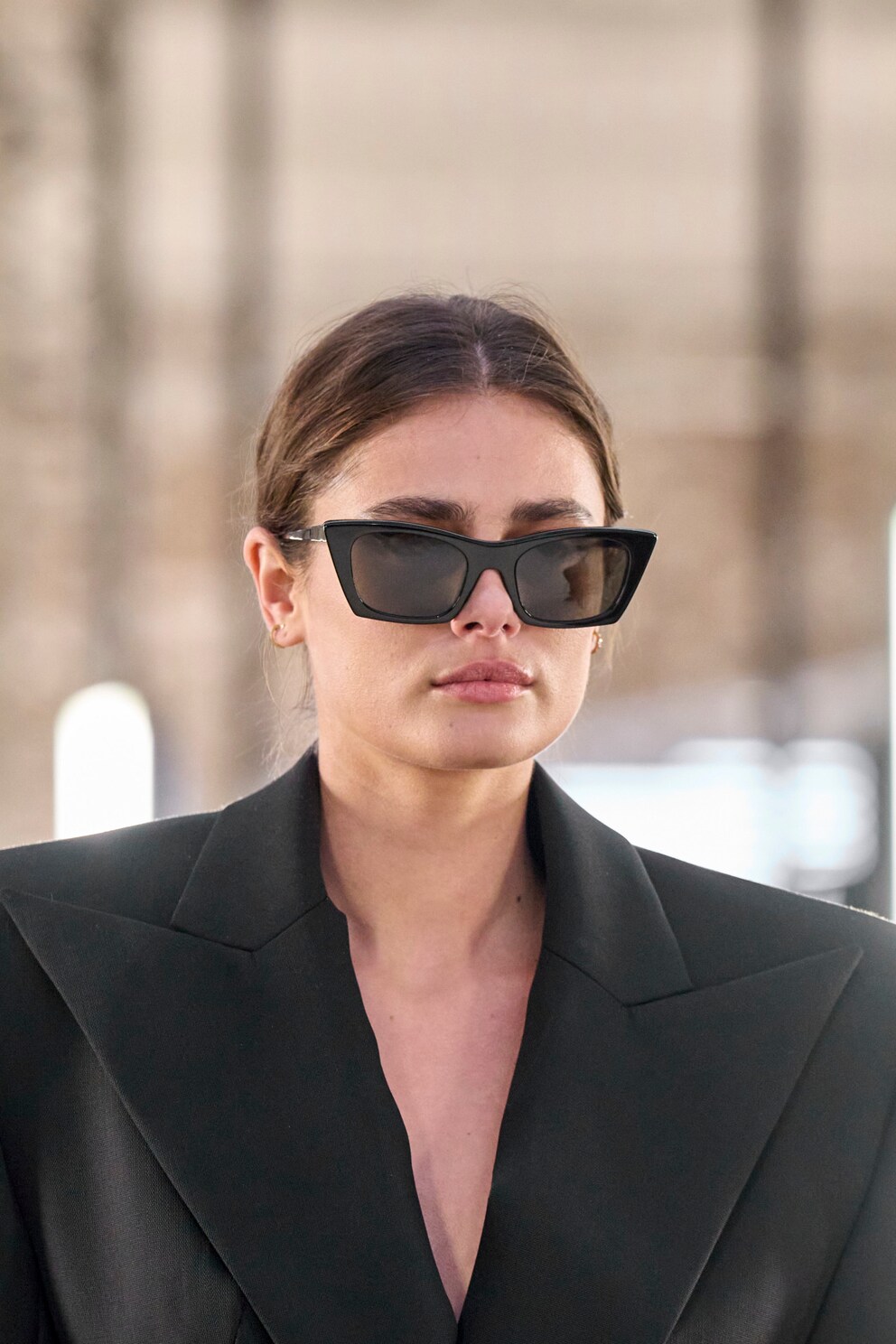 3. Futuristic sports guns
. Sunglasses that visually fall somewhere between the Tour de France and scifi movies created a hype last year - and it hasn't died down yet. Models that were actually developed for sweaty outdoor activities, or at least look like it, continue to flit down the catwalks. What makes glasses look athletic? Mono lenses as well as wrap designs that are strongly curved and hug the sides of the face. In vogue are oversized models reminiscent of ski masks, as well as narrow cycling glasses.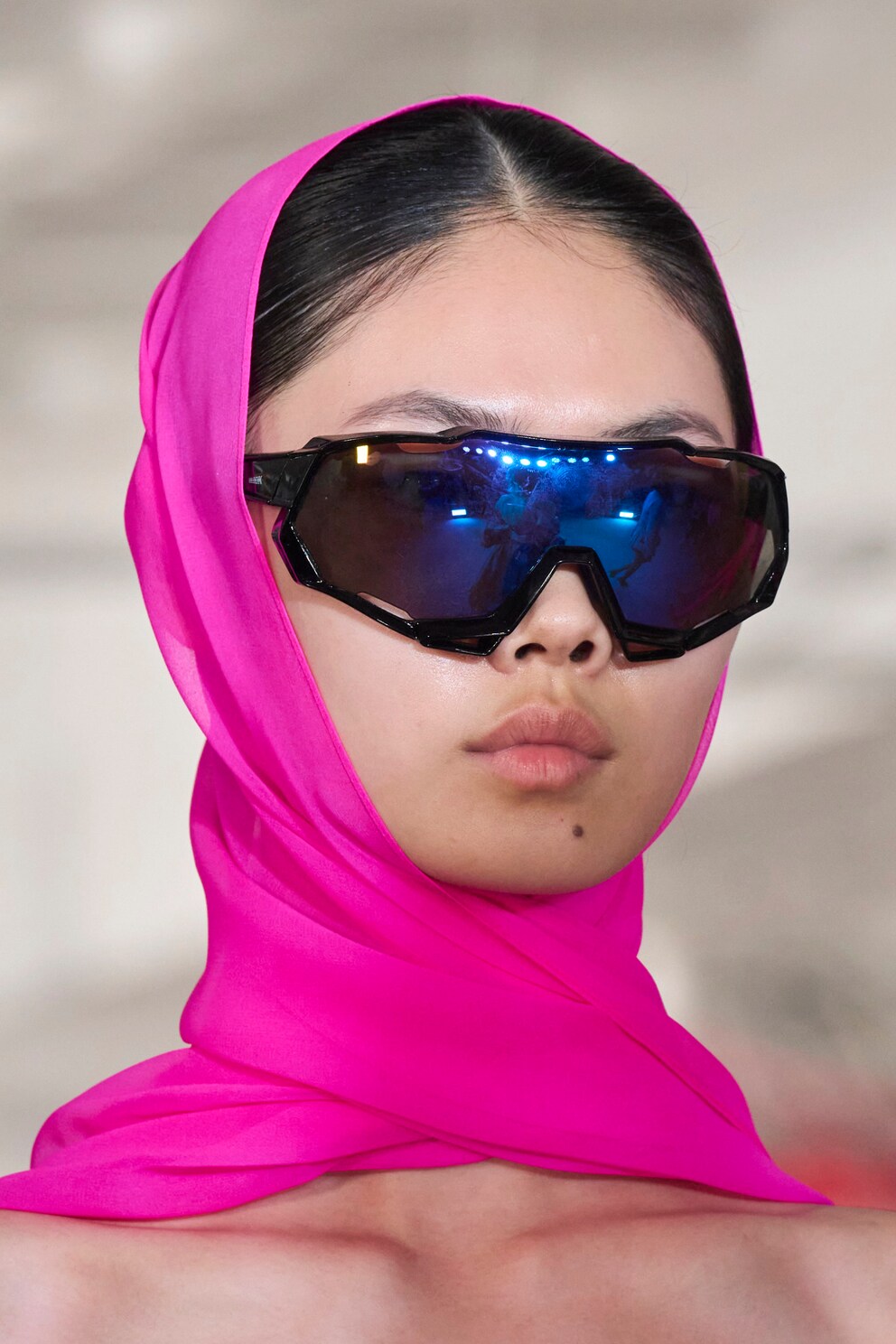 4. XXL sun protection
Whether blazers, bags or skirts - a lot of fashion currently comes in maxi format. Huge sunglasses are also making a comeback. Particularly popular are D-shaped models or retro-look aviators. The big advantage of these extravagant shades is that they also protect your cheeks from the sun. If you're worried that oversized glasses will take up too much of your face, I recommend transparent lenses. They take up less space visually.
5. Narrow vision
Tiny sunglasses are somewhat past their prime. But don't worry if you still prefer smaller lenses. Currently, narrow, rectangular shades are conquering the fashion world. They have a similar sleek look, but are more grown-up. The angular shape also adds a good dose of coolness to your look.
6. Dwindling frames
Over the past few months, I've been typing the words noughties, 2000s or Y2K so many times that I'm starting to feel like I've got a crack in the record. The fashion comeback of the decade before last is omnipresent and of course also makes itself felt in sunglasses. The nostalgia club strikes in the form of frameless glasses with thin metal temples. Glasses that are only partially rimmed or have a discreet metal frame also embody the iconic 2000s look - and are also pleasantly light.
---



Has endless love for shoulder pads, Stratocasters and sashimi, but a limited tolerance for bad impressions of her Eastern Swiss dialect.
---
---