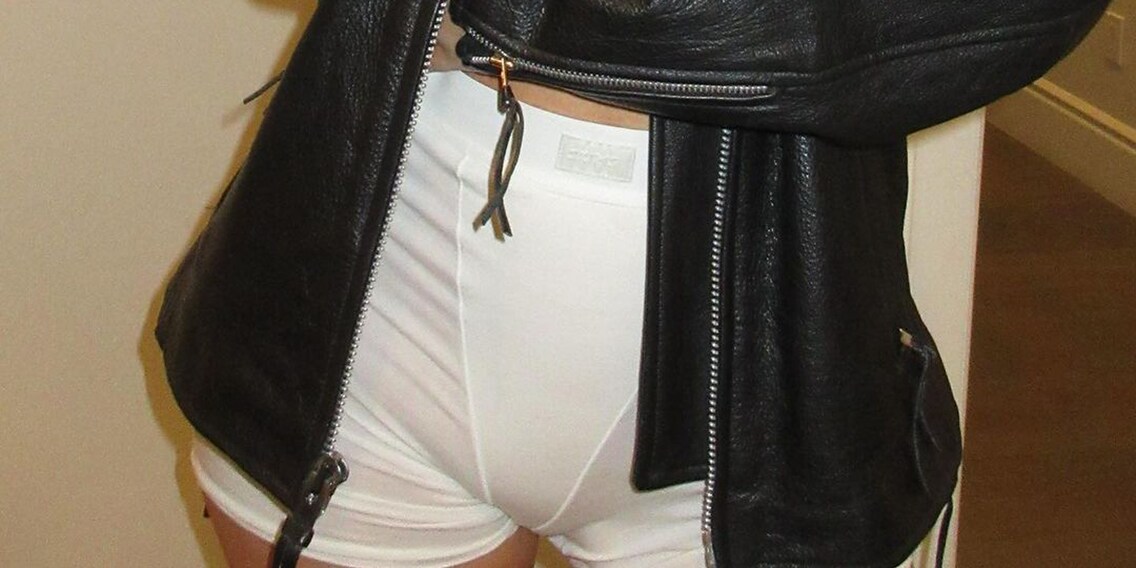 This article was translated automatically.
The white cotton pants are tired of playing hide-and-seek
Normally, a lack of trousers on the street doesn't bode well. If Bella Hadid is the one going bottomless, it most likely means that cotton briefs will soon become the most sought-after item of the season.
I'm no longer sure what I was originally looking for when a picture of Bella Hadid caught my scrolling fingers. The model was strolling through the streets of New York wearing sunglasses, a leather jacket, UGG boots - and white cotton pants. I know that so well because that was all. So down below. No jeans that flashed, no skirt that shimmered. Just white cotton pants. The infamous Naked Cowboy sends his regards.
Well, she's an it-girl, one of the most successful models in the world, an influencer - if anyone can get away with it, it's her, I thought. I'd almost forgotten about Hadid's slip walk when beauty mogul Kylie Jenner turned up at Paris Fashion Week a short time later. You guessed it, in white cotton pants. A moment of mental derangement? Probably not. Because in this case, the pants had even made it over a pair of black tights and were part of the 25-year-old's loewe-full look.
It wasn't even six months ago that my colleague Stephanie tested out how to stroll through everyday life with thongs flashing cheekily from the waistband:
Your conclusion in July was positive. Flashing panties, can do. Now, a few months later, the hype has died down, but the panties are far from out of the limelight. On the contrary.
Is underpants the new "Everything we need"?
Marky Mark and Kate Moss virtually became famous in white cotton pants, Carry Bradshaw wore those of her boyfriend Aidan Shaw in "Sex and the City", and in photo shoots they have always been used on lightly clad women's bodies as a fabric-formed stimulus for (men's) fantasies. And yet, in everyday life, the comfortably roomy briefs have been found exclusively on the lowest textile level. In the shadow of every other item of clothing. Have Bella and Kylie now paved the way for them to live in the upper class? After all, the rule is: what they wear is copied worldwide without much questioning. Does this mean that if they go out in the street in their knickers, you and I will also go out in the street in our knickers?
To all those who emphatically pressed answer option 1: I get it. A trip to the supermarket in just your pants seems absurd. However, bralettes as tops, Crocs outside allotment colonies and said thongs peeping intrusively out of trousers also once seemed absurd. Has that stopped anyone from doing anything in the past? Exactly. So maybe we're mentally preparing ourselves for the fact that it could become a reality, the white cotton panties in the checkout queue next door. And that it will most likely not be an embarrassing faux pas, but an intentional fashion statement.
---



Always up for good hits, even better trips and clinking drinks.
---
---
These articles might also interest you
Skeleton Loader

Skeleton Loader

Skeleton Loader

Skeleton Loader

Skeleton Loader

Skeleton Loader