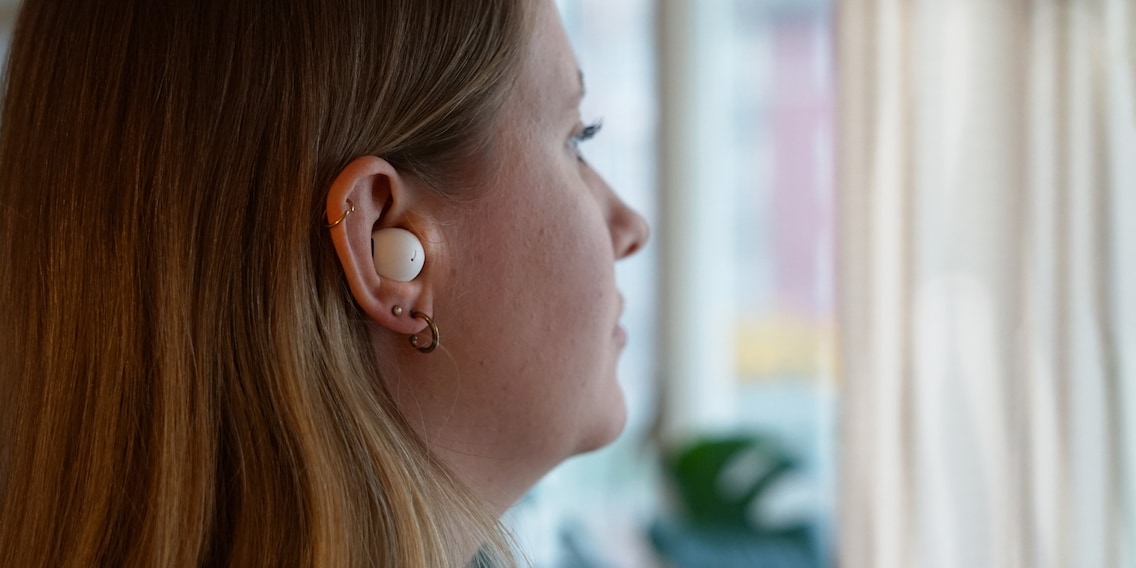 The Samsung Galaxy Buds 2 Pro are worth it – even if you don't own a Samsung phone

The Samsung Galaxy Buds 2 Pro are great true wireless earbuds with or without a Samsung phone. I tested them and they won me over with their good sound, good Active Noise Cancelling and comfortable fit.
According to Samsung's product description, «The Galaxy Buds2 Pro come with 2-way speakers for the best sound quality and maximum wearing comfort.» Typically, marketing statements like this have as much truth to them as Apple's fabled iPhone with USB-C.
But Samsung is spot on about the Galaxy Buds 2 Pro. The little earbuds sound fantastic; they're among the best true wireless earphones I've tested so far in terms of sound. In addition, they sit very well in my ear and the controls work wonderfully.
First things first: I tested the Buds 2 Pro with a Xiaomi phone. With a Samsung device, the headphones offer a few extra features, which I'll get into at the end of this review.
The Buds 2 Pro are – surprise, surprise – successors to the Buds Pro. With that, they're the Korean manufacturer's newest instalment in its true wireless series. In addition to the Buds Pro, there are the Buds Live and the Buds+.
Worth a listen: the Active Noise Cancelling
On the previous model, the Buds Pro, I found the active noise cancelling (ANC) to be mediocre. On the Bud 2 Pro, the ANC has proved itself; using it on the train, I can barely hear the other commuters talking. And when my neighbours decided to drill holes wall opposite to my home work station, I didn't hear it until I took the buds out of my ears. In general, the buds suppress low frequencies, for example traffic noise, very well. High frequencies, on the other hand, are still tricky for ANC; as I type on my mechanical keyboard, I hear the keystrokes seep through.
On the previous model, there were two levels of ANC to choose from, though they were hardly distinguishable from one another. Samsung seems to have realised this, too, and opted for a simple on or off setting. I do perceive some slight static with ANC on, but it doesn't bother me when listening to music or podcasts.
Deduction for phone calls and transparency mode
Many true wireless earphones suffer from the same problem. Namely, the voice quality during phone calls tends to be worse than on other headphones. The Buds 2 Pro are no exception; I was told several times that I sounded tinny or too quiet. When I was on the phone outdoors, the quality of my voice worsened. I, however, was always able to understand the person I was talking to.
Transparency mode or, as Samsung calls it, Ambient sound, is the opposite of ANC. In this mode, all ambient sounds pass through the microphones on the earpieces. It works well in calm environments; I'll hear my colleagues talking just a tad quieter than usual.
But as soon as it gets just a little windy, Ambient sound only works to a limited extent; the noise of the wind drowns out my surroundings. Even when jogging at a slow pace, the wind noise is so loud that I wouldn't be able to notice if I was about to be mauled over by an e-bike or car. For this reason, I haven't tried cycling with the Buds 2 Pro – it would be too dangerous.
The sound is good
Small buds weren't always able to produce a full sound. However, Samsung has managed it with the Buds 2 Pro. I'm satisfied with the sound; it leaves nothing to be desired. I'm a fan of warm, full and clear sound – which is what the Buds 2 Pro deliver.
They do seem a little bass heavy to me, but it's not overpowering. The mids (think vocals and guitar) aren't drowned out. The highs sound very clear and detailed. Overall, the buds manage to reproduce a wide and balanced sound stage which comes across as coherent and makes listening to music fun.
If you're not happy with the sound preset, you can adjust it in the Samsung Wear app. The setting is somewhat hidden – you'll find it under «Earbuds settings». There, you can choose from five more presets, including a bass boost and treble boost,
A bit chunky, but comfortable
The Buds 2 Pro weigh just 5.5 grammes per earpiece, making them 15 per cent lighter than the previous model. With that, they're slightly heavier than the AirPods Pro (5.3 grammes). But despite their low weight, they feel rather clunky and protrude slightly from my ears.
Thanks to the buds' curved shape, they do still sit comfortably in my ears. They also form a nice seal, which again benefits noise reduction and sound quality.
Even after a full day of wearing them at the office, my ears don't hurt. They also stay put through my jog. Thanks to the different size attachments, they should fit both smaller and larger ears. Despite the overall clunkiness of the buds, their battery capacity is mediocre: one charge lasts five hours – same as the previous model. The new AirPods Pro overtake the Buds here with their runtime of six hours.
Reliable controls
You control the buds by tapping and holding. This works reliably and responsively. I didn't experience any issues and was able to control the buds even while jogging. The app allows you to modify the controls. You can change what happens when you tap and hold. You can't have all control options active simultaneously, though; you'll have to choose between ANC and volume up/down.
Other earphones certainly offer more possibilities when it comes to customising the controls. Each tap is also followed by a confirmation beep, which is relatively loud and cannot be deactivated. That gets annoying when you're listening to music.
No changes to the small case
Samsung opted to keep the previous case design; it looks identical to the predecessor. The only difference is that the AKG lettering has been moved to the inside of the case in the new model. The outside is matt, grippy and barely holds on to any fingerprints.
The case's small form factor became its undoing, however, when it slipped out of my jacket pocket. My subsequent search operation remained unsuccessful. Samsung doesn't offer replacement cases (but you can find several dubious offers from a certain Chinese retailer). Thankfully, Samsung was kind enough to send me a new pair of the Buds 2 so I could continue testing them.
Unfortunately, unlike on the new AirPods Pro, the case is neither equipped with a tracking function nor a speaker. However, you can track each bud and play a loud sound to help you find them.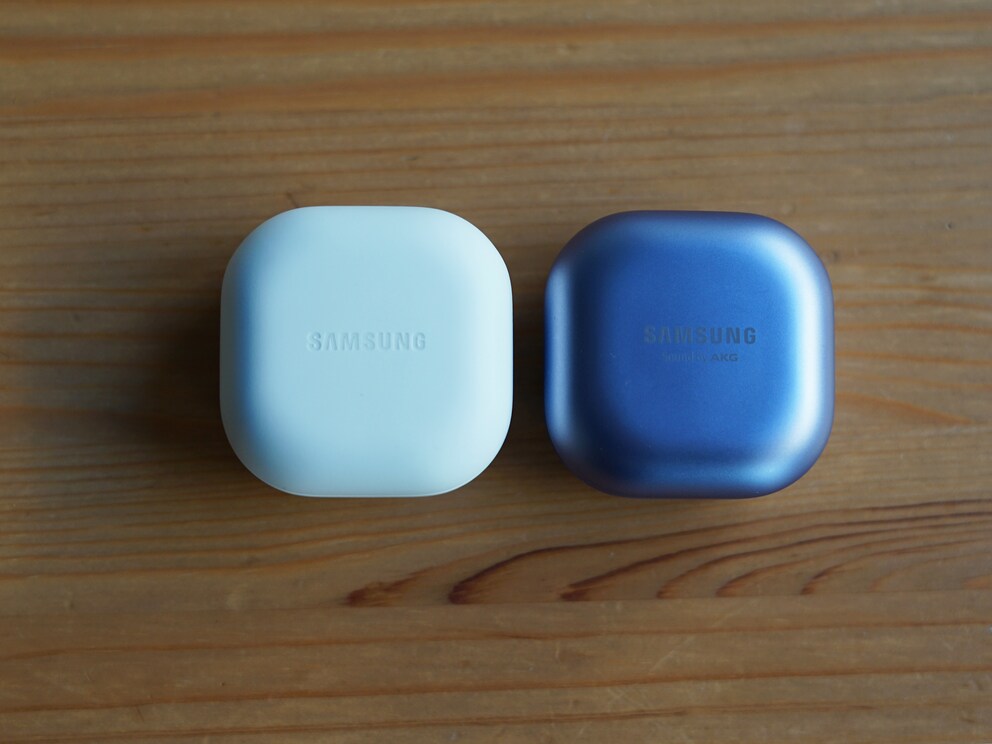 Connection: without a Samsung phone, it's only average
When pairing the earphones with my non-Samsung phone for the first time, there was no auto-detection feature. I had to pair them in the Bluetooth menu, which did work quickly and smoothly. In addition, I had to download the Galaxy Buds 2 Pro Manager – also a quick affair.
Once connected, the Buds work over Bluetooth 5.3. It's downward compatible in case your phone – like most devices – still relies on an older standard. Samsung states compatibility all the way back to Android 8.0. The Buds 2 Pro use the SBC and AAC Bluetooth codec.
Samsung's SSC Hi-Fi codec is only available with a Samsung Galaxy phone. SSC Hi-Fi stands for Samsung Seamless Codec. According to Samsung, the buds can handle a sampling depth of 24 bits and a sampling rate of 48 kHz using this codec. These values put them above CD quality, which is remarkable for true-wireless headphones. But in addition to the fact that you need a Samsung device to use this, you can't just stream away any old music; your library will need to have an appropriately high resolution. The streaming service Tidal is one such option. Spotify doesn't offer this quality.
Even without a Samsung phone, I didn't have any connection issues or dropouts. Unfortunately, the Buds 2 Pro can only maintain a connection to multiple devices simultaneously on Samsung smartphones; otherwise, they're not multipoint capable. However, neither the Sony WF1000XM4 nor Sennheiser Momentum TW 3 can do this, either.
You can also use each earbud separately. And like their predecessors, the Buds 2 Pro are IPX7 certified, which means they are waterproof for a short time when submerged in fresh water. So, while you can't swim with them, you can run around in the rain as long as you want.
These features are only available with a Samsung phone
As mentioned at the beginning, the Buds 2 Pro have some Samsung-exclusive features. 360 Audio, which is supposed to create a wide sound stage, and the associated Head Tracking feature are only available with a Galaxy Phone. 360 Audio is supposed to simulate surround sound, so that the music really engulfs you. Thanks to Head Tracking, the sound also adapts when you turn your head. However, this feature only really makes sense for videos; you won't notice the effect as much with music. Apple also offers this – it's called Spatial Audio.
Furthermore, Samsung's SSC Hi-Fi is supposed to provide better sound quality thanks to a higher bit rate – more on that above under «Connection: without a Samsung phone, it's only average».
I haven't yet tested these features. If that's something you'd be interested in, let me know in the comments and I'll be sure to review them.
Oh, and if you were hoping to use the Buds 2 Pro with an iOS device, you're out of luck; just like there's no Android app for the AirPods, there's no iOS app for the Buds 2 Pro.
Verdict
Even if you don't have all the features without a Samsung phone, the Buds 2 Pro are solid earphones. In terms of true-wireless headphones, they're one of the best models currently available. The sound and ANC are great and really push the buds to the top ranks.
The buds' 209-franc price tag (as of 19 September), places them in the mid-price segment and gives them a good price-performance ratio.
One con is that the voice quality during calls has significant shortcomings. In addition, a better transparency mode would be desirable, as well as a slightly longer battery life. Then again, as the saying goes, you can't have everything.
---


Testing devices and gadgets is my thing. Some experiments lead to interesting insights, others to demolished phones. I'm hooked on series and can't imagine life without Netflix. In summer, you'll find me soaking up the sun by the lake or at a music festival.
---
---
These articles might also interest you
Skeleton Loader

Skeleton Loader

Skeleton Loader

Skeleton Loader

Skeleton Loader

Skeleton Loader