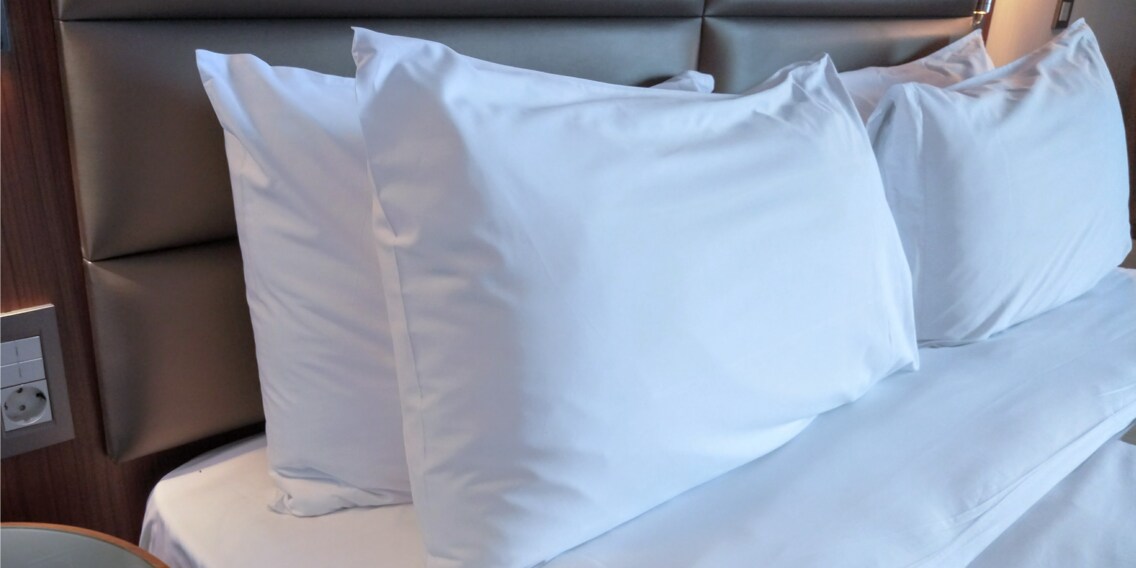 The perfect pillow is subjective
For restful sleep, the right pillow is at least as important as your mattress. Here are some tips to help you find the right one.
Contrary to their history, studies surrounding pillows are relatively few. Arguably, the Egyptians were one of the first cultures to consider where the head should rest when sleeping. Their solution: special racks made of metal, wood or stone. Exhausted Egyptians used these rounded blocks to catch their Zs. Okay.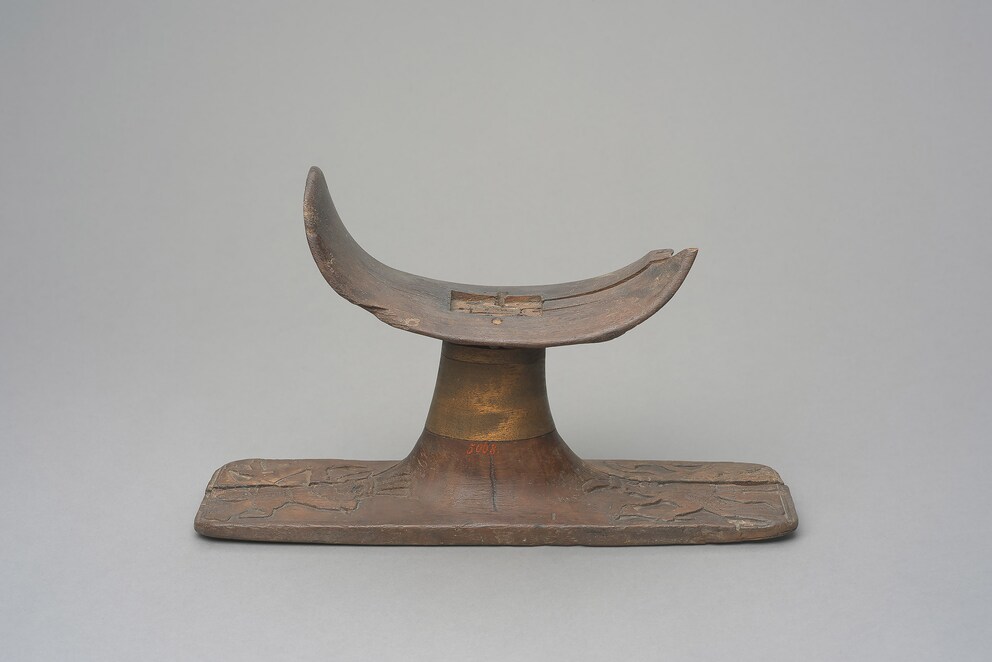 Greeks and Romans went for soft materials a few centuries later. Today, scientists assume that both cultures used plant and animal materials to make pillows. Wealthy citizens used ornate bedsteads, in which pillows made of animal skins, linen or leather also had a place. The filling consisted of hay, reeds, partly even feathers already. Later on in history, down and feather pillows became established in Europe – initially only for the upper class, of course. The poor continued to sleep on straw.
Ask the right questions when buying a pillow
Thanks to industrialisation and mass production, pillows are now cheap and bountiful. Just under 1,000 pillows can be found in our store. There's both natural and artificial stuffing, different heights and sizes. If you're looking for a new pillow, here are some things to consider.
How do you sleep?
If you prefer to sleep on your stomach, choose a pillow that's as flat as possible, around five centimetres high. If you sleep on your side, a higher pillow is right for you. For back sleepers, a medium-height pillow is most suitable. Basically, the pillow should support your spine. If you're a stomach sleeper and have a pillow that's too high, your neck will overstretch and you'll wake up in pain. If you sleep on your side and your head tilts sideways too much, you'll have the same problem. The right pillow keeps your head and neck in as straight a line as possible while sleeping.
I initially avoided stating specific heights in centimetres in the paragraph above. This depends on a few factors, after all. How wide are your shoulders, how hard or soft is your mattress? How do you sleep? In addition, how much does your pillow yield, i.e. change its height?
Despite all the factors, here are some clues you can go by – starting from a neck support pillow:
Back sleepers:
Soft mattress (H1): 5 to 8 centimetres
Medium-hard mattress (H2): 6 to 8 centimetres
Hard mattress (H3): 7 to 9 centimetres
Female side sleepers:
Soft mattress (H1): 6 to 7 centimetres
Medium-hard mattress (H2): 6 to 8 centimetres
Hard mattress (H3): 7 to 8 centimetres
Male side sleepers:
Soft mattress (H1): 9 to 10 centimetres
Medium-hard mattress (H2): 10 to 11 centimetres
Hard mattress (H3): 11 to 12 centimetres
The differences in recommendations come down to the fact that, as a male and probably heavier side sleeper, you'll sink deeper into a soft mattress with your shoulder and thus need less pillow height to keep your neck straight. Women generally have narrower shoulders while simultaneously weighing less than men. This naturally results in different recommendations for pillow height.
Meaning it's not so easy to find the right pillow height due to all these factors. If you want to play around with a pillow, you can buy a model where you can adjust the height with the help of removable elements, for example.
Pillows
Duvetsuisse All in One Flexi Premium
As just described, suitable pillow height also depends on shoulder width. To have a first point of reference for the purchase, you can determine the height yourself. As a side sleeper, stand against a wall sideways with your shoulders relaxed and measure the distance between your head and the wall. Now subtract the centimetres that your shoulder approximately sinks into the mattress from this value. If you're a back sleeper, stand with your back loosely against a wall and look straight ahead. The measured distance between the wall and the back of your head provides the optimal pillow height.
What's the pillow filled with?
These days, fillings come in more than just feathers and down. Pillows increasingly contain natural materials such as millet or Swiss stone pine flakes. There are also foams with high-tech names. Making the right choice depends heavily on your personal preferences.
If the idea of plucking ducks or geese for a down pillow isn't your thing, go for material made from plants or foam. If you're allergic to dust mites, synthetic fibres with high air permeability are a good choice. Feathers and down are also an option, just make sure that the pillows are always well aired and washable at a temperature of at least 60 degrees. Anything below that and the little beasts will survive and continue to plague you.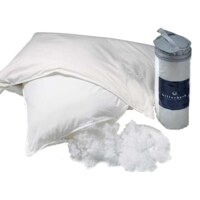 If you sweat a lot at night, fillings made of horsehair, virgin sheep's wool or camel fluff are a good thing. They handle moisture particularly well. Fellow editor Simon Balissat has long been a fan of camel hair and goes all out for it in his blanket.
Good ventilation is provided by pillows filled with foam flakes or hollow fibre balls. The latter, as a rule, offer higher volume, are somewhat softer and, therefore, warmer.
Spelt or millet in your pillow are a good idea if you prefer natural materials without harming animals. These pillow are a little firmer, but they're still adaptable. If you change your sleeping position, the material virtually trickles away. However, your neck will be less supported than with foam pillows (see below).
How firm do you want your pillow?
Together with the height of the pillow (see above), firmness determines how well your neck is supported. This way , a high pillow can quickly become very flat if it isn't firm enough. This is often the case with down and feather pillows. These are frequently flat as a flounder in the morning and have to be shaken up again.
Pillows with fillings made of small plastic beads hold their shape better. In some cases you can even get material from the manufacturers and fill them up to adjust height and firmness. You can find such pillows in the store with the filter «Support = Adjustable».
Pillows with thermoelastic foam, such as viscose, gel foam or latex, also keep their shape well. However, some of these are almost too hard. And pillows with what's called memory foam, like the two shown here, take some getting used to if you're a restless sleeper.
Pillows
Maxxmee Neck pillow Air Flow 30 x 50 x 10 cm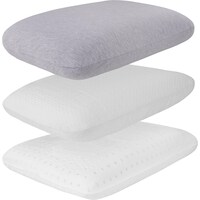 How big should your pillow be?
In short, it should be neither too small nor too big. I hear your sarcasm. «Wow, what a genius!» But what exactly do I mean? Orthopaedic expertise professionals recommend narrower pillows, say 40 by 80 centimetres, often called «comfort pillows.» Other rectangular formats also work. By contrast, they don't recommend the classic, «standard» square pillow. However, these pillows that have an 80-centimetre side length in Germany and usually 65 centimetres in Switzerland can be useful. For example, if you feel like reading in bed at night and need to be propped up a bit. When you're ready to sleep, you could simply switch back to your sleeping pillow.
How long can I use a pillow?
Depending on the filling of your pillow, you should replace it at different times, specifically after one to three years – experts who make money selling pillows advise earlier, others give you a little more time.
Viable for about a year, down and feather pillow last the shortest. Through daily use, you virtually flatten the filling. Shaking it up only helps to a limited extent. During washing and drying the feathers and down can also clump together, which, again, negatively affects support and comfort. And just think of the mite colonies and the amount of sweat that can accumulate in a pillow after a long time.
Sheep's wool is considered to have great self-cleaning powers and can therefore remain in use longer than feathers and down – two to three years.
Pillows with a latex filling last even longer, up to three years. The material contains pores that help with ventilation. Viscose also has this, but the support strength decreases earlier, which is why you should tend to replace those pillows a little sooner.
The one perfect pillow doesn't exist
Everyone sleeps differently, has different preferences and needs. The one perfect pillow therefore doesn't exist. The only thing that helps here is trial, error and learning. I, for example, now have several pillows in the guest room closet. They're all pillows that my wife or I tried once but didn't enjoy. Still, at least our pillow menu is very popular with overnight guests. In our house, no one should have to spend the night like an ancient Egyptian.
Which pillow works best for you? What tips or questions do you have for the community? Add your contribution to the subject of pillows in the comments.
Header image: Wikimedia Commons
---



Journalist since 1997. Stopovers in Franconia (or the Franken region), Lake Constance, Obwalden, Nidwalden and Zurich. Father since 2014. Expert in editorial organisation and motivation. Focus on sustainability, home office tools, beautiful things for the home, creative toys and sports equipment. 
---
---