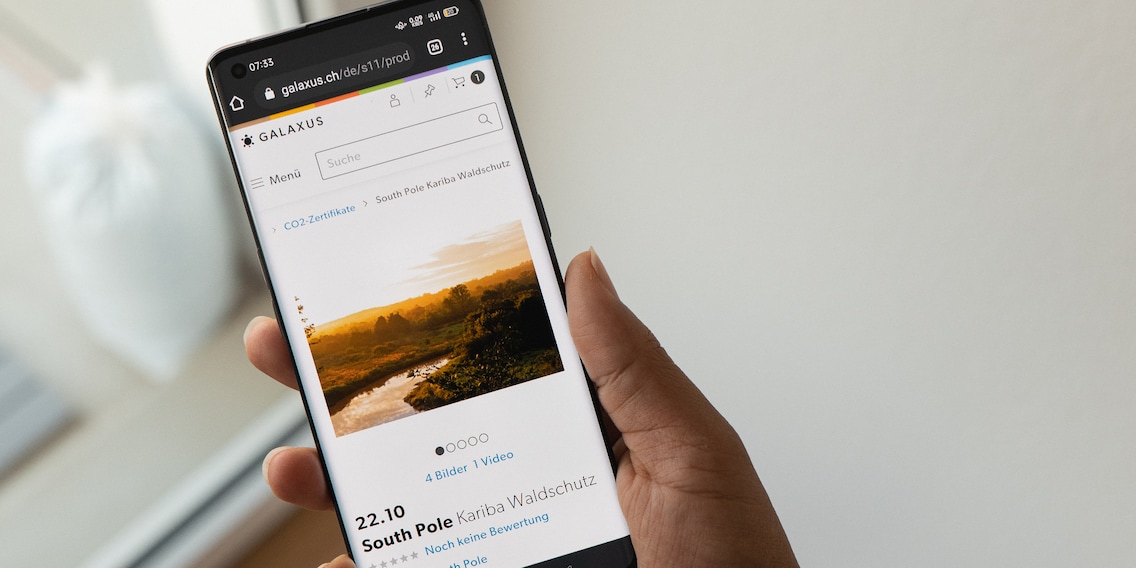 The digitec Galaxus community has invested 1.3 million Swiss francs in climate conservation
Ten per cent of all orders placed by the digitec Galaxus community in the last twelve months were climate-compensated. This has reduced or prevented the emission of around 60,000 tons of CO2. This is roughly equivalent to the annual greenhouse gas emissions of Appenzell Innerrhoden.
The digitec Galaxus community has invested quite a fortune in global carbon avoidance and reduction over the past twelve months. In just under 10% of all orders, customers offset any purchase-related C02 emissions directly in the store. This means that over 1.3 million Swiss francs have gone to selected climate protection projects provided by our partner South Pole within a year. All in the name of preventing the deforestation of tropical rainforests, promoting renewable energies, and advancing local educational initiatives that make climate protection possible in structurally weak regions. «I am very pleased that many of our customers regularly offset their purchases. It shows us that an uncomplicated and transparent compensation option meets a customer need,» says Oliver Herren, C.I.O. of digitec Galaxus. «We want to make it as easy as possible for our customers to make good purchasing decisions while also keeping sustainability in mind.»
Innerrhoden's CO2 emissions
Thanks to these climate protection projects, 60,000 tons of CO2 have been offset. According to the Swiss Federal Statistical Office, Switzerland emits around four tons of carbon dioxide into the air per capita each year. With its climate protection contributions, the shopping community has thus more or less neutralised the greenhouse gas emissions of the canton of Appenzell Innerrhoden. Or put another way: to absorb the same volume of CO2, an intact forest area of 60 square kilometres is needed. This corresponds to one third of the area of Appenzell Innerrhoden or 8300 football fields.
I wonder whether the above figures will motivate residents of the Alpstein canton to compensate their online purchases more frequently in the future. With a rate of 6.9 per cent, the inhabitants of this inner canton rank second to last in a Swiss-wide comparison. Only Ticino delivered even less, with 6.7 per cent. On a community level, the differences are even more striking: compensation hell is located in Kloten, Zurich. It's quite possible that the Corona-battered airport community has taken a temporary break regarding climate protection. With only 1.1 per cent of purchases compensated, Kloten is definitely in dead last. The Aargau nuclear power plant community of Leibstadt (2.24%) and Gamborogno near the border in Ticino (2.89%) are similarly restrained.
Berlingen and Bern top the list
The urban residents of Basel-Stadt (12%) and Zurich (11.4%) show significantly more willingness to compensate. They're just ahead of Bern (11%) in the cantonal rankings. A closer look at municipalities reveals that residents of the federal capital above all have a soft spot for climate compensation: At 18.9 per cent, Bern is in second place behind the pretty Thurgau municipality of Berlingen (19.3%), where almost one in five purchases was climate-compensated. But climate protection is also a top priority in the hip Zürich-Wipkingen district (18.1%), where more than 18 per cent of all online purchases are made by selecting the offset option during checkout.
Baby boomers compensate less frequently
By the way, climate compensation isn't a gender-specific issue, even if female online shoppers (11%) choose to compensate slightly more often than male ones (10%). The greatest desire to compensate can be found in 20 to 30-year-olds (13%) and those under 20 (12%), while baby boomers (8%) give less priority to climate protection. By the way: when it comes to household appliances, sporting goods, clothing and beauty products, the CO2 offset option is chosen most often, in 12 per cent of all cases. Unsurprisingly, the lowest rate is seen in automotive products, at just 7 per cent.
Graphics: Made with Flourish.
---
Making sure employees and media know what's up at Digitec Galaxus is my job. But without fresh air and a lot of exercise, I basically stop functioning. The great outdoors provides me with the energy I need to stay on the ball. Jazz gives me the tranquility to tame my kids. 
---
---
These articles might also interest you
Skeleton Loader

Skeleton Loader

Skeleton Loader

Skeleton Loader

Skeleton Loader

Skeleton Loader