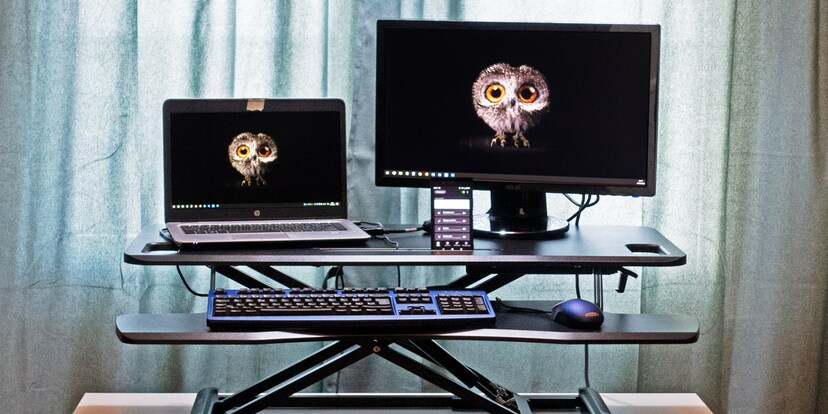 Testing NewStar's alternative to standing desks
Want to prevent both current and future back pain? Then try sports after work. But during your shift, a standing desk might come in handy. Or a sit-stand workstation, as in today's test.
Working in a seated or lying position is no problem with the appropriate chair. Standing works too – with a doctor's certificate, your employer will provide you with a height-adjustable table, at least in Switzerland. But hardly any employer is willing to pay for a home office solution, so I'm testing a cheap alternative to the classic standing desk. A black NewStar stand-sit workstation.
The specifications for the NewStar stand-sit workstation:
Height adjustability: up to 50.5 cm (keyboard support up to 41.5 cm).
Product dimensions (L x W x H): 62 × 94,5 × 11,5 to 50,5 cm.
Table top dimensions (L x W): 40 × 94.5 cm.
Keyboard support dimensions (L x W): 30 × 94.5 cm (of which 22 × 94.5 cm are visible, 8 cm are underneath the table top).
Weight: 15 kg.
The NewStar workstation isn't the first desk top surface I've tested. I already have experience with a Fellowes sit-stand workstation, offering me a basis for comparison in addition to regular standing desk solutions.
Quick assembly with little annoyance
Fortunately, NewStar's stand-sit solution, designated as NS-WS300BLACK, weighs only 15 kilograms. Therefore, installation can also be carried out without any problems on its own. The enclosed instructions show what to do step by step. Although I already failed miserably during step one. The instructions state: «Loosen the Chicago screws.» I'm supposed to remove four screws from their shank sleeves, which only works for three out of four. The fourth one's stuck.
I only succeeded in loosening the screw that was messed up during delivery with a pair of pliers and a screwdriver. Great, I love that. Not.
After that, I need about 15 minutes to get the workstation ready for use. The following video shows how to do this. It would benefit from a different kind of music, by the way:
Design and handling: how NewStar operates
My hands explore the plastic table top. It reminds me very much of a black kitchen chopping board and feels exactly the same. Truthfully, there are two «cutting boards», meant for the keyboard and mouse, and two small screens – or a single large one.
In the middle, at the front edge of the table top, there's a 30 cm long slot, which on the one hand serves as a cable passage and on the other hand can be used as a smartphone stand. But only in portrait format, as otherwise the lower edge of the display isn't visible thanks to a 2 cm slot depth. The slot accommodates a plastic insert that has three sufficiently wide USB cable openings, but they aren't wide enough for your phone to slip through.
As cutting boards sometimes do, the workstation table top possesses two cut-outs on the left and right that can be used as handles. It can therefore be placed on your desired table without any problems. In addition, the lever for adjusting the height is also located below the right handle.
You pull the lever, and nothing happens at first. Not even with a loaded table top. I think that's great, especially since other manufacturers use suspensions that might hit you on the chin. Only when I move does the workstation also adjust to the desired height. The force required for this is minimal. The mechanics of the workstation work perfectly.
Compared to the Fellowes workstation, I immediately notice that the table top remains extremely stable in any position. Which I unfortunately can't say about the keyboard support. Admittedly, it too is relatively fixed. But since the suspension is attached to the rear part of the plate, it has a little room to manoeuvre at the front. If I set down my hands a little more boldly than usual, the keyboard and mouse bounce along slightly. That's not cool, but I can get used to it. A small drawback – much smaller than its Fellowes counterpart, where keystrokes shake the entire workstation. If you're just typing here, only the keys will move.
NewStar didn't leave much room for your keyboard and mouse: if I want to place a palm rest in front of my keyboard, I have to slide the keyboard underneath the table top. The problem with the mouse is that there's hardly a decent mouse pad that fits the size and shape of the limited space available. Without a mat, the mouse's laser still works, but the feeling of a kitchen board is something that takes getting used to.
Conclusion: a sufficient alternative to standing desks
Bravo NewStar. Your standing desk alternative isn't only half the price of its competitors, but also feels twice as stable. Nevertheless, the stability of a normal standing desk isn't achieved. Unfortunately, the keyboard support bounces a little when I place my palms on it. Even worse, there's far too little space for a keyboard and mouse. The use of a palm rest or mouse mat is, if at all, only possible with great difficulty.
Nevertheless: for those who want to prevent future back pain in an uncomplicated way at a reasonable price and without too many demands, this product can be the bargain you're looking for.
---

I find my muse in everything. When I don't, I draw inspiration from daydreaming. After all, if you dream, you don't sleep through life.
---
---
---