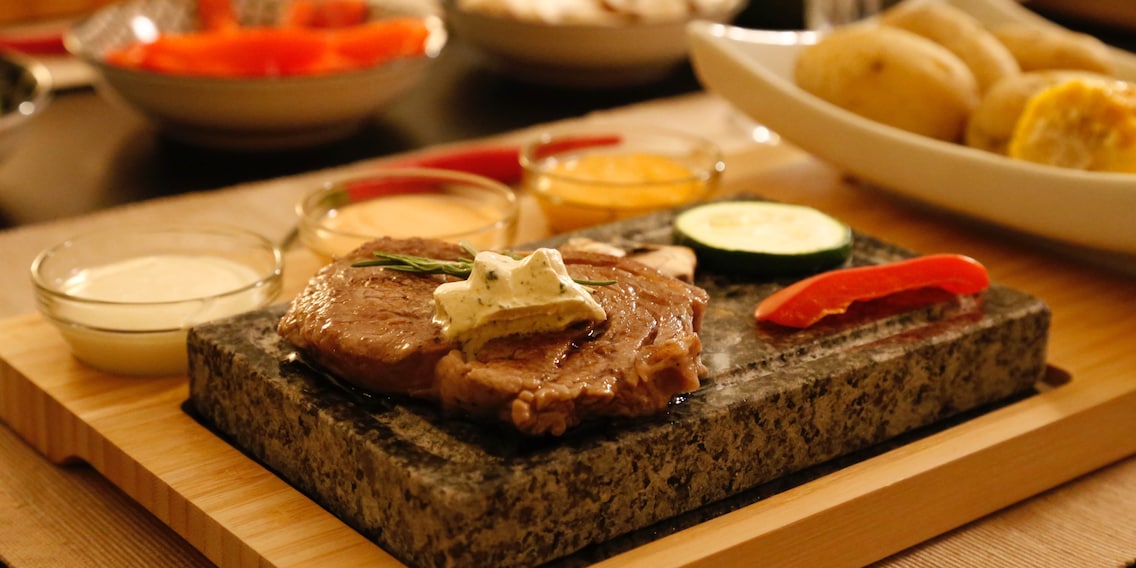 Impressive: Cooking on the classic Hot Stone.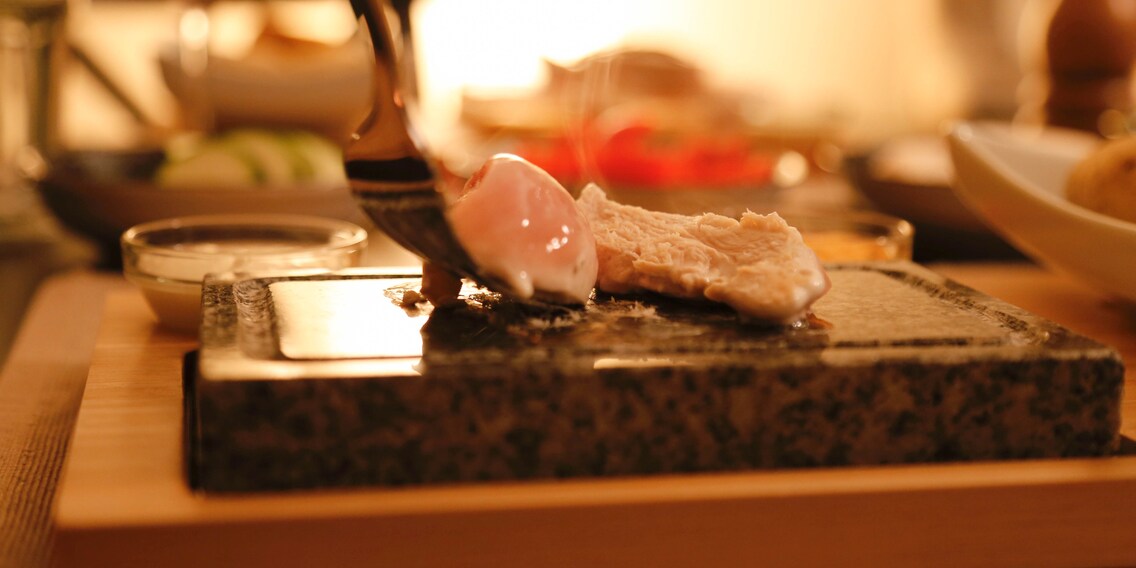 We recommend coating the stone with high-quality oil to keep the meat from sticking.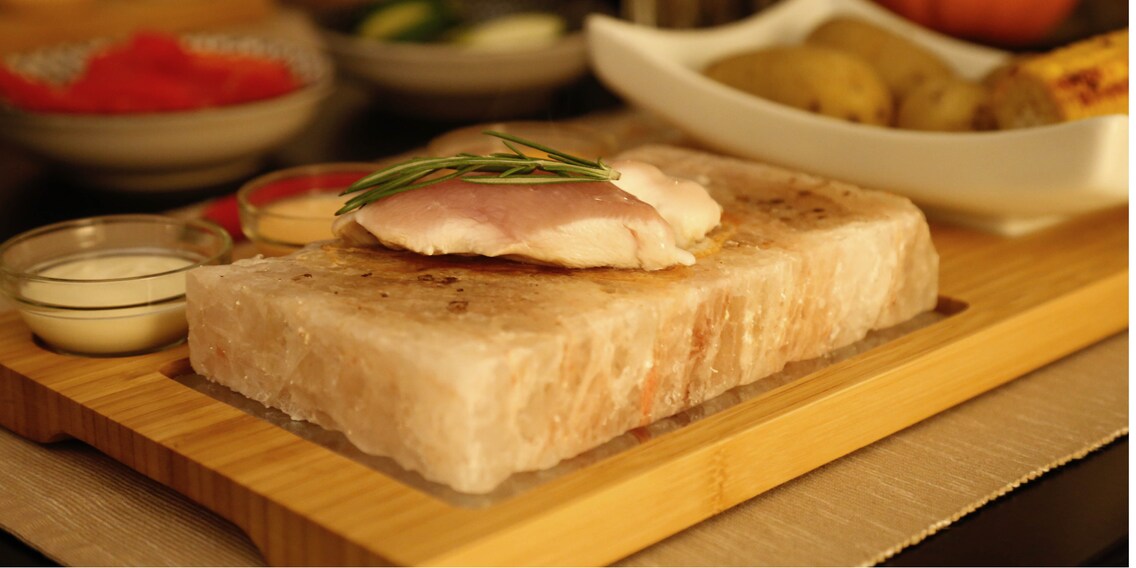 Add a little extra flavour with the Himalaya salt stone.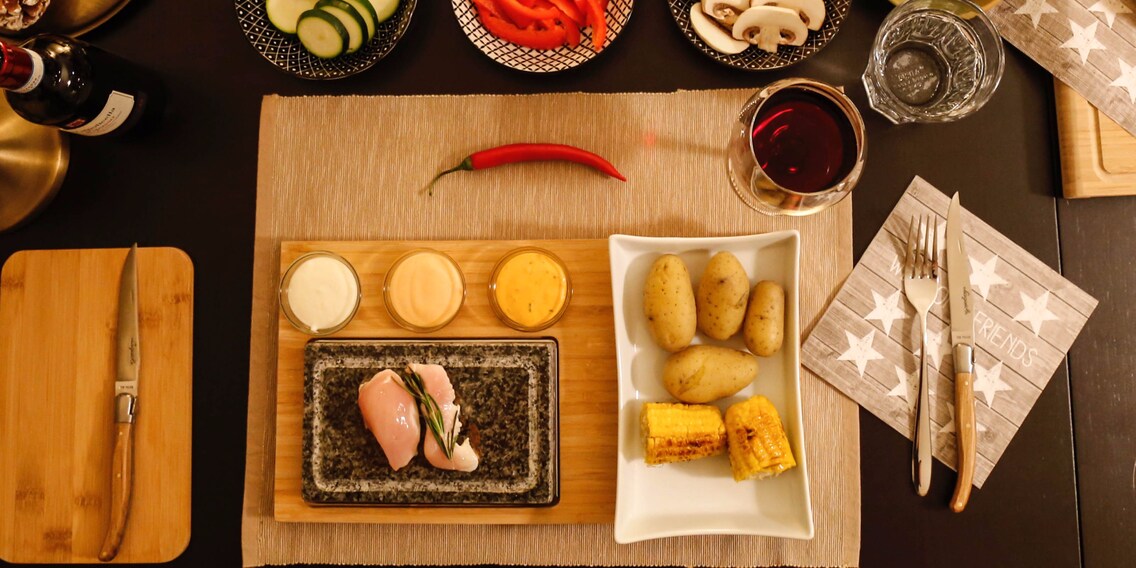 Summary: Grilling at the table is a unique experience for all guests.
Tested: Dinner from a hot stone

You may have come across a hot stone when you last ate out in a restaurant. These special grill platters are now available for home use – and will impress your guests. I put two hot stone models to the test.
What did we test?
We tested the hot stone sets "Himalaya Salt" and "Classic". These 6-piece sets include a stone slab, a wooden board, three sauce dishes and a white ceramic bowl for side dishes.
Before first use

Make sure you do the following before your first table grilling session: Rinse stone under running water (note: do not use any detergent!) and dry well. To release the tension inside the stone and increase its stability, place it in a cold oven and heat at 250°C for 40 minutes. Let the stone cool down to room temperature.
Instructions

Step 1: Heating the stone
After the stone has been rinsed and stabilised, you're ready to go: Place the hot stone in an oven and heat to max. 275°C. According to the manual, all it takes is 30 to 40 minutes before you can carefully take the stone out of the oven with oven gloves. However, when I tried this, the stone was only hot enough to grill on for about 5–10 minutes. So my advice is: Leave the stone in the oven for longer in order to be able to use it at the table for 15–20 minutes.
Step 2: Grilling at the table
If you did not marinate your pieces of meat, I would recommend greasing the hot stone with high-quality cooking oil after it has been heated. This prevents the meat from sticking to the stone. To achieve best results, the manufacturer, Nouvel, also recommends cutting the meat no thicker than 1 to 2 cm.
Conclusion

As mentioned above, it's well worth leaving the stone in the oven for a good while in order to be able to grill for an extra 10 minutes. Personally, I left mine in for 60 minutes. An additional stone might also come in handy if you wish to extend the grilling time. And now for the two tested models: both hot stone sets by Nouvel are of high quality and are nicely designed. Personally, I thought the meat cooked on the Himalaya salt stone was a bit on the salty side. In future, I'll be using the Hot Stone Classic as it allows me to salt or marinate my meat the way I like it. All in all, a hot stone dinner is a great experience: It allows the host to stay seated with the guests and everybody can grill their food according to their personal taste.
More articles on table food (in German):
Skeleton Loader

Skeleton Loader

Skeleton Loader

Skeleton Loader
---



I was born with a soft spot for beautiful things and a tendency to lose myself in diversity. Searching for unique and special items is a constant mission of mine. At Galaxus, I get to combine all my ideas and a passion for interior design with daily business. The beauty of colours, materials and shapes inspires me. 
---
These articles might also interest you
Skeleton Loader

Skeleton Loader

Skeleton Loader

Skeleton Loader

Skeleton Loader

Skeleton Loader