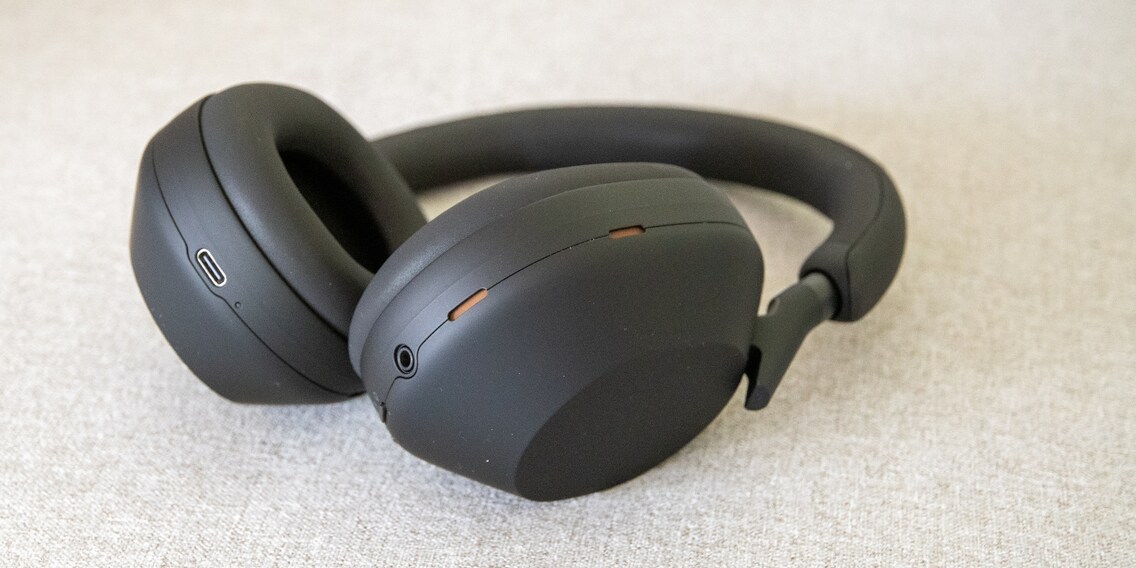 Sony WH-1000XM5: no longer foldable, still good

Noise cancelling, sound quality, voice quality, charging time, usage: Sony's new XM5 headphones are an excellent, well-engineered product – even better than its predecessor. But why did Sony have to remove the flip mechanism?
Let's start with the bad stuff: Sony's WH-1000XM5 can no longer be folded, unlike the previous XM4. A massive disadvantage, in my opinion. Headphone cases are too cumbersome for me, foldable headphones fit in my backpack without a case. A difficult task for the XM5. Not only does the thing take up more space, but I'm afraid it'll break during transport.
But there are people who transport their headphones in a case, or always wear them. For them, none of this is an issue.
In fact, the XM5 is best suited for constant use. It's very comfortable thanks to its light weight and soft pads. In addition, it has features that allow it to be worn at all times. If you hold the palm of your hand to the right ear, the sound becomes quieter and ambient noise is amplified. Allowing you to talk without any problems. With Speak to Chat, music automatically stops when you start talking. Minimum deactivation time after speaking is now 5 seconds instead of 15, and the XM5 recognises your voice better in a crowd than the XM4.
Still, I'm one of those old-fashioned folks who think it's rude not to take off your headphones to talk. But there's a function for that, too: music stops when the headphones are removed and continues when they're put on. All these features work excellently and can also be deactivated.
The sleek design trumps that of its predecessor. However, fingerprints are very visible, at least on the black version I tested.
Sound: slightly better
In my impression, the XM5 doesn't sound significantly different from the XM4, maybe slightly improved. The sound is clearer, both bass and treble. Although the bass of the XM4 seems a bit stronger, they can turn into a boomy catastrophe under certain circumstances. This hardly happens with the XM5, even with the bass turned up. At full tilt, bass addicts also get their money's worth.
Personally, the tuning is a bit too lacking in midrange. However, the equaliser (EQ) gives me the sound I want. Remarkable, as EQ doesn't do much for me if the sound characteristics are already inherently not to my taste.
Noise Cancelling: more effective, but takes some getting used to
With noise cancelling, you'll immediately notice the much quieter silent background noise. For me, that's the main improvement. Although noise cancelling itself also seems more powerful, this only applies when it's actually on. The same noise isn't always filtered out in the same way.
For example, when playing a test tone at 8000 hertz, the XM5 almost removes it. This despite the fact that high tones are difficult to eliminate. However, this only works as long as the headphones or the sound source don't move. If I turn my head to the side or move the speaker, there's a loud whistling sound.
The XM4 also delivers irregular noise cancelling, but less pronounced. Perhaps simply because it's less effective. Here, the 8000 Hz tone is also clearly audible from the front, but quieter than from the side.
Sometimes I also noticed this irregularity in everyday situations on the XM5. I got irritated when the ambient noise changed for no apparent reason.
Like many other headphones, the XM5 can record ambient noise and play it back. You can hear what's going on around you despite the passive sound dampening.
«Adaptive noise control» in the app should take this even further. In essence, the headphones themselves will notice what situation you are in and then activate the setting you preset. So, for example, noise cancelling when you sit still and ambient noise when you walk.
However, the function still isn't intelligent enough to be really useful. For example, the setting changes when a train stops at a station, as your GPS notices that you aren't moving – when you're still just sitting. If you walk three steps on the train, it switches again, even though you still want noise cancelling. That's rather annoying. It's much easier to quickly press a bud manually to switch.
Voice quality: much better
How well your conversation partner hears you over the phone or in a virtual meeting depends on various factors. Your cellular or Internet connection is part of it, but the headphones are a separate issue. I excluded this factor in my test by recording myself locally.
The second factor is ambient noise. In a quiet environment, quality is generally better than in a noisy one. Check below to compare the quality with silence and with music playing. The headphones try to filter out music, but sometimes filter a little bit of my voice along with it.
Furthermore, it seems to make a difference whether the headphones are connected to one or two devices. My colleague Livia already noticed this in her review of the XM4. Here's a recording with equally loud music, just without multipoint.
Has voice quality improved compared to the predecessor? Clearly yes! Background noise is eliminated much better, so you remain intelligible even in noisy environments. There's also the recording of conversations instead of background music. These are clearly audible in the XM4, but not in the XM5.
Operation
Sony hasn't changed its operating concept. There's an on-off switch and a button that switches between Noise Cancelling, Ambient Noise Transmission and nothing at all. The rest is done via touch gestures on the right ear cup. Adjusting volume, pausing or switching to the next track work without any problems. I still prefer using a smartphone for that, maybe because I'm left-handed.
Connectivity
Nothing has changed regarding the connections. That's not necessarily bad. It's currently fashionable to leave out the analogue 3.5 mm connector. Here it's still present, and Sony also included a 1.2 metre cable with the XM5. An interesting detail: the analogue connection works even when the headphones are turned off, for example, when the battery is empty. However, music sounds completely different switched off. Basses almost completely disappear, with mids extremely dominant.
Nothing has changed regarding the Bluetooth connection, either. SBC, AAC and LDAC are supported. Furthermore, the headphones can connect to two devices simultaneously, such as a notebook and smartphone. However, as with the XM4, this doesn't work with the high-quality LDAC codec.
USB audio still isn't available. The USB-C port is exclusively used for charging. Annoying: when charging, the headphones are always off and the included USB cable is extremely short.
Charging is very fast. Especially with a strong charger, which is common for notebooks. This allowed me to charge from 50 to 90 per cent within a few minutes. I couldn't make a proper series of measurements, the battery lasts much too long for that. Sony specifies a runtime of 30 hours with noise cancelling turned on.
Verdict: You know what…
In truth, the WH-1000XM5 convinces me completely. Voice quality during calls is much better than for its predecessor, background noise during noise cancelling has almost completely disappeared, the cancelling itself is very effective – although not as constant as I would have liked. The sound has also been slightly improved once again.
All the more annoying that these headphones cannot be folded. I'd gladly sacrifice a bit of elegance in the design for that.
Here's betting the XM6 will be foldable again. It just has to be.
---



My interest in IT and writing landed me in tech journalism early on (2000). I want to know how we can use technology without being used. Outside of the office, I'm a keen musician who makes up for lacking talent with excessive enthusiasm.
---
---
These articles might also interest you
Skeleton Loader

Skeleton Loader

Skeleton Loader

Skeleton Loader

Skeleton Loader

Skeleton Loader